Stellar Kart: Where Witness Meets Whimsy
Lizza Connor Bowen, CCM Magazine
Wednesday, April 30, 2008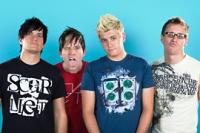 Real men wear Spandex. "And mullets and short shorts!" claims Stellar Kart's guitarist Cody Pellerin.
Pellerin proves he can rock the look in the band's music video for "Innocent," a raucous track from Stellar Kart's third release, Expect the Impossible, on Word Records. But viewers heed the risk: "You will laugh," Pellerin warns, noting that his own mother, a woman who is "not easily embarrassed" told him he crossed the line into "goofy" territory in his on-screen getup.
But if there's a band that can pull off such silliness, all the while spreading the weighty message of Christian redemption, it is the punk-pop cut-ups of Stellar Kart. Today, Stellar Kart front man Adam Agee and Pellerin are crammed around a 17-inch stump of a table in the children's corner, the only available interview space in the bustling Barnes & Noble bookstore outside of Nashville. Onlookers pass with quizzical glances at the scene that recalls Alice in Wonderland. These grown men, with lip rings and scull caps, look like giants squeezed into 7-year-old sized chairs. Heroes of their childhood bedtime stories, the Bernstein Bears, stare down from the shelves as if on security duty.
The farcical scene isn't far from Stellar Kart's reality. Whether rocking 200-plus shows a year or cutting up in the studio with producer Ian Eskelin (All Star United), Agee says the band has mastered the art of whimsy. Mundane is not a part of its vocabulary.
"Fun" seems to be the buzzword for this band, and it is referenced no less than five times by Agee and Pellerin in a span of 30 seconds and later echoed by Eskelin. "We were a lot less stressed this time," says Agee, who recorded the last album, We Can't Stand Sitting Down, in record time—eight days.
Eskelin deconstructs the recording process with Stellar Kart: "So many times, things get overanalyzed and torn apart to the point where the original idea gets lost. With these guys, the trick is to capture all the energy as it pours out. If it's fun, it usually turns out right," he told CCM via e-mail. One listen to Expect the Impossible proves his point.

The band executes a varied musical approach, infusing its signature fist-pumping fare of past albums with '80s-style synthesizers, throwback, hair-band guitar licks and a few ear-splitting screams from Agee that would make punk purists proud.
"There are songs that sound like anything from Simple Plan to Depeche Mode or Linkin Park. We wanted to give something for everybody, and we didn't want anyone to get bored," says Agee, who got his musical start with guitar lessons from drummer Jordan Messer's father.
While there was no shortage of good times in the studio, the challenge for this 7-year-old, four-piece outfit was to maintain a signature sound while evolving into new musical territory. Pellerin calls the record, "a big stretch," but he promises diehard fans won't be disappointed with the departure.
"I grew up with the '80s pop/rock stuff like Van Halen; Adam is a pop guy, and Jordan is a punk guy. When we come together musically, it's a collaboration of the four of us [with bassist Brian Calcara]. Because of Adam's melodies, it still sounds like Stellar Kart," he says.
Continues Agee: "We got together in a room, mashed earplugs in our ears and jammed out. This is where the creativity of the band comes in and makes the lyrics and melody into a song."
Have something to say about this article? Leave your comment via Facebook below!
advertise with us
Example: "Gen 1:1" "John 3" "Moses" "trust"
Advanced Search
Listen to Your Favorite Pastors