Gerald and Kathy Crabb host evangelistic services
Jerry Kirksey

2003

17 Feb

COMMENTS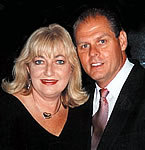 After a four-month sabbatical, Gerald Crabb is beginning to fill his calendar with camp meetings and evangelistic services. Gerald Crabb says, "I am very excited about what God has in store for this year. I love to preach and could not be happier than when I have that opportunity."
In October of 2002 Gerald and Kathy Crabb decided to take some time off the road to seek God's direction. After seven years of ministering with their family, Gerald and Kathy feel that now is the time to hand over the mantle to their children and pursue a new direction. "I believe that God poured the foundation for the kids, who wanted to be involved in music. Gerald can now dig into the word and do what he does best, write and preach," says Kathy.
Jason Crabb says that the "Crabb Kids" miss their parents on the road, but are supportive of this new direction in their lives and excited to see what the future holds. "God has a way of bringing us to spiritual maturity at just the right time. Sometimes He removes the people that we depend on to teach us to rely on Him and mature us in our work for Him. Although that is sometimes difficult, when God is in the arrangements you just know that it is right," says Jason. "We are so thankful that God allowed Dad and Mom to be with us on the road, and for all that they taught us. We are also looking forward to watching God use them in new avenues. They are still very much a part of what we do, even though they do not travel with us."
Gerald is devoting his time to his songwriting and his new evangelistic endeavor. Gerald and Kathy also remain very active in the ministry of the Crabb Family. Gerald and Kathy, along with the Crabb Kids, and Mike Bowling, will host Kentucky CrabbFest: The Crabb
Family
Homecoming, held annually the second weekend in July in Owensboro, KY. "There are seasons in a person's life. The last several years, Gerald Crabb's season has been as a singer, musician, songwriter, and leader of the Crabb Family. Although he will continue to write songs more than ever before, I believe the focus of the next phase of his ministry will be through the Word," says Beckie Simmons.
To schedule Gerald Crabb or the Crabb Family contact BSA at (615) 595-7500. For Gerald Crabb's complete schedule, log onto www.thecrabbfamily.com or www.bsaworld.com