Scandalous
Mark Steele, Author
Tuesday, August 04, 2009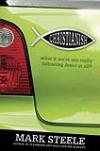 EDITOR'S NOTE: The following excerpt is taken from Chapter One of Mark Steele's third book, Christianish. ©2009 Cook Communications Ministries. Used with permission. May not be further reproduced. All rights reserved.

Nineteen months are all that separate my two older sons, Jackson and Charlie. In practically every way, one is the antithesis of the other. They both have their strengths and weaknesses, but smash them together and they fill out the other's weak spots, becoming one practically perfect human being. Of course, the scattered remains that are left would be a bit messy. In other words, they complete one another, either as a right example or as a wrong one—their choice.
Charlie is currently seven and Jackson just turned nine, which means their choices— at least for the time being—might skew a bit ornery. A few months ago, I walked upstairs to turn off our daughter Morgan's light for bedtime. It was later than usual and a good hour after the boys had been put to sleep (which means something different for children than it does for pets). They had been told to go right to bed. Unconsciousness isn't really something that can be demanded of a child, but I—like millions of parents before me— made the attempt anyway. As I opened Morgan's door to check on her, I caught the two boys in her room. They ceased mid-play, frozen, and stared at me—deer in the headlights. They were standing in the middle of her bedroom, a clump of Lego's squeezed in each fist. They gaped with wide-eyed guilt on their faces for about three solid seconds. And then they ran like mad wildfire through the adjoining bathroom. I heard the scurry of feet on linoleum, followed by the bounce of springs and the flip-flop of covers as they scrambled into bed.
Reasoning doesn't enter into the equation all that much at the ages of seven and nine. For some reason, not only was the rationale to sprint away and dive into bed considered a good idea, but the identical urge to flee the scene hit both brothers at the same time.
I sauntered through the hall to their bedroom (the longer path than the bathroom route by about eleven inches) and creaked open the door. They were each in their bunk, feigning sleep. And so, the cover-up began.
Boys?
They attempted to rouse themselves from their faux slumber, "What? Huh?"
Were you out of bed and playing in Morgan's room?
A beat. A moment of pause. And then—both—simultaneously…
No.
Certainly I sympathize with the gut instinct of the cover-up. It is the defensive urge of the male, not to mention the mischievous pre-puberty male. In later stages of life, it will be replaced in-turn by hormones, rage at injustice, and unnecessary snacking. Throughout my own young journey, I was on the punishment end of the cover-up multiple times.
It felt ironic to finally be on the other side.
No? I responded, You were NOT in Morgan's bedroom?
Sweat trickled down their tiny foreheads.
Nope. No. Nope.
Just now? Like, fifteen seconds ago, you were NOT holding Lego's in Morgan's room?
(Slightly more hesitant than before) Noooo.
I paused for dramatic effect: Well—I saw you.
Not since the Noahic Flood have the floodgates burst open so abruptly. The words "I'm sorry" rat-a-tat-tatted out of their mouths repeatedly in a fusillade of desperate penance.
I know you are sorry, but you lied. You know what the punishment is for lying.
I'm fairly certain there were a couple of "yes, sirs" uttered amid all the slobber and snot.
Go downstairs. You're each going to get one spank.
Yes. My wife and I believe in spanking. Not "grab-your-knees-while-the-back-ofyour-eyeballs-rap-against-your-brain" spanking. But certainly a recognizable sting that serves as a tangible reminder of why the punishable incident was a bad idea. We want our kids to have a sensory reinforcement that sin is not such a preferable option. It always astounds me when parents don't believe in appropriate spankings, because the world spanks people every day—especially the people who didn't receive any as a child. Personally, I would rather feel a short-term sting than the sort the Internal Revenue Service doles out.
Have something to say about this article? Leave your comment via Facebook below!
advertise with us
Example: "Gen 1:1" "John 3" "Moses" "trust"
Advanced Search
Listen to Your Favorite Pastors