Scandalous
Mark Steele, Author
Tuesday, August 04, 2009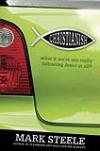 Who are you and what have you done with my child?
MORGAN LIES! SHE LIIIIIIIIIIIIES! MOOHAHA!
All right, son. For that, you're now going to receive—
Somewhere, between the bedrock layers of our planet, a mushroom cloud was forming its power, readying itself for a self-imploding FOOM! Tension built, and a roar and a rumble began to build just beneath the crust of the earth.
—three spanks.
And that is when Jackson vomited.
Seriously.
He barfed.
He wasn't sick to his stomach or coming down with a virus.
The boy got so worked up over three spankings that he literally upchucked everywhere. He blew chunks all over the proceedings. As a father, you can't help but debate your own discipline tactics at this point. I helped him wash up and then cooled him down with a cloth. He began to settle.
After a few moments, I addressed him.
You okay?
I told you I needed to go to the bathroom.
Against all of Jackson's hopes and dreams, the regurgitation session did not replace any of the punishment, and I forged ahead with the three spanks anyway. The beauty of Jackson is, though he fights you all the way, you know where he stands. When the punishment is over, Jackson is quick to reconcile, huddled and sobbing in my arms. At that moment, after the pain, he is truly repentant. And he always comes out the other side changed.
Amid all of this excitement, Charlie sat waiting in the hall.
For twenty solid minutes. Hearing the sounds of torrential screams and human wretching. He sat, stone. Eyes like nickels on a plate of fine china.
Needless to say, Charlie walked in, bent over, and received his one spank in about six seconds flat.
Immensely accommodating.
But alas, not nearly as life-changing as Jackson.
It's harder to tell whether or not Charlie truly changes because Charlie knows how to charm. During that same spanking, he sat near Kaysie and spoke to her as Jackson's sobs and moans were muffled behind the bedroom door.
I'm not gonna do anyfing Jackson is doing when I go get MY spanking.
You're not, huh.
Nope. I'm gonna walk wight in and jus' get spanked.
That's a good idea, Charlie.
I do not wike it when Daddy spanks me.
I'll bet you don't.
I wike it when you spank me. This piqued Kaysie's interest and she hesitated before asking nonchalantly–
Oh really? Why?
Because when Daddy spanks me, it hurts—but when you spank me, it does not— Charlie's gaze finally met Kaysie's. The realization of the privileged information spilling out of his mouth occurred to him. He stared.
I pwobably should not have told you dat. Kaysie smiled pleasantly.
Tell you what, son. From now on, we'll let Daddy do all your spankings.
Charlie sighed.
Yep. I definitewy should not have told you dat.
So, there is an inherent difference in the way Jackson deals with disappointment and in the way Charlie deals with it. Yes, Jackson goes off the deep end, revealing his scars and putting his emotions in front of a microphone—but at least we know where Jackson stands when the consequence is said and done. Jackson wrestles his flesh to the ground— and he does so in public. That's how we know the transformation is real. I know that his repentance is true because I witness his internal journey from resistance to acceptance firsthand.
Charlie? Well, you don't always know with Charlie. Charlie is good at seeming fine. He keeps his deepest feelings close to his chest. And the rough stuff? You could go a very long time without Charlie allowing anyone to see the rough stuff. The result is an engaging and personable child—everyone's best friend—though you don't always know what's really going on inside there.
And yet, we as a Christian culture seem to think that it is this same positioning and decorating of ourselves that ministers most. In an effort to put our best foot forward, we disguise the ugly, bury the past, and soak the dirty laundry in perfume. We have an emotional need to seem holier than all the "thou's we encounter while fitting in to the perfect flawless world of those who side-hug us on the way to the sanctuary.
Have something to say about this article? Leave your comment via Facebook below!
advertise with us
Example: "Gen 1:1" "John 3" "Moses" "trust"
Advanced Search
Listen to Your Favorite Pastors