Scandalous
Mark Steele, Author
Tuesday, August 04, 2009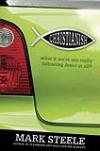 We delay. We block. We blame.
We cover-up.
And we somehow believe that it delivers a better impression of what it means to serve Christ. We believe that seeming the Stepford Wife makes us some sort of demented recruitment tool. But the truth is, we have done more damage to the world's impression of Jesus by feigning inaccurate perfection than we could ever cause by allowing those who don't follow Christ to see us wrestling our sins and flaws to the ground.
SCANDALOUS HISTORY
Many cite Matthew 5: 48 "Be perfect, therefore, as your Heavenly Father is perfect," but that verse doesn't have anything to do with fakery. It is a call, instead, to spiritual maturity. And maturity owns up to the truth. Others refer to Jesus and how it was His holiness that truly ministered. This, of course, is true. But we too quickly forget that His holiness ministered most powerful as it stood side-by-side with His humanness. And, never was His humanness more on display than in His birth.
Jesus revealed the rough stuff with the very way He first came into the world.
It seems to me that the first sentence in the first telling of the Son of God entering into this world would be glorious and filled with holy hyperbole. Not so. Instead, we get a few pragmatic words: "A record of the genealogy of Jesus Christ." This is merely a preamble to the names that follow—names that expose Christ's lineage. The first chapter of Matthew fires the names off bam, bam, bam: so-and-so was the father of whatcha-macall-him—never taking the smallest breath, diving headlong into historic minutia until ZING! Verse seven delivers the whopper—the first specific detail mankind received about the family Jesus comes from:
"David was the father of Solomon, whose mother had been Uriah's wife."
Uriah? Wasn't he the guy David had killed? Murdered so that David could sleep with his wife? That guy? Why on earth, out of all the admirable people in Jesus lineage—and for that matter, all the honorable traits of David—why is this bucket of family dirt given the first and greatest mark of attention? A golden opportunity missed. Here the ultimate history book had the option of paving a red carpet and paparazzi before Jesus, publicizing the elitist line He came from and urging the public down to its knees in awe. This was the proof: that Jesus came from the lineage of the favorite King, the man after God's own heart—David. But instead of applauding this fact, chapter one in Matthew pauses to remind the reading audience that this great King David whose line led to the Savior—this beloved ancestor of Jesus Christ—was a man of great failure and greater scandal.
Matthew started his history book with tabloid fodder. Why?
Because just like you and me, Jesus came from a scandalous history. But unlike you and me, Jesus was not afraid for the world to know and remember that scandal. As a matter of fact, He welcomed it.
We all come from something scandalous. Perhaps those who came before us, perhaps the life we lived before we lived for Christ, perhaps some aspect of our current life. But in modern Christianity, we have somehow deluded ourselves into believing that priority one is to eradicate this reality.
We bury. We pretend. We deny to others and ourselves.
And, even worse—when the opportunity arises to actually come clean with the soiled spots of our life history—we instead make believe everything is, and always has been, a series of either perfect, fine, or no big deal. And in so doing, we make ourselves into the very fakers we detest. We somehow convince ourselves that this is what Jesus would want: a wiped-clean façade. A steam-pressed, white cotton, buttoned-down church shirt.
We live the rough stuff, but we keep it silent. We believe it to be a lapse in faith to actually comment on the rough stuff or give it reference. We assume that exhaling the rough stuff somehow gives it more power, so we smile and wave and praise the Lord that everything good is permanent and everything not-so-good had zero effect on us. We have a terrible habit of skipping the rough stuff.
Have something to say about this article? Leave your comment via Facebook below!
advertise with us
Example: "Gen 1:1" "John 3" "Moses" "trust"
Advanced Search
Listen to Your Favorite Pastors