Scandalous
Mark Steele, Author
Tuesday, August 04, 2009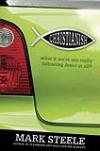 I don't understand why I do this. I look at the way Jesus entered this world and I see very quickly why it was important for Him to make mention of his scandalous history. It softened the blow for the shame and disgrace that would accompany Him into the world. It was as if Jesus said, I know the manner in which I am born is going to start the rumor-mill flowing, so I might as well give it a head-start. And, what rough stuff it was:

a mother pregnant before even engaged
a father who almost broke off the engagement
parents who make their decisions based on angel dreams
a cousin born of the elderly
a birth in an animal barn
adoration from astrologers
a birth that prompts the murder of hundreds of other infants
Let's just say that if you brought all these needs up during a prayer meeting, the family would be ostracized forever before the first syllable of amen.
The truth is this: Jesus experienced the rough stuff before the age of five in ways you and I could never imagine. We consider Christ's sufferings and we picture Him at the age of thirty-three, but the beatings go all the way back to the birth canal.
THE ROUGH STUFF
How did we take this life picture and somehow misconstrue it to mean that if we just believed in Jesus, our lives would be wealthy, prosperous, and happy? Jesus doesn't promise that. Jesus says that many great things will come to those who follow Him, but He also promises a whole lot of lousy.
And, here's the key: the lousy isn't rotten. The lousy isn't sin. The focus of your life is not supposed to be dodging lousy.
Because lousy is life.
And lousy is important.
It is in the rough stuff where we truly become more and more like Christ, because it is amid the lousy where we experience life on a deeper level. With intense pain comes the opportunity to love more richly. With disappointment comes the push towards selflessness. Neither of those come with pleasant because pleasant breeds boredom. And boredom is a moist towel where the mung beans of sin sprout. Life following Christ is not supposed to be a ride. It's supposed to be a fight because there is a very specific villain—and if we don't fight, he wins. If our Christianity aims only for pretty and pleasant and happy and rich, the enemy becomes the victor.
But there is another just-as-important reason that we should embrace the rough stuff. Not only because Jesus did. And not merely because it is important.
We must embrace the rough stuff because, for far too long, Christians have skipped the rough stuff. We have pretended it does not exist in order to speak into existence a more promising present. But there is a massive dilemma when the Christianish skip the rough stuff.
Real life doesn't skip the rough stuff.
And those who do not yet follow Jesus know this. Their lives don't skip the rough stuff and they know good and well that your life doesn't skip it either.
So while we as a microcosm of faith have been busy naming-and-claiming, yearning for a better bank account and more pleasant pastures, ignoring the fact that lousy exists— the world watches.

And when they watch, they see the truth:

Life doesn't skip the rough stuff.
We say that our lives do skip the rough stuff.
Therefore, we are liars.
Or—at absolute best—we don't understand real life at all.
The world is looking for Jesus, but they don't know they are looking for Jesus because they believe they are looking for truth. You and I know that truth is Jesus. But they? They do not know that truth is Jesus because you and I are supposed to be Jesus— and you and I couldn't look less like the truth.
For decades, our focus has been completely skewed. In the eighties, our passion was prosperity, never noticing that the only wealth that is important to Jesus is a wealth of love and compassion for those around us. In the nineties, we were branded by righteous indignation, and Christianity became a political term that meant we were anti more things than we were pro. In the new millennium, the postmodern set poured out bitterness and disappointment on the church of their parents, disregarding everything the previous generation built only to construct the same thing with hipper color palettes and larger video screens. We still worship what we want our lives to feel like more than we worship Jesus. We still major on the minors, debating whether the book of Job is literal or parable when we should be out there pulling people out of the rough stuff. We still spend more money on self-help books than we give money to help others. We have become a club—a clique. A group that is supposed to be a perfect picture of the Father—but instead just acts like a bunch of bastards.
Have something to say about this article? Leave your comment via Facebook below!
advertise with us
Example: "Gen 1:1" "John 3" "Moses" "trust"
Advanced Search
Listen to Your Favorite Pastors