Scandalous
Mark Steele, Author
Tuesday, August 04, 2009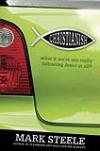 Our lives are not shattered pieces. This whole world is a broken puzzle—and each of us fits next to those around us.
YOU ARE THE GLUE
My favorite television show is ABC's Lost. The masterminds of Damon Lindelof and Carlton Cuse have constructed a vast mythology where none of the bamboo strands make any sense until the day they eventually become a basket. Yes, I adore the convoluted structure and the peel-back-the-layers mystery of it all, but more importantly, I appreciate the fact that the strands in that basket --are people.
The beauty of Lost is that these characters were marooned on an island with no foreknowledge of any of the others. They each carry their own bruises, scandal, and broken pieces onto this island. What they do not know is that each is the glue for someone else's piece. Sawyer has the information Jack needs from his dead father. Locke knows where Sayid's long-lost love lives. Eko knows that Claire's psychic was a phony. Each one is the ghostbuster to what haunts the other—but some never discover this. Some in this story are never healed. Why? Because the answers do not exist? No.
Because the characters neglect to connect.
When Jesus came to this earth, He was bold about His own scandalous history and He was born under tabloid circumstances. Why? Simple.
Because He knew that His rough stuff was the answer to someone else's—and He did not want to keep it quiet. He knew that the only path to healing was to connect His glue to someone else's pieces.
In God's great plan, He created us each the same way. We each have our own brokenness and we each have a God-given strength. However, we continue to sit in confusion because we feel like a life following Jesus should feel less disjointed and make more—well, sense.
And that is exactly the problem.
Our lives don't make sense because our lives were not intended to stand alone.
Our lives were each made by God as pieces. Pieces of the eternal puzzle.
We are made to fit our lives into one another's. Our entire lives.
The good. The bad. The strength. And the rough stuff.
As hopeful as we are that our strength will heal someone else, it is far more likely that our rough stuff will. Because, not only does our rough stuff hit another life where it most matters—the acknowledgement of our own rough stuff communicates that we understand this life we live and this world we live it in. Embracing the reality of our rough stuff communicates truth. Truth that the world is able to identify. Truth that will become the glue to their pieces.
This is the profound orchestration of how God intended to use imperfect people to represent a perfect God. It is not in each of us faking our way to an appearance of flawlessness. It is in each of us being true and vulnerable in our pursuit of Christ and taking the glue of His power (even amidst the frailty of our humanness) and connecting with the broken around us. It is this weave—this interlocked puzzle—this merging of shrapnel and adhesive into a beautiful picture—it is this that reveals the real truth of Jesus Christ. If we are ever to escape the Christianish and truly become little Christs, it will only be in this merging—acknowledging that our strengths are from God and not our own, while allowing that strength to mend the broken. But it does not stop there. We also have to be willing to reveal our pieces so that others' strengths can heal our own pain.
This is the perfect earthly picture of Christ. It requires a new sort of church culture: a culture that no longer positions itself at the prettiest angle, but rather gets down to the scandalous histories for the sake of revealing to a world at large that Christ not only understands, but can transform our pieces through the power of other broken people.
Just like the rest of the world, my sons Jackson and Charlie fit together. They are simultaneously each other's antithesis and each other's antidote. Each other's miracle or each other's foil. It all depends upon whether or not they are each willing to fit together and allow the collision of their rough stuff and strength—their scandals and successes— to make the sum of both entirely complete.
Have something to say about this article? Leave your comment via Facebook below!
advertise with us
Example: "Gen 1:1" "John 3" "Moses" "trust"
Advanced Search
Listen to Your Favorite Pastors