The Doctor is In, Again
The Culture Beat, with Alex Wainer
Thursday, April 22, 2010
American media companies aren't the only ones who have successfully relaunched pop culture franchises, such as Batman, Transformers and Battlestar Galactica. The BBC series, Dr. Who originally aimed at family audiences when it began in 1963, and running till 1989, was brought back on the air in 2005 as a filmed hour series with much higher production values. What didn't change was the essential nature of the title character, referred to only as "The Doctor," an eccentric, proccupied, cosmic-level genius often dressed with what looks like clothes out of your grandparents' attic. He's also an alien itinerant from a race of Time Lords and thus, though appearing human, has two hearts and is exquisitely attuned to the turning the galaxies, planets and time itself. And another thing, when his body is struck with some mortal blow, he can regenerate himself into a new body or a total of 12 regenerations, which each appear to be a different person with personalities differences unique to that regeneration.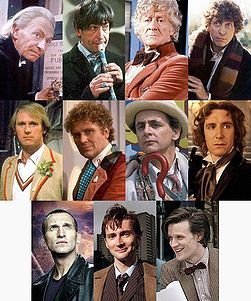 The first Doctor (the different versions are known by their sequence), played by William Hartnell, fit the general stereotype of the absent-minded scientist, irascible and cunning with his white hair and formal, antiquated attire. Always accompanied by usually human companions, for audience identification, the Doctor traveled in his time machine, the TARDIS (time and relative dimension in space) a marvelous machine that outwardly appeared to be a blue police call box of the early 1960s but inwardly was a vast interstellar vehicle for moving through time and space. The show really caught on with the arrival of the Daleks, a scary race of robotic beings looking like more sinister versions of R2D2 and intent on exterminating their enemies, meaning anyone but themselves. The complete quirkiness of the program with its cheap sets and old-fashioned cliff-hangers became popular so that the show continued for over twenty years, going through a series of regenerated Doctors and offering actors a chance to bring their own contribution to an ageless character.
In 1989, with no firm support from BBC executives, the program had faltered in its direction and appeal leading to its cancellation. The series continued in the public awareness through home video of the years of episodes and audio productions of new episodes of past doctors but it took a new BBC regime to see the potential for a relaunch.
What was immediately striking about the new Doctor Who series was that it had truly entered the 21st century world of digital effects, high production values and enhanced characterization. Just as other rebooted heroes were examined more in-depth, like Daniel Craig's James Bond, the Doctor was now more vulnerable, his need for companionship more apparent despite his seemingly insouciant demeanor. The episodes are also much faster-paced and dramatically richer than in the past with plot threads weaving in and out of episodes as in other high-concept television narratives.
The general direction of actors cast has been to make the Doctor gradually younger and thus more likely to appeal to a broader audience. With the 10th Doctor, played by David Tennant, the series reached the height of its popularity, as the sneaker-clad protagonist raced down corridors and across planetscapes in his hair-raising battle against evil aliens and monsters. After five years, Tennant decided to leave which once again challenged producers with how to cast the character that would continue audience attachment. The result was Matt Smith, a twenty-something who will bring his own interpretation when the new season begins on BBC America this Saturday the 17th. I imagine most fans have wondered what the BBC will do when Smith eventually leaves, to be replaced by number 12 leading to an eventual decision what to do when the thirteenth Doctor's run is up. Christopher Eccleston, the actor who relaunched the franchise lasted only one year, announcing his departure early in his run so producers must be thinking about such contigencies.
One last comment: Many time travel tales in popular culture involve changing the past or repairing a mistake made when someone goes to the past, as in Back to the Future. I think Dr. Who is unique in that the character doesn't change anything in history that he knows is set. He simply arrives at a certain time and place, is plunged into a dangerous situation, and works to stop evil machinations, because he knows that certain things in history aren't determined and that's where he can interfere. (Yes, Who fans, Tennant's Doctor famously broke that rule in his last season, in "The Waters of Mars," and was soundly rebuked for it. Thus, if you're tired of the usual paradoxical headache-inducing time travel stories, consider a voyage in the Tardis starting this Saturday with a new Doctor.
Have something to say about this article? Leave your comment via Facebook below!
advertise with us
Example: "Gen 1:1" "John 3" "Moses" "trust"
Advanced Search
Listen to Your Favorite Pastors