Summer Movie Kick-Off: Iron Man 2
The Culture Beat, with Alex Wainer
Tuesday, May 25, 2010
The kids aren't out of school yet but the onset of the summer movie season, having crept back to make room for earlier releases, scores a box office touchdown with the sequel to 2008′s superhero funfest Iron Man, with Robert Downey Jr. The original film was a nice alternative to the brooding darkness of the Batman films and the angst of Spider-Man. Downey's Tony Stark was an flippant, eccentric weapons developer who grows a conscience when he discovers that his business partner is selling his company's high-tech munitions to the country's enemies and invents the ultimate corporate suit of advanced armor in order to personally clean up the mess. When the movie ended with Stark revealing his true iron identity to a press conference, the audience knew that the wild times were just beginning.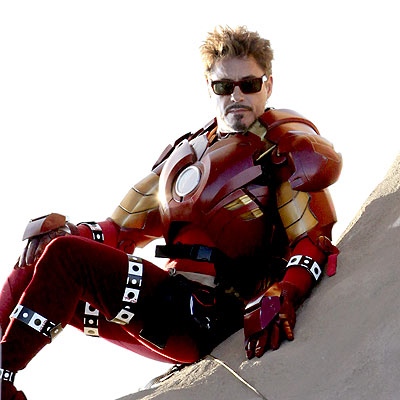 And the sequel picks up a few months later as Stark/Iron Man has, in his words before a meddling Senate hearing, "privatized world peace" with his Iron Man technology, which he refuses to share with the US military. But the wily Stark of course must begin the movie with both outer and inner challenges to confront and we soon see both: the vengeful son of former Stark employee is using Tony's arc reactor technology to turn himself into the supervillain Whiplash while Stark himself faces the slowly increasing toxic effects of an element used in the personal arc reactor that powers his heart and the Iron Man suit. More so than in the long-running (since the 1960s) comic, Downey's Tony Stark is a complicated hero, often his own worst enemy, who must face father issues, and his own inability to connect to those closest to him, Girl Friday Pepper Potts and military liaison James Rhodes.
The filmmakers took a chance that the actors' appeal and interaction would keep audiences interested during the middle part of the story that has less action than you might expect as the various plotlines play out and converge in a predictably explosive and exciting climax. There's nothing much in the movie to talk about as one sits during the closing credits-no great themes or ambiguity to stimulate debate, just a romp of a comic-book story. But as in the first film, those True Believers who sit through the long credit sequence are rewarded with a glimpse at what Marvel Studios are cooking up next so stay and you'll get the full value of your ticket.
Posted by: Alex Wainer
Have something to say about this article? Leave your comment via Facebook below!
advertise with us
Example: "Gen 1:1" "John 3" "Moses" "trust"
Advanced Search
Listen to Your Favorite Pastors