Are Superhero Films Past Their Prime?
The Culture Beat, with Alex Wainer
Tuesday, August 24, 2010
Entertainment Weekly's Jeff Jensen traced the last ten years of ever more lucrative superhero movies and wondered if the viability of the genre was on the wane. Hollywood studios with mammoth budgets for next year's Green Lantern, Thor, Captain America: The First Avenger and X-Men: First Class are betting that there's still plenty of power in those spandex tights. Comic-Con displayed the casts of several movies due next year and in 2012′s The Avengers which combines the Hulk, Iron Man, Captain America and others in a Marvel extravaganza to dwarf earlier films.
Jensen is right to ask the question about how upcoming films can resonate with audiences now quite familiar with such characters-we relate to these characters on some level because we can relate to Batman's quest for rough justice, Spider-Man's struggle for a normal life, the X-Men's societal rejection or the giddy fun of imagining ourselves in a cool metal suit. But what does Green Lantern speak to in the mass audience, or for that matter, the Green Hornet? Is the appeal of Thor or Cap limited to hardcore comic book geeks, the essential audience the Comic-Con panels were reaching out to but not the average moviegoer?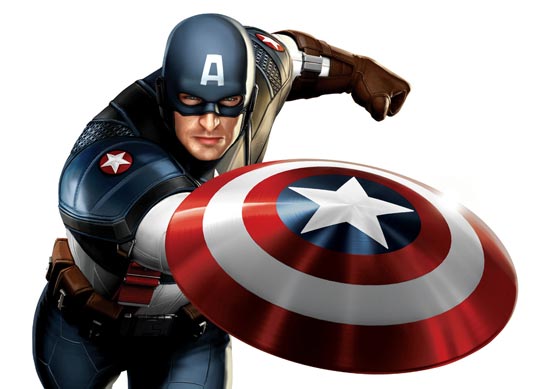 I think it will probably all come down to the story and the attitude of the production toward the character. If it takes an ironic stance toward the "star spangled sentinel of liberty," Captain America, a character whose red, white and blue costume is hard to imagine in live action (see the picture I took at Universal Studios Marvel attraction) then the audience will mostly stay away. The new movie's version of the costume, shown above, successfully adapts it to a live action practicality. As a character, Cap's alter ego, Steve Rogers, a man of the 1940s patriotic spirit, was always at odds with his latter day resurrection into a more cynical and knowing culture-it was his quiet insistence on his American values that made him Marvel's moral compass, what Superman is to DC Comics. I think it's quite possible to pull it off if the director an script believes in the classic rendering of the character.
Thor, an actual Norse god, banished to Earth from his mythical home of Asgard by his stern father Odin, would, in big screen translation, have to avoid the attraction to wink at the material and pull a campy Wagnerian spectacle needing only Elmer Fudd and Bugs Bunny from the class cartoon "What's Opera, Doc?"
This still from next summer's release already reminds me of a scene from Das Rheingold or another of the Ring Cycle operas, missing only Brunhilda in a breastplate, helmet and spear. And Green Lantern's tactic of using his power ring to create a giant boxing glove or fly swatter in combat has always seemed pretty cartoonish even for comics.
So success will all be in the tone and identification of the human drama of each character. Comic book characters only work because there's something about the hero, other than their fantasy appeal, that attracts readers and makes them care about them. So, Cap is a man burdened with living up to the best ideals of his country-perhaps a metaphor for anyone serving in the armed forces, or with any duty to a higher national cause. Thor is a a golden boy who has never mastered himself or risen to the responsibilities of a royal household and must now learn to serve protect mere mortals, sort of a mythic rich kid who must do community service. And Hal jordan's Green Lantern preceded and perhaps inspired George Lucas' Jedi Knights, as an Emerald Warrior, a space cop keeping order on his assigned space sector. These are all types that, if adapted intelligently, will appeal to that desired blockbuster audience the same way Marvel second stringer Tony Stark's Iron Man hit paydirt by showing that superheroes are always, after all, human.
Posted by: Alex Wainer
Have something to say about this article? Leave your comment via Facebook below!
advertise with us
Example: "Gen 1:1" "John 3" "Moses" "trust"
Advanced Search
Listen to Your Favorite Pastors