Author says Pass the Faith, Please
Lori Borgman
Wednesday, March 31, 2004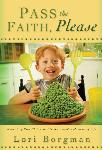 This book is not a primer on theology. (For that, see John Calvin.) It is not a catechism guide. (See Martin Luther). Nor is this book a step-by-step how-to manual. (See Martha Stewart.) It is simply one parent's reflections on valiant, and sometimes not so valiant, attempts to pass on key components of her faith to her children in the course of everyday life.
As parents, you and I have roughly eighteen years to imprint life's basic lessons onto the hearts of our children. Naturally, this includes a wide variety of things, from the need to put the milk back in the refrigerator when finished, to the value of doing extra credit assignments in school. Hopefully, some basic lessons on faith are taught as well.
Eighteen years seems like a long time when you bring that little bundle home from the hospital. Older women, whose children are grown, often look at you with your ducklings in tow and say, "Enjoy them while they're little, the time passes quickly." You may be having one of those not-so-good days and think, Well, lady, the time isn't passing quickly enough. And then it happens. . One day, you blink twice, turn around, and your kids are not little anymore. They're shaving, shopping for prom dresses, driving a car and making plans for a mission trip to Haiti. It seems like only yesterday that you told them that under no circumstances were they allowed to leave the backyard.
Of all the lessons a parent teaches a child during those fleeting years of childhood, the most important are the lessons of faith. Without faith and a moral compass, what's the point? Without a core set of convictions and beliefs, an understanding of our Heavenly Father, a faith you can hang your hat on during times of trial, it's all little more than chasing after the wind.
So, what are the key components of faith? First on the list would be a personal relationship with Christ. We want our kids to know Christ and to know what type of people He calls His followers to be. We want our children to know how to think intelligently from a biblical perspective. We want them to grasp the essence of loving God with their whole being and their whole life. We want them to have teachable spirits and a measure of humility. We hope they will gain a good work ethic that appreciates all tasks, be they big or small, extraordinary or menial, done with the intent of honoring God. We want them to be people of character who know the power of prayer and the satisfaction of putting the needs of others before our own. We want them to grasp the might of repentance and forgiveness. Forgiveness boy, is that important. What family could survive together under one roof without forgiveness? Above, all we want them to have a dynamic, living faith; not a petri dish clone of our faith, but their own faith; a rock solid belief system that seamlessly weaves the natural with the supernatural, the physical with the metaphysical.
How does a parent do all that? How does a parent ascend to such lofty heights while tethered to piles of laundry, unpaid bills and a yapping dog? Well, how did Christ teach that gaggle of twelve who were under his tutelage? He taught while they walked, while they prepared meals, while they ate, while they built fires and while they drifted in a boat.
There's nothing dramatic about passing on the faith. Oh, sometimes there are fireworks or one of those rare but unforgettable on- the-road-to-Damascus experiences, but for the most part it's a quiet action. Passing on the faith is a slow, steady process that happens day in and day out, packing sack lunches, checking book bags, talking over milk and cookies or while matching the clean socks fresh from the dryer. A parent imparts the lessons of faith the same way Christ taught the twelve-within the holiness of the mundane.
Excerpted from "Pass the Faith, Please" by Lori Borgman © 2004. Published by Waterbrook Press. Used by special permission of Waterbrook Press. For any other use, please contact WaterbrookPress for permission. All rights reserved.


Have something to say about this article? Leave your comment via Facebook below!
advertise with us
Example: "Gen 1:1" "John 3" "Moses" "trust"
Advanced Search
Listen to Your Favorite Pastors