A Worried Christian?
John MacArthur
Friday, June 18, 2004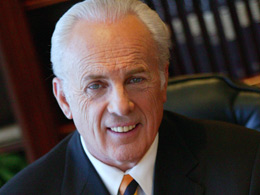 Worry Is Unwise Because of Our Future
Jesus said, "Therefore do not be anxious for tomorrow; for tomorrow will care for itself. Each day has enough trouble of its own" (Matt. 6:34). He was saying, "Don't worry about the future. Even though it will have its share of problems, they have a way of working themselves out at the time. Just deal with them as they come, for there's no way to solve them in advance." Providing for tomorrow is good, but worrying about tomorrow is sin because God is the God of tomorrow just like He is the God of today. Lamentations 3:23 tells us His mercies "are new every morning." He feeds us like He fed the Children of Israel-with just enough manna for the day.
Worrying paralyzes you, making you too upset to accomplish anything productive. It will seek to do that to you by taking you mentally into tomorrow until you find something to worry about. Refuse to go along for the ride. The Lord says you have enough to deal with today. Apply today's resources to today's needs or you will lose today's joy.
God gives you the glorious gift of life today; live in the light and full joy of that day, using the resources God supplies. Don't push yourself into the future and forfeit the day's joy over an anticipated tomorrow that may never happen. Today is all you really have, for God permits none of us to live in tomorrow until it turns into today.
Understand this: God gives you strength one day at a time. He gives you what you need when you need it and doesn't encumber you with excess baggage. Perhaps your worst fear is how you'd handle a loved one's death. Let me assure you as a pastor who has kept watch over many Christians finding themselves in that situation, this is the attitude I most often encounter: "It is so wonderful how God has sustained me! I naturally miss my beloved, but I feel such incredible strength and confidence and a gladness in my heart that my loved one is with the Lord." God gives us His grace in the hour we need it. If we worry about the future now, we double our pain without having the grace to deal with it.
"Jesus Christ is the same yesterday and today, yes and forever" (Heb. 13:8). That means He will be doing the same thing tomorrow that He was doing yesterday. If you have any question about the future, look at the past. Did He sustain you then? Don't worry-He will sustain you in the future as well.
P> Adapted from
Anxiety Attacked
, © 1993 by John MacArthur. All rights reserved.
Have something to say about this article? Leave your comment via Facebook below!
advertise with us
Example: "Gen 1:1" "John 3" "Moses" "trust"
Advanced Search
Listen to Your Favorite Pastors