Trusting God in the Darkness
Tony Evans
Saturday, April 30, 2005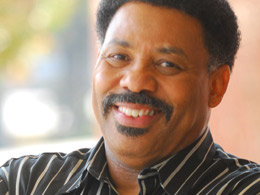 We Benefit
What will happen if you choose to rejoice in the Lord while facing times of darkness? First, you will be controlled by joy instead of happiness. Everyone in our society just wants to be happy. Happiness is feeling good because our circumstances are good. The problem with happiness is that when your circumstances take a bad turn, you aren't feeling too happy anymore. Happiness is a roller coaster of ups and downs.
But when we have joy in the God of our salvation we have inner stability and tranquility regardless of external circumstances. Joy is not dependent on what's happening out in our world, but on what's happening in our hearts. That's why Paul says: "Rejoice in the Lord always; again I will say, rejoice!" (Philippians 4:4). When our joy is found in the eternal God, we always have reason to rejoice.
The second benefit of choosing to worship God in the darkness is that you receive strength for the journey. Habakkuk says: "The Lord GOD is my strength, and He has made my feet like hinds' feet, and makes me walk on my high places" (v. 19). A lack of joy and hope certainly saps your strength; it makes you want to stay in bed all day and stay in a perpetual state of depression. But God makes our feet like "hind's feet," like the feet of a mountain deer, nimble, quick, and strong to make it up and over the mountains we face.
Habakkuk earlier asked God how long he would endure his trials and told God he didn't understand what God was doing. Now he tells us that he has joy and strength from God to face whatever obstacles come his way. He is able to walk on high places; steep mountains that would seem impossible to climb were it not for God's strength and equipping.
As we consider how to trust God in the dark places in our lives, let's also think about the story of Peter as he saw the Lord walking on the water. Jesus told him to come out on the water with Him. Peter stepped on the water, but the Bible tells us he began to get distracted by the wind and waves whipping around him. In other words, he began to focus on his circumstances. When Peter took his eyes off the Lord and began to focus on his situation, he began to sink. Just like Peter, we will sink every time if we are focused on our circumstances instead of our solution, Jesus Christ.
But as Peter began to sink, he realized he had to change his focus. He looked up and said, "Lord, save me." And the Lord saved him and allowed him to walk on the water again.
p> God is inviting us to look up, to keep our eyes on Him in the midst of our storms and trials. We can make the choice to trust Him and worship Him no matter what happens in our lives.
Have something to say about this article? Leave your comment via Facebook below!
advertise with us
Example: "Gen 1:1" "John 3" "Moses" "trust"
Advanced Search
Listen to Your Favorite Pastors