Your Divine Design
Monday, February 27, 2006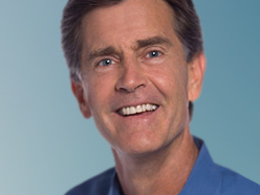 From both Scripture and experience, we know this isn't an instant process. Extreme makeovers take time. Paul continues in Ephesians 2 with a description of "the house" where it all happens. It's called the church - not a building, but the living, breathing people of God walking together in unity and maturity, exercising their gifts in the fullness of His Spirit. That's the corporate side of it, but there's also an individual aspect that Paul describes in chapter 3. We are strengthened in our inner being as Christ dwells in our hearts by faith, and together with all the saints we come to grasp the height and depth and length of the love of Jesus. Knowing that love, we can be filled with the fullness of God. In other words, our makeover is both a neighborhood project and a personal transformation, an external facelift and an internal overhaul. Everything about us becomes new, inside and out. But the makeover isn't completed just for its own sake. It all comes back to discovering the divine design that God has made us for. The second half of Ephesians tells us how grace has been apportioned to us - Jesus broke the power of sin, declared His victory, and then gave gifts to human beings. He deposited the manifold gifts of His Spirit into the church. Why? To demonstrate His wisdom. The spiritual gifts that fit our design are given as evidence of His victory over satan, sin, and the world.
Your Divine Design
You are a paintbrush in God's hand. He is dipping you in multiple colors to showcase His artistry. And your spiritual gift is the evidence of what He has done. The problem is that many Christians don't even know what their primary spiritual gift is. Many of us spin our wheels for years trying to serve in areas we are not equipped to serve in. Occasionally we may have to serve wherever we are needed, of course, but normally we need to focus on the design God has for each of us. When we're confronted with a multitude of options, we need to know which ones we are gifted to do. Spiritual gifts are not choices on a salad bar. We can't just pick and choose which ones we want. I've done a lot of things in my life that were important and useful, but they did not bring me joy or bear much fruit. I had to discover that God sovereignly chooses the gifts that perfectly match the works He wants each of us to walk in. I had to understand the paintbrush He was using. You do, too. Discovering your divine design and living according to that design will produce evidence of the life of Christ in you. It certainly did for Jim. One of his estranged sons came to visit him after almost ten years of absence. He could hardly believe what he saw. It looked like his dad, but Jim was so different that his son wondered if he was putting on an act. The son came face to face with the reality of Jesus. Jim was not the same man. He was literally a new creature in Christ. That's what happens when people understand what they were designed for. Members of our church exercised their spiritual gifts, and they had a profound impact on Jim. Jim exercised his spiritual gifts, and he had a profound impact on the church and the community. He learned why God had made him and redeemed him, and he walked in the good works God had already planned. God wants a makeover for you that is just as extreme and powerful. He hasn't ordained a small sampling of good works for you to do. He has given you God-sized gifts for a God-sized reason. If you will learn what they are, you will grow in the purpose God planned just for you. Excerpted from the
Your Divine Design
DVD small group curriculum by Chip Ingram.
Used with permission. Copyright 2006 by Chip Ingram. All rights reserved. About the author: Chip Ingram is President of
Walk Thru the Bible
in Atlanta, GA, and Teaching Pastor of
Living on the Edge
, a national radio ministry.
Have something to say about this article? Leave your comment via Facebook below!
advertise with us
Example: "Gen 1:1" "John 3" "Moses" "trust"
Advanced Search
Listen to Your Favorite Pastors