When The Odds Are Against You
Wednesday, August 23, 2006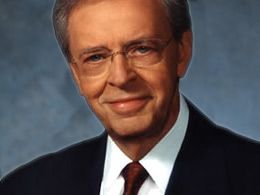 Do you shrink back in unbelief? Do you become discouraged and disillusioned? Do you give up?
Because of the believer's union with the Overcomer and Conqueror, the Lord Jesus Christ, we can surmount our obstacles. While the nature of our circumstances differ, God has a strategy of victory available for every Christian who faces seemingly devastating problems.
That strategy is blue-printed in the life of Gideon, who was chosen by God to deliver the Israelites from the oppressive hand of the Midianites. Each year, the Midianites ravaged the land and people of Israel. Disobedient and divided, the Israelites cowered in caves; afraid to resist.
When God appointed Gideon to lead the resistance, he was not thrilled about God's challenge. Insecure, he asked God to demonstrate His power through several miraculous signs. Emboldened by God's supernatural affirmation, Gideon gathered about 32,000 soldiers to attack the enemy. As God winnowed the Hebrew army to a mere 300 men to face a Midianite army: "as numerous as the sand on the seashore," (Judges 7:12) the odds certainly were stacked against Gideon.
The odds may seem as overwhelming in your life. Perhaps your husband has left you. You have three children to raise with no source of income, having worked as a homemaker for 15 years. Perhaps you just lost your job. It is tough to start over again, at any age. But now you have two children in college. Perhaps your doctor has discovered a malignant lump. The prognosis is not favorable - six months or a year to live.
In situations like this, when you do not know which way to turn, what to do, how to act, or what to say - God has a way. Whatever your circumstance, God can help you win; even if your circumstance does not improve. He will sustain and strengthen you as you employ the timeless principles of His Word.
God uses difficult odds to build our faith. The Christian life starts, continues, and ends by faith in Jesus Christ. When our problems overload us, doubt is usually our adversary's advance attack. We question God's wisdom, wonder about His power, and waver in our faith in His promises.
That certainly was Gideon's initial reaction: "Then Gideon said to him, 'O my lord, if the Lord is with us, why then has all this happened to us? And where are all His miracles which our fathers told us about…'" (Judges 6:13).
When the odds are against you, God wants to establish your faith and confidence in Him. He wants you to look to Him for the answer. God understands our tendency to doubt. Even when we are faithless - He remains faithful.
God can only use men and women who place their trust in Him. While we want to develop faith simply by reading about it, biblical faith is best developed when the bottom drops out, when the skies darken; when all of our props are kicked out from underneath us. Then we are helpless and dependent on Him - exactly the condition where He can mold genuine faith.
p> When the odds are against you, God also may require you to
act in what appears an unreasonable manner.
The Midianite army apparently consisted of about 135,000 soldiers. God's strategy of attacking this vast encampment with only 300 men must have seemed ludicrous to some. With only 300 men, the Hebrews were out-numbered 450-to-one.
While God may seem to require what appears illogical on the surface, He will never instruct us to disobey His Word. We may not understand His actions, but He has His own divine reasons.
When the odds are against us, God will lead us to do that which brings Him the most glory. Had 32,000 men defeated the Midianites, the Hebrews would have rejoiced in God's deliverance. But when only 300 men routed the enemy, there was no question that God Himself had won the victory. All the praise then belonged to Jehovah God.
God's desire to receive the glory in the situation was evident in His selection process: "[And] the Lord said to Gideon, 'The people who are with you are too many for Me to give Midian into their hands, for Israel would become boastful, saying, 'My own power has delivered me' '" (Judges 7:2).
Have something to say about this article? Leave your comment via Facebook below!
advertise with us
Example: "Gen 1:1" "John 3" "Moses" "trust"
Advanced Search
Listen to Your Favorite Pastors