Don't let your midlife turn into a crisis
Wednesday, August 29, 2001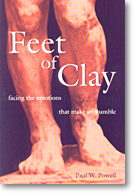 We've all heard stories of men in their 40s who leave their wives and children and head off into the sunset with a younger woman in a red convertible. This is known as a
severe midlife crisis
.
A midlife crisis is the time when you realize you are growing old and feel life is over. It comes when you sense you will never reach all your goals, fulfill all your dreams, or climb all your mountains. Or perhaps you have succeeded, but not found success satisfying.
Men have the most severe reactions to a midlife crisis, although a growing number of women are also in crisis. Most men reach their midlife crisis between 35 and 50 years of age.
Symptoms of midlife crisis include depression and self-pity. They feel they are tied to a treadmill, trapped in a job or a marriage that is unfulfilling and unsatisfying. They feel that life is not fair and that they deserve more.
Marriages are at high risk during this period. Extramarital affairs and career disruptions are common. Men and women seek a younger partner, someone who will make them feel alive and exhilarating.
No one is exempt from the perils of the midlife crisis, but there are several ways to avoid destruction:
Beware of fantasizing. The problem with fantasizing and daydreaming is that the more they are indulged, the more they prepare someone for an affair. As a man thinks in his heart, so is he (Prov. 23:7).
Never stop starting. Although fantasizing can be counterproductive, dreaming is the best defense against boredom. Hold fast to dreams, for if dreams die, life is a broken winged bird that cannot fly, is the advice of poet Langston Hughes.
Maintain a balance in life. Combining dreams and goals with a proper amount of work and play makes life interesting and productive. All work or all play makes life stale.
Nurture your marriage. A balanced life includes maintaining relationships at home. A neglected marriage is a powder keg waiting to explode. After having been married for 10, 20, or 30 years, there is a tendency to take one's mate for granted, to neglect the little things that cement a relationship, such as talking, touching, thoughtfulness, tenderness, tolerating differences, spending time together, and working and laughing together.
Study, pray, and worship. A balanced life is further enhanced by a close walk with the Lord. If you experience a close communion with God through Bible study, prayer, meditation, and worship, then the spiritual strength that comes will be greater than any temptation. Furthermore, such a walk will promote high self-esteem, and the need to have others enhance it will be diminished.
From: Feet of Clay: Facing Emotions That Make Us Stumble by Paul W. Powell. Copyright (c) 1999. Used by permission Smyth & Helwys Publishing, Inc., Macon, Ga., 1-800-747-3016. http://www.helwys.com
Paul W. Powell is the retired president/CEO of the Annuity Board of the Southern Baptist Convention and is president of the Advisory Council of the Texas Baptist Leadership. He has authored 30 other books in his 40 years as a pastor and denominational leader.
Have something to say about this article? Leave your comment via Facebook below!
advertise with us
Example: "Gen 1:1" "John 3" "Moses" "trust"
Advanced Search
Listen to Your Favorite Pastors