How to Trace the Fire of the Holy Spirit
Sharon W. Betters
Friday, September 17, 2004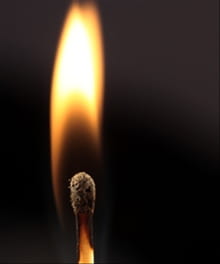 Whenever I speak to a group of women, I urge them to start a journal as a safe place to wrestle with questions about life as well as deepen their intimacy with our God. I also urge them to accept God's invitation to regularly come into His presence and soak in His Word. Many women want to do just that but don't know how to start.
In Twenty-Seven Treasured Promises, the companion devotional notebook that we created for our congregation in response to Chuck's series, The Year of Our Lord, we included some tips for starting a journal as well as tips for Scripture memorization. I hope these tips (reprinted below) will help you trace the fire of the Holy Spirit.
Tracing the Fire of the Holy Spirit - Tips for Journaling
Many people find keeping a journal is a tool God uses to draw them into deeper intimacy with Him. A written journal is a record of your spiritual journey. It is a means to "trace the fire of the Holy Spirit" in your life and the life of your church. Following are some suggestions to help you get started.
Keep it with your Bible and a notebook/journal. Read the noted Scriptures in their context. Using the written prayer as a guide, write out the desires of your heart for your church, your family, yourself. (If you do not have a copy of the Treasured Promises Devotional, start by personalizing Psalm 23 or Colossians 1:9. Replace personal pronouns with the name of the person for whom you are praying.) Write as though you are writing a letter to God. Don't worry about spelling or grammar. If you are not sure how to pray, use Scripture as your foundation - just as the leadership team of our church has done in this booklet.
There are no rules for journal keeping. Your initial efforts may be effortless or strained. You may write a few lines or pages. You may use a computer or hand write. Your journal is private correspondence between you and your Lord. The goal is not to fill pages but to keep a record of your deepening relationship to Christ.

When a good friend did not know how to help me sort through what seemed to be conflicting doctrines and strong emotions, she suggested I work through my questions by writing them out in my journal until God cleared up the foggy thinking. A journal is a safe place to work through out-of-control emotions and confusion. Your journal never tires of repetitive questions! Honesty and vulnerability make journal keeping an adventure. Anticipate a deeper awareness of God's presence as you record His actions in your life.
Your church will only be as strong and spiritually vibrant as the people who attend. When you worship God through the week, coming to church on Sunday to worship with fellow believers becomes a celebration. When we come to church beaten up by the events of the previous week, we depend on our fellow believers to have spent time with our Lord and to share with us their strength and energy.
Our intimacy with Jesus strengthens us so that we can help hold up the arms of those who are weary. As more and more of your congregation experiences deepening intimacy with our Lord during the week, your worship services will reflect that corporate intimacy. Using your journal will help deepen that intimacy and make you more sensitive to the needs of those around you.
Recently on Bible Study Tips
Have something to say about this article? Leave your comment via Facebook below!
advertise with us
Example: "Gen 1:1" "John 3" "Moses" "trust"
Advanced Search
Listen to Your Favorite Pastors