The calendar is closing in on the holidays and in our house, with this time of year, comes the writing of the annual family Christmas letter. Most years this task is a joy as I share God's handiwork in our lives with extended family and friends. But some years... well, some years I think that if I saw me sharing what life has been like on Oprah or one of those afternoon TV shows I'm not sure I would even believe me!
Sometimes life packs such a wallop of dramatic surprises that words don't even begin to describe it -- and truth be told, maybe words shouldn't even try! I cannot deny God's hand of blessing over our lives the past year, nor can I deny the reality that He has and is bringing us through some head-spinning whirlwinds.
I wonder what your Christmas letter looks like this year -- was it an easy year or a hang-on-for-dear-life kind of year? If you had a roller coaster kind of year, take heart you are not alone!
Adam and Eve effectively lost their two sons when Cain's jealousy baited him to kill his younger brother Abel. Jealousy reared it's ugly headed again in Jacob's family when the older brothers grew tired of baby brother Joseph and sold him into slavery and lied to cover their deed by telling Dad that poor Joe had been killed by wild animals. Moses married a woman of a different ethnicity and his two siblings pitched a public fit and tried to stir the people up against his leadership. Devastation and drama! And that is only the beginning of the Bible's list of family sagas. If family drama isn't enough for you, the Bible is chocked full of all kinds of other examples of relational issues, persecution, stress and tension.
Interestingly, in two out of three of the family drama accounts above, forgiveness played a key role in handling the family drama. And in all three accounts God handed justice out to the offending party.
When Cain killed Abel, God spoke with Cain before the fatal decision, guiding him to understand how to beat down the temptation within him (Genesis 4:7). Cain acted against God's counsel and took the life of his brother. God banished Cain and put some kind of mark on him so that others wouldn't decided to enact their own justice and kill him.
God elevated Joseph to a position of power second only to the Pharaoh and it was to Joseph that his brothers eventually bowed and pled for mercy. Joseph forgave his brothers (Genesis 50:19-21). He declared that he was in no place to enact judgement upon them and spoke kindly to them.
In Moses' family saga, Miriam bore the brunt of God's discipline (assuming that she was more the instigator behind the ruckus) and she turned leprous. Moses prayed and begged God to heal her and have mercy on her -- an expression of love and forgiveness.
Forgiveness is an emotional and spiritual healing process that happens between you and God. Reconciliation is a healing process that takes place between you and another person. Sometimes we are not able to have the reconciliation we would wish for, but we are always called to forgive. I define forgiveness with three "R" words.
Forgiveness is about Remembering!
We need to remember God's abundant grace and the forgiveness He has granted us in spite of our own sins. Think about how these verses point us to the truth that at the crux of forgiveness is a need to remember how we too are in need of God's grace and forgiveness- just like the person who offended us.
And be kind to one another, tender-hearted, forgiving each other, just as God in Christ also has forgiven you.Ephesians 4:32 (NASB)
If we confess our sins, He is faithful and righteous to forgive us our sins and to cleanse us from all unrighteousness. If we say that we have not sinned, we make Him a liar, and His word is not in us. 1 John 1:9-10 (NASB)
Do not pay attention to every word people say, or you may hear your servant cursing you— for you know in your heart that many times you yourself have cursed others. Ecclesiastes 7:21-22 (NIV)
Forgiveness is about Recognizing!
We need to recognize our true identity in Christ! When we have been deeply wounded by someone, we often identify with the pain so much that it becomes part of who we are and eventually the defining factor of how we see ourselves. In Christ we have been called conquerors and victors -- not victims! This isn't easy -- none of this forgiveness stuff is -- but we won't ever be truly free from our hurts if we let them continue to define us. Your Creator is the only One who has a right to define who you are!
Zechariah 2:8 holds a visual image we should keep fresh in our minds: For thus says the LORD of hosts… for he who touches you, touches the apple of His eye." (NASB)
The phrase "the apple of His eye" is a term of endearment. But the phrase literally means you are held so close to someone that you can see your own reflection in the pupil of their eye. God is holding you so near and dear to Himself that if you look up, you will see your reflection in His eyes! (This is the concept on which I based the Bible study My Reflection in His Eyes: Seeing Yourself as God Sees You). Look to God for your reflection and identity, not the stuff around you, sister! And know that God cares about even the little hurts that just "touch" you- you don't have to wait until your arm has figuratively been blown off before you can talk to your Abba about it. It matters to Him when someone even touches you, His daughter, His princess!
Forgiveness is about Resting in God's sovereignty and judgment.
At the end of the day, what's done is done. If I trust that my heavenly Father sovereignly sifted the pieces of my life through His loving hands, then I must come to the conclusion that He is ultimately able to use the pain for good.
And we know that God causes all things to work together for good to those who love God, to those who are called according to His purpose. Romans 8:28 (NASB)
We can choose to rest in His ability to set things right. Easier said than done, but it will grant us peace -- something a wounded soul desperately needs!
The other aspect of His all-powerfullness that we should rest in is His ability to meet out perfect justice. Probably 90% of the junk that comes our way in life is stuff we wouldn't want to see God send lightening bolts down on the other person over -- we just wish they would knock off whatever it is they do that hurts us. I hate it when friends talk badly about me behind my back; I am hurt when people leave me out of stuff; and I am disappointed when people use me, but I would never in a million years wish to see God meet out some kind of judgment on them for it!
Yet, there are things in life that are deeply wrong and God wouldn't be a loving God if He didn't set a few things straight. He doesn't just turn a blind eye to women who are abandoned by their husbands, or children who are abused and their innocence robbed, etc. He is all-knowing, all-powerful and never sleeps -- so if there is something that needs to be done over the matter, we can rest assured that He is the right One for the job! Let Him meet out the judgment, rest in Him and then you can live out this next passage --
Never pay back evil for evil to anyone. Respect what is right in the sight of all men. If possible, so far as it depends on you, be at peace with all men. Never take your own revenge, beloved, but leave room for the wrath of God, for it is written, "Vengeance is Mine, I will repay," says the Lord. "But if your enemy is hungry, feed him, and if he is thirsty, give him a drink; for in so doing you will heap burning coals upon his head." Do not be overcome by evil, but overcome evil with good. Romans 12:17-21 (NASB)
When you let God handle the matter, you can rest in Him and be the gracious princess He called you to be!
One last thought about forgiveness. Miriam isn't mentioned all that much after her rebel-rousing against Moses. It seems as though she wasn't given the same place of leadership she had once enjoyed.
God calls us to forgive. But He doesn't require us to enter into some kind of crazy-making cycle where we give trust to people who haven't earned it. Sometimes we can reconcile differences and enjoy the same sweet fellowship as before the offense. Sometimes we forgive, but the person never earns back that place of trust. That is okay -- it doesn't usually feel okay, but it is. It is better to let go of expectations into the Father's tender care than to hang them over someone else's head and over your heart.
As the holidays approach and the stress of it all brings out the sometimes not-so-very best in us and our family members, consider how God might be calling you to forgive and to perhaps let go of a few expectations into His hands. Forgiving someone just might be the best present you give to yourself -- and after all, forgiveness was the whole point of Christ's birth!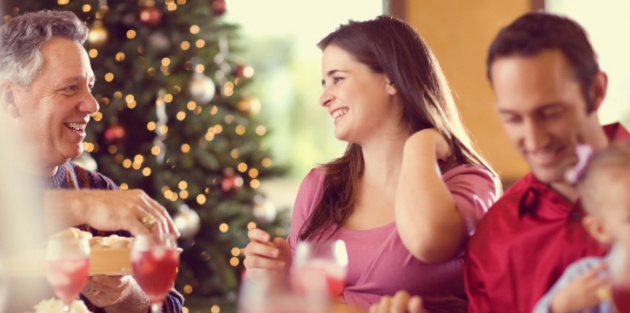 It's the most wonderful time of the year ... well, maybe, but one thing for certain is that this is the most busy time of the year! And for us gals, it can be pull-your-hair-out stressful!
I have often wondered how in the world we came to the conclusion that it was a good idea to bake, make gifts, wrap gifts, make little costumes for the Christmas play at church, decorate our homes, have lots of people over and somehow keep the house clean enough for all those activities. I mean wouldn't one of those extravaganzas be enough?
If it isn't the financial strain of gifts and entertaining, it is the time shortage to get "it all" done -- and many of us feel stretched way too thin across both arenas. We heap Herculean expectations on ourselves and wonder why we are so tired! If there is ever a season when the perfectionism bug eats away at women, it is during Christmastime!
Most of us out there might not verbally admit it, but don't we all want a "perfect" Christmas? A brief season of joy and celebration with family and friends (who are all getting along and liking each other for the moment). A time of fun with no worries for safety or financial hardship. A moment of order -- you know, "the stockings were hung by the chimney with care" kind of thing -- everything in its place, gleaming and bright. A spell of rest by a blazing fire when life feels like hot snicker doodles and cocoa with whip cream (calorie-free -- of course!).
Yes, we want a patch of "perfection" in the midst of our crazy lives -- and is that too much to dream for?
I imagine that Mary had those same thoughts that first "Christmas". She was about to become a mommy! And a mommy in a most mysterious fashion. She would mother the King of Kings, the long awaited Savior! Of course she wanted His birth to be "perfect" -- every new mother does. Yet, it wasn't "perfect" by any standards I would have dreamed.
We can surmise that the birth of Jesus was a stressful family ordeal. Even Mary's fiancé Joseph had at one point considered divorcing her and "putting her away." An angel met him in a dream and explained the situation -- but you can imagine the tension between Mary and her family. Perhaps her friends took issue with her pregnancy. We really don't know, but we can speculate at the responses of those around her. Yes, there might have been some relationship drama in Mary's life that first Christmas.
There was also difficulty in the world around Mary and Joseph that first Christmas. The government required that everyone pack up and travel to the city of their birth. It must have been "good times" being big and pregnant, road-tripping it on the back of a donkey! The world around them created less than "perfect" circumstances for that first Christmas.
Once Mary and Joseph arrived in Bethlehem there was no room anywhere for them to sleep -- and Mary was in the throes of labor. With nowhere else to go, they stayed the night in a stable, surrounded with the stench of animals. No, this was not the way either one of them had imagined the birth of the long-awaited Savior.
Then there were the visitors! Angels brought the birth announcement to shepherds that night. The shepherds went quickly to see the wonder of God wrapped in humanity. I am pretty sure Mary hadn't expected strangers to pop by for a visit -- but there they were.
That first Christmas was full of surprises, many of them taking Mary and Joseph in directions they wouldn't have planned. And yet, to God it was all in His perfect plan!
Maybe, like Mary and Joseph, you have some family drama mixed in with your peppermint mochas. Perhaps in the midst of shopping and wrapping life is sending you on a journey you didn't expect. Or you feel the strain of our changing world and it threatens the ease of your financial and travel plans this Christmas. Perhaps you feel like there is no room for you at the inn and feel left out of the joys of the season to labor alone. Maybe you have unexpected people bursting into the moments you wanted to be private family time. Maybe, just maybe, it is all part of God's perfect plan!
What are you thankful for this year? Well, we are thankful for you! Our readers have been such a blessing to us! Over the course of the last year we've been navigating health issues, life changes, moving, a new baby (praise the Lord!) and we are so grateful that you share the journey with us! We hope and pray this Thanksgiving season finds you and yours healthy and joyful. The Lord's sweetest blessings on you and your family <3

Here's a few links from Thanksgiving past, the latest Thanksgiving post and a printable for you to enjoy:


The Flavors of Thanksgiving: Regardless of the season of life you find yourself in, God is honored by the thanks you bring to His table

Giving Thanks: Thoughts on the first Thanksgiving

A Sacrifice of Praise: God doesn't expect His children to be plastic or fake in the ways we thank Him through hard times

Thankful for... That? Finding gratitude for the things in your marriage you'd never expect you could be thankful for

Thanksgiving Printable Fun stuff for your Thanksgiving celebrations