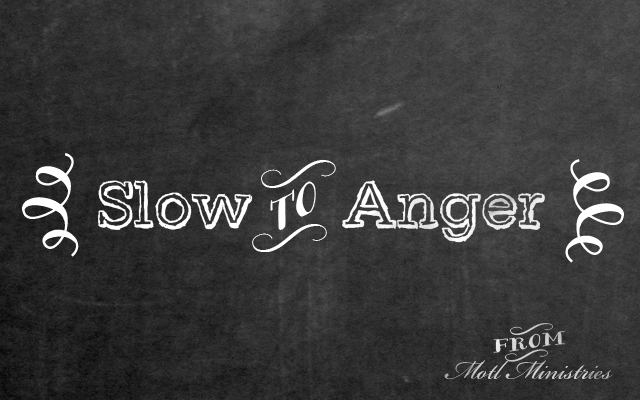 By Pastor Eric Motl
"My dear brothers and sisters, take note of this: Everyone should be quick to listen, slow to speak and slow to become angry." James 1:19
The Bible makes it clear that God's people ought to be slow to become angry. Thankfully, as always, it tells us how to accomplish what it demands. In order to be slow to anger one must be quick to listen and slow to speak. Too often we blurt out what we're feeling or thinking without slowing down to consider the ramifications of our forthrightness. Forthrightness is not always best, particularly if showing how we feel will come out as sin – that is, in anger. As followers of Jesus Christ we are called to slow down our responses in order to filter what comes out of us. The Bible often calls this self-control.
Galatians 5:22-23
But the fruit of the Spirit is love, joy, peace, patience, kindness, goodness, faithfulness, gentleness, self-control; against such things there is no law.
Proverbs 25:28
A man without self-control is like a city broken into and left without walls.
Again, Scripture tells us that only a fool shows what he's thinking or feeling quickly, whereas the prudent conceal any inappropriate thoughts or feelings until they get control of themselves.
Proverbs 12:16
A fool's anger is known at once, but a prudent man conceals dishonor.
What we need to practice, as followers of Jesus, is slowing down everything that's going on inside of us in order to filter the good from the bad – to keep the bad from coming out. We need to see every conversation and every circumstance in slow motion, spiritually, in order to properly respond as Jesus would to anything life throws at us. This would greatly help our marriages, our friendships, our churches, and every other relationship we participate in.
Proverbs 14:29
He who is slow to anger has great understanding, but he who is quick-tempered exalts folly.
Let's practice slow motion living. Let's learn to listen more than we speak. As Christians let us be very slow to speak, only letting out what's been carefully thought about first, in order to bring healing rather than hurt to those around us.
Proverbs 12:18
Careless words stab like a sword, but the words of wise people bring healing.
We will be back next Monday for more of the Managing Your Anger Before It manages You series.
For more marriage resources, devotionals and freebies, follow Motl Ministries through email, fb, twitter or on pinterest.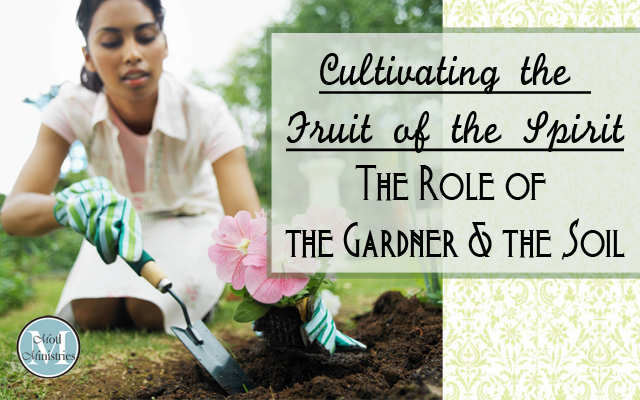 Excerpt from Free to Flourish Cultivating the Fruit of the Spirit
My husband and I recently bought our first home. It's tucked way out in the hills and we couldn't be happier with our little country home. We've always wanted to grow some of our own food, but renting affords little more than herbs and a few tomatoes. So we have been excited to get our first real garden started! The tricky part is that our property is mostly on a fairly steep slope. We've been reading and researching whether we should build terraced garden boxes, pay to have some land graded, make dry stacked terraces, etc. With each option, it changes the pluses and minuses for our future garden, and thus changes the requirements for care. Good gardening has certain ingredients to make it fruitful and our heart "garden" does as well. So what are the ingredients of a fruitful life?
Consider the following verses and the ingredients of fruitfulness each one highlights:
I am the true vine, and My Father is the vinedresser. Every branch in Me that does not bear fruit, He takes away; and every branch that bears fruit, He prunes it so that it may bear more fruit....Abide in Me, and I in you. As the branch cannot bear fruit of itself unless it abides in the vine, so neither can you unless you abide in Me. I am the vine, you are the branches; he who abides in Me and I in him, he bears much fruit, for apart from Me you can do nothing. John 15:1-2, 4-5 NASB
Indeed, the Lord will comfort Zion; He will comfort all her waste places. And her wilderness He will make like Eden, And her desert like the garden of the Lord; Joy and gladness will be found in her, Thanksgiving and sound of a melody. Isaiah 51:3 NASB
To grant those who mourn in Zion, Giving them a garland instead of ashes, The oil of gladness instead of mourning, The mantle of praise instead of a spirit of fainting. So they will be called oaks of righteousness, The planting of the Lord, that He may be glorified. Isaiah 61:3 NASB
Blessed is the man who trusts in the Lord And whose trust is the Lord. For he will be like a tree planted by the water, That extends its roots by a stream And will not fear when the heat comes; But its leaves will be green, And it will not be anxious in a year of drought Nor cease to yield fruit. Jeremiah 17:7-8 NASB
How blessed is the man who does not walk in the counsel of the wicked, Nor stand in the path of sinners, Nor sit in the seat of scoffers! But his delight is in the law of the Lord, And in His law he meditates day and night. He will be like a tree firmly planted by streams of water, Which yields its fruit in its season And its leaf does not wither; And in whatever he does, he prospers. Psalms 1:1-3 NASB
In all these passages I see that God is the source of the fruitfulness and it brings Him glory; it's never about us looking good or "feeling" good (though I believe God cares about our feelings, they aren't center stage). I also see that there is a beautiful exchange that happens: places of dryness and waste become beautiful, joy resides in place of despair, praise in place of hopelessness. I also see that certain qualities shut out others, like anxiety has no place in the fruitful heart. Additionally, there isn't room in a fruitful heart to be entertained by things that are not of the Lord. Lastly, the heart that bears fruit is one that is completely wrapped up in the Word and Ways of God. It is the highest delight of soul and constant meditation. These are heart choices we make that influence the grow-ability of the spiritual fruit Christ has for us.
These are just a few of the ingredients the Lord laid out for our hearts to cultivate so that we might live in His calling. As you consider the quality of your life and how you are living your calling, take note of what ingredients your "heart garden" might need refreshed and replenished. Ask the Lord for wisdom to access the fullness He came to give you.
Join me in the following weeks as we dig through the Scriptures that point us to the Words of Life for our hearts and emotions.You can also purchase the study here.
By Pastor Eric Motl
So Cain became very angry and his countenance fell. Then the LORD said to Cain, "Why are you angry? And why has your countenance fallen? If you do well, will not your countenance be lifted up? And if you do not do well, sin is crouching at the door; and its desire is for you, but you must master it." Genesis 4:5-6
In order to properly understand anger it is wise to go back to its origins, to the first time in recorded history when someone was angry. Cain is the first person in Scripture to get angry. We learn in Genesis Chapter four that he was angry because God wasn't pleased with him. And since God was pleased with Cain's younger brother, Able, Cain became angry. Cain's anger was vented towards his brother; and in a fit of jealous rage he killed his brother. The first human display of anger led to the first murder in history. We learn a number of important lessons from the story of Cain and Able about anger.
First, as Jesus taught us, the root of murder is anger (Matthew 5:21-22). Most of the time our anger doesn't lead to an actual act of murder; but the back of every murder is anger. And anger, when it's full grown, is murderous. Whenever we're angry it's just like having "baby" murder in our hearts. Any follower of Christ wants to get rid of that.
Next, we learn that our anger towards others is really anger towards God. Like Cain, we might try to blame others for our actions. But in the end, it's not people we're angry at if we harbor anger. It's God. And when things aren't going our way it's not people, in the end, that are causing it. It's us. And God is always trying to teach us something through it. If we are pleasing to God we will care little about others' opinions. However, when our eyes are on people rather than God our focus becomes confused and our moral judgements blurred.
Lastly, we learn that sin is actually the back of our anger. It is sin in our lives that needs to be controlled, rather than sin controlling us. As God tried to teach Cain, when we are anger it's really sin "crouching at our door." That is the origin of anger. He goes on to explain to Cain that sin is trying to get us but we "must master it." It is our job as believers to call anger what it is – sinful and murderous. It will do us much good to admit that when we're angry with people it's really because God hasn't given us our way. We're really angry with God. We must master the sin of anger before it masters us. Cutting off anger in our lives at the root is the best strategy to combat it. And we must always remember, anger in our lives isn't really between us and others, but between us and God.
We will be back next Monday for more of the Managing Your Anger Before It manages You series.
For more marriage resources, devotionals and freebies, follow Motl Ministries through email, fb, twitter or on pinterest.