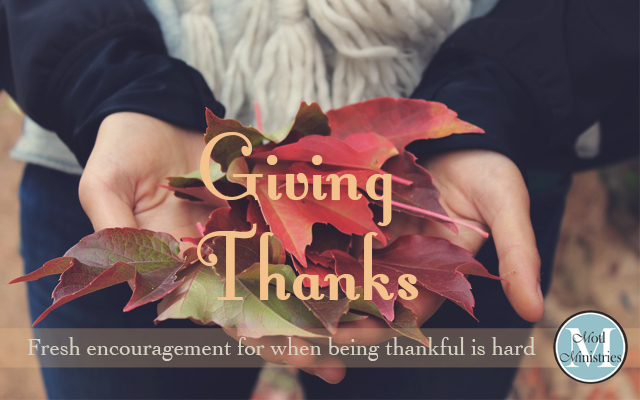 I started this "Thanksgiving" month off with a fresh dedication to cultivate gratitude with a vengeance! My to-do list challenged me to be thankful through each task... I was physically able to do this; had precious family in my life that would be blessed through that, etc. But to be honest, while I try to be a woman of thankfulness, I'm not naturally given to it. I could blame it on a whole host of things. But the reality is, I see what needs to be done more than I am content with what has been done. And that can be a positively wretched way to do life. That particular trait makes me someone who pursues excellence, but it can also drive me and everyone around me nuts! It can drain, more than it blesses. Rob more than it gives.
After some recent, deep, personal loss and a few other disappointments, my ability to be grateful has been tested more than normal - and I hope eventually grown. While I might wrestle to maintain the attitude of gratitude I wish sprung out of me more readily, I found a new, fresh bit of encouragement about what it means to truly be grateful as I prepared a word-study art journal devotional series.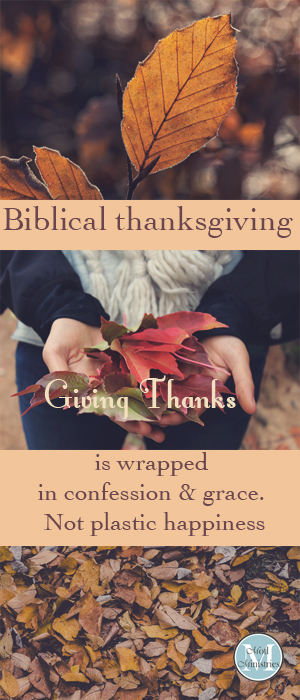 In Scripture, gratitude is everything we imagine, but I think, from a Biblical standpoint, it's even more than we imagine it to be. In preparing the Thankful Hearts Bible Study Art Journal, I loved the way God sovereignly picked two languages to capture the essence of "thanksgiving."
In the Old Testament yadah and todah (two Hebrew words having to do with expressions of gratitude) are tied to confession. In fact, sometimes those words are used to describe the act of confessing sin. In the New Testament, the Greek for thanksgiving is eucharistos (and a few derivatives). The word is a compound word with charis at it's root, which means grace. From beginning to end, God's Word shows us that to be a people of thanksgiving, we will be a people wrapped in confession and grace.
We won't be a plastic, happy people if we are thankful. We will be in touch with our brokenness. We will confess our need. We will live and breathe grace.
So this Thanksgiving season, I'm reaching for gratitude in a new way. In a more real and honest kind of it's-ok-if-I'm-more-messy-than-I-want-to-be way. My gratitude isn't solely resting on my ability to feel thankful (or unstressed, or unflustered, or even joyful); it isn't only depending on my ability to count my blessings or stay in that happy place of contentment. It's flopped down on God's grace, with a heart of confession and need. There's been some tears. There's been a desperation mixed in. It wouldn't make a pretty Norman Rockwell illustration. But in a new way, I am cherishing the beauty and love of God's all-knowing wisdom that I can't be the thankful person I want to be (even when I try so desperately), but I can be wrapped in confession and grace. So I will still try to be that woman of joyful gratitude. But I will do it while clinging to a confession of my need and shout of His grace.
If you'd like to join me for the Thankful Hearts Bible Study Art Journal, you can find the download here.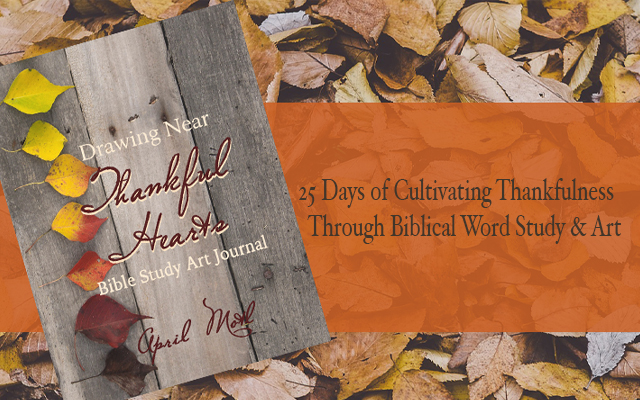 I am so excited to share this resource with you! It's a fun download with 25 days of devotional entries to stir your heart and fix your focus on thanksgiving. If you don't have a family "thankfulness box" or some other thanksgiving tradition, this would be a sweet new one!
Each entry contains either word study or devotional thoughts. You then have space to draw the verse or whatever response you have to it. Drawing a Bible verse is a great way to help you memorize verses or just simply focus your mind on Scripture when distractions pull at your thoughts.
If your family is separated by miles, you can take a snap shot of what you draw and share it with one another. I thought there might be some grandmas and grandkids out there who could really get into that idea! If you are including children in this devotional exercise, it would work great for 4th grade and up. It does involve some reading that might be too difficult for younger kids to do on their own. But if an adult is there to explain, I think even younger kids would enjoy setting their mind and creativity to capture Scripture.
The devotional is a download, so it will get sent to your email. Single copies are $5.00, if you plan on sharing the devotional, there's a great deal - 2 for $6.00! Also, we'd love to feature some of your devotional artwork, so if you want to email us with a particular entry you really enjoyed, send it in and we might just put it on our facebook page :)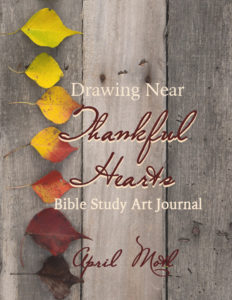 As you draw God's word, it's my prayer that you will be freshly drawn into His presence!
Click here to purchase.
From Pastor Eric Motl
Matthew 4:1-11 "It is written…It is written…It is written.."
Jesus responded to the devil's temptations, attacks, and lies with the Word of God and with the Word of God only (Matthew 4:4, 7, 10). According to the Biblical record the only words Jesus spoke to the evil one were direct quotes from the Old Testament (which was the Bible at the time – no New Testament yet).
Jesus upheld the Old Testament as the powerful, devil beating, triumphant Word of God. And although we only have these three quotes from Deuteronomy, we can responsibly conclude that He would have and could have quoted from any O.T. passage necessary to counter Satan's lies. Here's the point: if Jesus' strategy against Satan was to quote from the Old Testament to battle against evil ideas then by the very nature of His responses He upheld not only the specific passages He quoted from but the entirety of the books that held them. He wouldn't have quoted from these verses if He hadn't have believed that the very books that held them were of the same authority and power.
Some people today claim that Jesus' teachings can only be found in the Gospels of the New Testament. When they make these false claims they forget that Jesus believed, upheld, and practiced spiritual warfare with the Old Testament Word of God. By His actions towards the devil in Matthew 4 He not only thwarted the devil's schemes but showed us today that the Old Testament is a power tool for defeating evil.
In Jesus' perfect view and practice the Old Testament was the Sword of the Spirit(Hebrews 4:12). And by declaring His approval of these verses He gave His endorsement for the rest of the books that contained them.