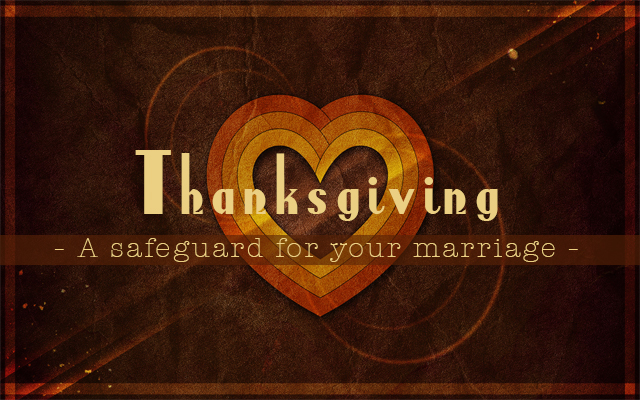 Thanksgiving is one of my favorite times of year for reflection. And one of the notions I've been pondering is how often we can miss the joy of gratitude because we just don't recognize God's provision.

Do not be deceived, my beloved brethren. Every good thing given and every perfect gift is from above, coming down from the Father of lights, with whom there is no variation or shifting shadow. James 1:16-17 NASB

James uses the word "every" gift is from above. So where you live is a gift. What you eat is a gift. Your job is a gift. Perhaps, if you don't have a job, even your unemployment is somehow a gift. (Oh! I know that is hard to hear! I pray God would open your eyes to His hands on your circumstance to see it as good. Romans 8:28) And, for the focus of this article, your spouse is a gift.

Before my husband and I were married we went through a variety of pre-marital preparations. One of the books we read asked a question: Is this person God's provision for you?

I wasn't sure of anything about the road ahead of us, and because of the struggles I'd seen with other's marriages, I was more than a little scared about what awaited us. But I was sure in my heart that God had provided Eric to be my husband.

I have a wonderful husband. And I try to be a good wife. That doesn't mean we haven't hurt one another or been disappointed with the other. But it does mean that at the end of the day, he is a good gift from the Father. And it means that no matter what, I am meant to be thankful for him.

I've heard lots of ministers say that it's degrading to make God out to be a cosmic match-maker of sorts. But I suppose it might also be degrading to say He cares so much about His children He actually knows how many hairs are on their head (Matthew 10:30) and has collected their tears in a bottle (Psalm 56:8). I mean how could the Creator of heaven and Earth stoop that low (Psalm 116:1-2)?

If I am directed to thank the Lord for the provision of food, clothing, and shelter, why would I not view my spouse as a gift to be treasured above my Payless shoes? If the Lord created everything (Colossians 1:16), and designed you and me to be just the way we are with the very DNA that made your eyes that particular shade because of genes from your parents, it just seems to me that His vast handle on plans, from the large ones to the details, would include providing the person we would become "one" with before God (Matthew 19:5).

I know this flies in the face of many people's opinions and perhaps the way they feel based on their own life. But for me personally, if I am honest with myself, when the day is done, if I am not grateful for my spouse as specific provision from God it's because I'm holding something against him. My disappointments and bitterness can overshadow how I experience God's "good gifts." My frustrations can cloud joy and gratitude. And conversely, holding onto thanksgiving in my marriage can be a safeguard against those negative sentiments as well.

When I stop and remember the precious qualities of my man instead of rehearsing an irritation or a wounding comment, it seals the cracks in our love. When I make a conscious effort make sure my husband knows I appreciate him, not just what he does, but him for who he is, it bonds our hearts.

If we lose that view of our spouse as a provision from the Lord, it leaves us open to consider finding what we want elsewhere. Now, there are cases where the Lord wouldn't require us to remain in a relationship, but the majority of marriages could be safeguarded by viewing each other and the marriage relationship as a gift from God. If marriage and our spouse are a gift from God then our relationship begins and ends with something bigger than us. If it is just about us, then it doesn't hold much significance beyond our immediate happiness.

When you read the history of the Jewish people in the Old Testament, it was always when they thought they were in charge of their own destinies and that their own labors and choices provided their desires that they fell away from God. Thanklessness breeds cold hearts toward God and toward one another. Remaining connected to the reality that God provides everything for us, even down to the air in our lungs, (Daniel 5:23) keeps us thankful and protects us from the pride that breaks us in the end. That same pride can break a marriage too.

If you are married, you can sort through whether or not you want to believe the Lord provided that person for you. I know some days it might be harder than others. But if you are still looking for your match, you might remember that God provided a specific woman for Adam, Isaac, and Hosea. Proverbs 19:14 says, "House and wealth are an inheritance from fathers, but a prudent wife is from the Lord." Scripture tells us that God has written all the days of our life in a book before there was even one of them (Psalm 139:16).

So for me, I thank God for my husband. Because he is a good gift from my Father in heaven.
For some fun family activities for your Thanksgiving, sign up for Motl Ministries' newsletter here.
Join us for more devotionals, encouragement and freebies by following MotlMinistries through email, fb, twitter or on pinterest.
What are you thankful for this year? Well, we are thankful for you! Our readers have been such a blessing to us! Over the course of the last year we've been navigating health issues, life changes, moving, a new baby (praise the Lord!) and we are so grateful that you share the journey with us! We hope and pray this Thanksgiving season finds you and yours healthy and joyful. The Lord's sweetest blessings on you and your family <3

Here's a few links from Thanksgiving past, the latest Thanksgiving post and a printable for you to enjoy:


The Flavors of Thanksgiving: Regardless of the season of life you find yourself in, God is honored by the thanks you bring to His table

Giving Thanks: Thoughts on the first Thanksgiving

A Sacrifice of Praise: God doesn't expect His children to be plastic or fake in the ways we thank Him through hard times

Thankful for... That? Finding gratitude for the things in your marriage you'd never expect you could be thankful for

Thanksgiving Printable Fun stuff for your Thanksgiving celebrations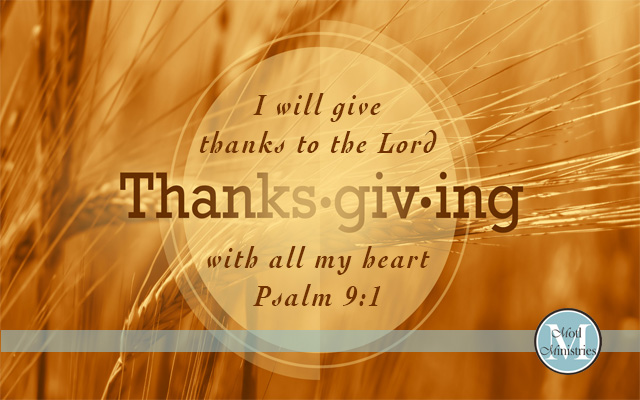 I will give thanks to the Lord with all my heart; I will tell of all Your wonders. I will be glad and exult in You; I will sing praise to Your name, O Most High. Psalms 9:1-2 NASB
I've never been very good at memorizing Bible verses, or memorizing much of anything, for that matter. So when we were blessed with our bundle of joy, I knew I wanted to help him be better at memorizing Scripture than I am. He's still too tiny to really be memorizing or reciting anything, but I figured instilling the habit would help us both. So on the wall above his changing table hang two verse cards that I change from time to time. He points at them to remind me to read them and sometimes he wants to hear them over and over.
As the Thanksgiving season drew near, I taped up some appropriate verses. And in the squirming diaper changes, something simple, yet important, struck me with a fresh awareness as we read our little verses. Scripture tells us to give thanks with all our heart. Not a tenth of our heart. Not with a bedraggled, exhausted, distracted tiny piece of our heart. The whole thing.
I've been noticing as I trudge farther down this road of life that I really can't do quite as many things as I once thought I could. I can try to do lots of things. But to really do them well requires more singular focus than I'd previously thought.
As a wife, I've seen how supporting my husband can often mean making sure I don't stretch myself so thin that I'm too tired to notice when my man's back hurts or when he needs a little encouragement. My hubby is one of those quiet guys who tries to be strong and trudge on without burdening anyone else. So I've learned I can easily miss the signals that he might need extra encouragement or support if I am all caught up in my whirlwind. As a mom, I've learned my little one has tons of unscheduled needs. In order to be prepared for his needs, I must have a margin built into life so there's something left of me to tend him. As a pastor's wife I've seen how a posture of stillness can actually accomplish more kingdom progress than all my frenzied, passionate efforts. Sometimes, doing less and trying to be a little less actually makes more room for the important things.
I think the same holds true in our approach to God. When we are going six-ways-for-Sunday, we miss Him. We miss His quiet nudges. We miss His fingerprints on Creation around us. We miss the little delights He fashioned into the day. And we just plain miss Him.
No matter how hard I might try to stretch myself, I can't be in two places at once. Spiritually, emotionally, and mentally we can't be in two places at once either. Our thanksgiving to our Father deserves our whole heart. Gratitude and grumbling don't grow in the same heart space. We can't experience the awareness of being blessed when our senses are overloaded with stress. Maybe this year we could cut out some of the hoopla so we could have more heart space to focus on simply being thankful.
So this Thanksgiving (admittedly, amidst more than enough flurry already) I am trying to center my whole heart, not a wearied tenth of it, on being thankful for my Lord and all His many blessings.
For some family fun activities for your Thanksgiving, sign up for Motl Ministries' newsletter here. Join us for more devotionals, encouragement and freebies by following MotlMinistries through email, fb, twitter or on pinterest.