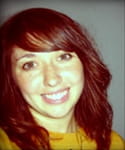 Remember that fear I mentioned awhile ago? That fear about miscarriage and the fact that it's still technically a possibility. A possibility that looms before me like a thorny branch in a meadow wild with gorgeous flowers.

Well, I long ago learned that that's the thing with fears: They thrive in ignorance. Soon what was once a verdant landscape can become overrun by the weeds if we let them. That's what fear can do to us, too.

Instead, to really deal with the fears, I must pick up my spade, dig them up and then, show them off for what they really are. Because usually they end up being something without substance, without real roots or depth but those thorns can grow and grow and tangle up everything around them if we let them.

So, I took that fear of mine and I laid it bare before a group of ladies in my community. The dirt and grime still fresh on my hands, I told them that there's a part of me that is afraid of losing the baby.

The thing is, it's not that I don't trust God to give life or to take it away. Perhaps that's how it may appear from the outside, but that isn't it. I learned long ago that I trust God to be in control of my life much more than I trust myself, so if he deems it this way or that, I truly know it is always decided from a place of love for me and whatever God has in store for next. Honestly, I do not doubt that truth.

As I laid this fear bare, though, I saw it for what it really was: It stems not from being able to trust God in that situation but from not being able to trust myself, namely my own emotions. If it were to happen, would I descend into depression and crumble in the face of that sadness? Would I be overcome by those feelings of loss and self-pity? Do I have the strength to keep on loving and leaning and looking forward rather than backward? How would I respond when people ask how the baby is doing, after the fact? Frankly, my own emotions scare me and I have no idea how I'd respond to that kind of loss.

That distinction—about what lay at the root of my fear—was an epiphany, and through it, I felt God telling me that I need to learn to trust even my own emotions over to him. It wasn't a truth I'd really grappled with before. Sure, I know I have to trust my future and my loved ones and my health and my career over to Him and His goodness, but even my own emotions? Yes.

If the unthinkable does happen, I have to be able to trust Him to guide my emotions even as he guides my feet and my fate. I have to trust that He'll step in and shepherd my own heart, because I don't think that's something I can handle on my own at all.

But the beautiful thing that he revealed to me is that I don't have to. I can trust Him with it all, even my own emotions. What peace prevailed from that realization. No matter what happens, he can be trusted. With it all.

Don't worry about anything instead pray about everything. Tell God what you need, and thank him for all he has done. Then you will experience God's peace, which exceeds anything we can understand. His peace will guard your hearts and minds as you live in Christ Jesus. - Philippians 4:6-7
Carmen writes the blog, Life Blessons, which provides an intimate look into her life as a twentysomething woman as she details her experiences learning how to live out her faith, enjoy the simple things in life and be the woman God created to her to be. Along the way, she shares the blessings and lessons that are a part of this journey, the things she likes to call her "blessons."

Feel free to learn more at her blog, Life Blessons.

Related Posts from Life Blessons
Decision Making: Out of Faith or Fear?
Jo-Ann's Testimony: Finding Healing from Fears
Have something to say about this article? Leave your comment via Facebook below!
About Carmen at Life Blessons
Carmen writes the blog, Life Blessons, which provides an intimate look into her life as a twenty-something woman as she details her experiences learning how to live out her faith, enjoy the simple things in life and be the woman God created to her to be. Along the way, she shares the blessings and lessons that are a part of this journey, the things she likes to call her "blessons." Feel free to read more at her blog, Life Blessons.
Example: "Gen 1:1" "John 3" "Moses" "trust"
Advanced Search
advertise with us
Recently by Carmen at Life Blessons
Recently on Crosswalk Blogs