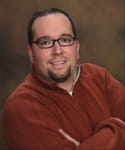 Going to church can become routine. I know it, because I grew up going to church three times a week (at least). It was not a choice my parents gave me. It was something we did, part of our regular routine.
As a second-generation Christian, I know full well the dangers of making spirituality overly routine. I have experienced long stretches of dryness where I was "going through the motions" and filling a pew. This can be dangerous to spiritual health. Traditionalism can become legalism. We can be satisfied with doing what we are supposed to do and avoiding spiritual introspection and growth.
However, I have come to appreciate the discipline of merely going to church. I used to say that "you shouldn't just go to church to go to church." But I've reconsidered this. The discipline of going to church every week for the majority of your life is in itself an act of worship, of sacrifice. You're saying to yourself and to the world that assembling with the called-out people of God, that the story of Christianity, the death, burial and resurrection of Jesus matters so much that you're willing to dedicate at least one day a week to it.
I'm glad, for instance, that my father and mother made us go to church every week, three times a week. My father, by this kind of leadership, demonstrated to me that faithfulness to the local body of Christ was paramount. By going to church every week we presented our bodies as a "living sacrifice" by getting up, dressing up, getting in the car and going to church. In the eyes of those who watched our family, we "voted" to make God a priority by committing ourselves to church.
I think I understand this more keenly now that I'm a pastor myself. Every week a pastor wonders who will show up. There are those who consider church a nice and viable option on Sunday and there are those who consider it a priority.
To be sure, faithful attendance shouldn't be all we achieve. We should seek to serve our fellow brothers and sisters. We should come to worship God. We should come to hear the food of the Word of God. But its the very discipline of going to church that sets the stage for those things to happen, for God to work powerfully in our hearts.
Sometimes we evangelicals eschew discipline because it smacks of legalism. We speak of Christianity as "rules" versus "relationship." And this is true and right. But the spiritual disciplines (such as attending church with God's call-out community) bring us closer to Christ, whose power can change us.
Year after year I attended church with my parents. There were many seasons where I went for wrong reasons (I had to go, I liked the social life). But two things happened when I went to church even on days I didn't really want to go. First, I was building into my life a habit, a discipline that would put me in the place where God works, in the midst of His church. Secondly, there were times I dragged myself to church only to hear a life-changing message.
So, its a good idea to make a commitment to be in church every single week. You'll be surprised at how this discipline will be a benefit to your life.
Have something to say about this article? Leave your comment via Facebook below!
About Daniel Darling
Daniel Darling is the Senior Pastor of Gages Lake Bible Church in the northwest suburbs of Chicago and is the author of several books, including his latest, iFaith. His work has been featured in evangelical publications such as Relevant Magazine, Focus on the Family, Marriage Partnership, Pray!, Relevant, In Touch with Dr. Charles Stanley. He has guest-posted on leading blogs such as Michael Hyatt, The Gospel Coalition, OnFaith (Washington Post), and others. He has been profiled by The Chicago Tribune. Daniel is a contributing writer to Zondervan's Couples Devotional Bible. Publisher's Weekly called his writing style "substantive and punchy." Dan is a contributing writer to Christian Today's online magazine, Kyria as well as Lifeway's men's devotional, Stand Firm. He also maintains a blog at patheos.com, entitled, The Friday Five, where he interviews leading evangelicals. Dan's columns appear weekly at Crosswalk.com and monthly for the local Lake County Journals. Dan has been interviewed on TV and radio outlets across the country, including Moody Broadcasting Network, Harvest Television, The Sandy Rios Show, American Family Radio, the Salem Radio Network, and a host of drive time radio stations across the country. Daniel has a bachelor's degree in pastoral ministry from Dayspring Bible College. He traveled extensively to India and the Middle East. He and his wife, Angela, have three daughters and a son and reside in the northwest suburbs of Chicago.
Example: "Gen 1:1" "John 3" "Moses" "trust"
Advanced Search
advertise with us
Recently by Daniel Darling
Recently on Crosswalk Blogs