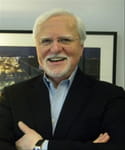 "Surely in vain I have kept my heart pure…. I have been stricken all day long and chastened every morning….. When I pondered to understand this, it was troublesome in my sight until I came into the sanctuary of God. Then I perceived their end…. God is the strength of my heart and my portion forever." (Psalm 73)
The most difficult place for any Christian pastor to serve may be next to a military base.
The greatest opportunity any pastor may have in a long lifetime may be serving next to a military base.
As the Apostle Paul said, "A wide door for effective service opened to me; and there are many adversaries" (
I Corinthians 16:9
).
Jim and Patsy told their story to some of us not long ago. I have never forgotten their testimony and want to continue lifting them to the Lord.
Background: they are from the U.S. and pastor a church near an American military base somewhere overseas. They've been there two years.
"Our church is not growing," Jim told the group. "The problem is the rotation of the military. Uncle Sam sends them in; Uncle Sam ships them out. In the two years we've been at this church, with the exception of two people, the entire membership has changed."
Any pastor of military people will know the feeling, although probably not to this extreme.
You learn your people and then they are gone. You train workers and they disappear. Lengthy trial periods to qualify as key leaders will not work here since their assignments are so brief.
Jim and Patsy were becoming discouraged. In the States, they were used to churches growing, to stability, to nurturing long-term relationships. Here, they felt like they were trying to plant a church in a revolving door.
What were they to do? What could they possibly do?
"And then we came to this meeting," Jim said.
It was the annual
pastors
/spouses retreat of their international denomination, five-days in length, with various speakers and teachers. They had flown in two of us from the States to minister to the group.
What did they hear and what specifically did they learn? What exactly did the Holy Spirit say to them directly about their situation that turned their attitude around?
They never did say.
What we do have is what Jim said next.
"I see now that I am a worker in the Lord's assembly line. I may not ever see the finished product. But that's not my assignment. My job is to be faithful, to stand at the location where He placed me and continue doing my job for His glory."
Jim and Patsy went home from that meeting with a new resolve to give this assignment from the Holy Spirit their all, to be faithful where God put them.
That's all He asks.
I expect this godly couple is not alone, that there are others who feel like failures because their church is not growing, the leadership is turning over, they are having to rely on new people whom they barely have met, and most of the burdens fall on themselves. They have few glowing testimonies to relate to their friends and supporters back home.
They are tired. When fatigue sets in, the defenses grow weak. Discouragement often results. If discouragement lingers, nothing good can come from that.
In truth, these ministry couples may be just as successful as any anywhere.
It's just a different kind of success. It requires a divine perspective, the kind the Lord gave the Psalmist in
Psalm 73:17
The kind the Lord gave Jim and Patsy at their retreat.
Caught in the midst of this kind of unusual and demanding ministry, God's workers have to nail down some key issues otherwise they are hopelessly lost:
1) Did God send us here? Is He sovereign and does He know? Or, has He abandoned us to our own resources?
How we answer this makes a world of difference.
2) Is God using us here in the lives of these people? Or do we see no evidence at all that what we are doing is touching lives?
Everyone needs to know that what he/she is doing is being used of God, even if the evidence is mostly hidden.
3) When our members and leaders move away on their next assignment, are they better prepared for whatever God has for them there?
Look at the big picture. Take the Kingdom perspective.
4) Are we learning from the ones God sends so that we are better prepared for the next group? Or are we spinning our wheels, getting nowhere fast?
If you (as pastor) are dealing with a constant turnover of members and leaders, recognize that they will have experience with numerous pastors and churches, too, and often will have insights to offer you which could make a world of difference in your work.
The Apostle Paul put it this way: "I planted, Apollos watered, but God gave the increase" (
I Corinthians 3:6
).
Nothing restores your "mojo" (momentum, enthusiasm, your heart for this work) like pulling aside periodically to renew your commitment to the Lord and to receive a reaffirmation from Him that you are where He put you, doing His work.
Everyone gets tired, friend. (See
John 4:6
) You are no exception.
Everyone has to deal with discouragement from time to time. Even the megachurch pastors do. (You might have to take my word for that.) You are not unusual.
You need fellowship with others in the ministry, people doing similar work as you, followers of Jesus Christ with whom you can commiserate and laugh and pray.
And, you and your spouse need periodic retreats, times to be alone and quiet and to rest. Take yourselves, your Bibles and your notebooks. (If money to pay for such a getaway is an issue, ask your denominational leaders. God has raised up servants who provide R & R for His workers at little to no cost.)
God bless you and be your strength. And keep in mind that when David said "God is the strength of my heart and my portion forever," he was just using other words to describe his mojo.
Have something to say about this article? Leave your comment via Facebook below!
About Joe McKeever
Joe McKeever says he has written dozens of books, but has published none. That refers to the 1,000+ articles on various subjects (prayer, leadership, church, pastors) that can be found on his website -- joemckeever.com -- and which are reprinted by online publications everywhere. His articles appear in a number of textbooks and other collections. Retired from "official" ministry since the summer of 2009, Joe stays busy drawing a daily cartoon for Baptist Press (www.bpnews.net), as an adjunct professor at New Orleans Baptist Theological Seminary, writing for Baptist MenOnline for the North American Mission Board, and preaching/drawing/etc for conventions and churches across America. Over a 42 year period, McKeever pastored 6 churches (the last three were the First Baptist Churches of Columbus, MS; Charlotte, NC; and Kenner, LA). Followed by 5 years as Director of Missions for the 135 SBC churches of metro New Orleans, during which hurricane katrina devastated the city and destroyed many churches. Joe is married to Margaret, the father of three adults, and the proud grandfather of eight terrific young people. He holds degrees from Birmingham-Southern College (History, 1962), and New Orleans Baptist Theological Seminary (Masters in Church History, 1967, and Doctorate of Ministry in Evangelism, 1973). Joe's father was a coal miner who married a farmer's daughter. Carl and Lois McKeever, both of whom lived past 95 years of age, produced 6 children, with Joe and Ronnie being ministers. Joe grew up near Nauvoo, Alabama, and attended high school at Double Springs. Joe's life verse is Job 4:4, "Your words have stood men on their feet."
Example: "Gen 1:1" "John 3" "Moses" "trust"
Advanced Search
advertise with us
Recently on Crosswalk Blogs