Honestly, I thought this day might never come. A little over 10 years ago, when my wife and I first discussed the idea of trying to pay off our house early, that day seemed like it was an eternity away. But here we are, and here it is. I'd love to tell you why we did it.
I recognize January is regarded as the most financially stressful month of the year. January is a convergence of bills incurred from the holidays and promises we've made to ourselves of how we'll live differently the next year. As many of you are attempting to live differently this year financially, I hope our story will inspire you to do just that.
You might not know this, but fighting over finances is one of the leading causes of divorce. If you want to sink your family's future, then ignoring the growing fractures in your relationship caused by financial angst will surely get you there. In marriage, it's often not the lack of money that's the problem; but rather the lack of compatibility in the financial plans for your home.
(A pic we took months ago, to keep us motivated toward the day we could celebrate!)
Setting a goal like paying off debt is great for a marriage. As I said before in this article, it brings the couple together to set a plan, establish good disciplines, and eventually celebrate an accomplishment that was done together.
Our reasons for paying off our house might surprise you. We didn't do it so that we can now "build wealth." Our long-term goal isn't being rich, in the world's eyes. So here are our reasons why, in no particular order:
We wanted to maximize our freedom to serve Christ. "Debt is one of the greatest enemies of the Great Commission." That's a powerful statement from Al Mohler, and one that I have seen be true too many times. I agree with the point in this article – we wanted to make ourselves even more available for what God has for our family in the future, so paying off debt was simply a means to this end.
We wanted to increase our generosity. This is our end goal: Generosity. Our new budget for our family is allowing us to support more ministries that are making an impact, in Jesus' Name.
We wanted to set an example for our kids of how to steward God's resources. This has been a really fun conversation with our kids. They've watched us live through this, and have asked us many questions along the way.
We wanted to be paid interest, and not spend our lives paying interest. Those are our choices. We either pay others interest in credit card fees, car loans interest or mortgage interest, or we are paid interest through our investments. We've chosen the latter, for practical reasons.
We wanted to reduce the stress in our family caused by financial strain. We know that we have braces, more drivers on our insurance, and college (for 5 kids) in our future – among many, many other significant expenses – in the near future. Seeing these on the horizon motivated us to get rid of outstanding debt so that we could set more money aside to pay for these expenses as they arise.
Because my wife wanted to. Yep, this is true. I was content on the timeframe we had set up. We were still planning to pay it off early, but it was important to my wife that we keep the "pedal to the metal," and get rid of it as soon as possible. She spoke, and I listened.
So if you relate to these reasons, and would like to start taking steps in this direction to pay off debt or live differently, stay tuned. Next week I'll share exactly how we paid off our house, and how our family does finances.
What are the top financial priorities for your family?
Don't miss any posts here at Following To Lead. Subscribe today!
Publication date: January 26, 2016
Recently, my son was arguing with a friend. My wife and I found out this was a point he was making in the argument: Santa Claus is dead. When I found out, every conversation about Santa or Christmas that I've had with our kids started racing through my mind. Did I ever tell him that? Why did he feel the need to yell that at someone? Steph and I pulled him aside, and talked to him about where he got that phrase. Unfortunately, we realized it was partly our fault in what we have been teaching him about Santa Claus.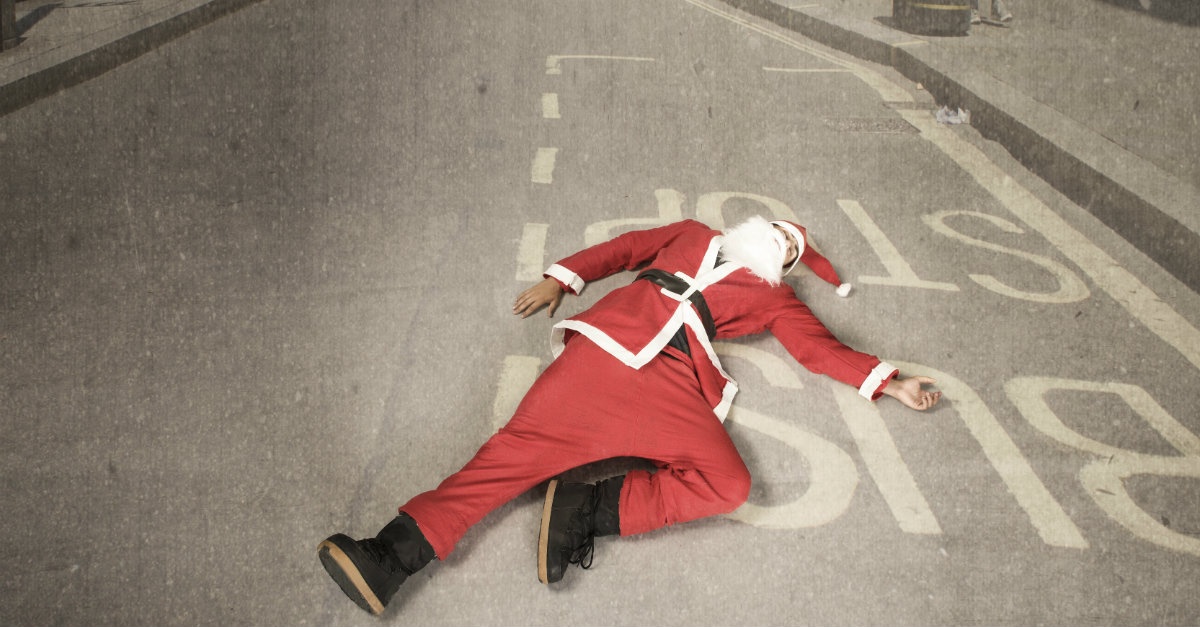 First, I have a confession to make: I love Christmas.
Always have. To this day I begin listening to Christmas music around October 1. I love candles that smell like cinnamon or pine, cutting down a fresh Christmas tree with my family, and watching It's a Wonderful Life while enjoying a good fire in the fireplace.
Growing up, I was the kid who lived to watch A Christmas Story over and over again while TBS had it playing non-stop for 24 hours. I once faked sick as a child, stayed home from school, and spent most of the day pulling up the carpet in the hallway of the house so that I could run wire from my room to my sister's for our "Morse Code" system we had set up (come to think of it, I never told my parents about that one; I hope they're not reading this).
All this to say, when Steph and I began to talk about what we would tell our kids about Santa Claus, this was a big deal to us.
Like many other parents this time of year, Steph and I have been forced to grapple with what we will tell our kids about Santa Claus. Would we tell them he is real, tell them he is not, or just dodge the question altogether? A few years ago, we began by dodging the question, because we didn't know exactly what we wanted to tell them.
Here is where we landed and why:
From the very beginning, we have told our kids that Santa Claus WAS real. Not that he IS real, but that he WAS real. As Steph and I talked about it, we agreed we didn't want to mislead our kids on this. We speak often of God and His son, Jesus, who sounds too good to be true. As we teach them about Him, we want there to be no mistake; we mean what we say. We felt like presenting Santa Claus as alive and real today would only confuse them once the "truth" came out.
A good friend, Lance, recently sent me a link to a Mark Driscoll article on Santa Claus. I love the way Driscoll presented his case. To him, in referencing Santa Claus, he had 3 options:
1. He could reject Santa (turn his back on the idea of him)
2. He could receive Santa (pass on old the stories, folklore, and act like Santa is real with his kids)
3. He could redeem Santa (tell his kids the truth about Santa, and use him as a tool to teach his kids something far greater)
In his article, he shares how he chose the 3rd option; to redeem Santa Claus with his kids.
We've taught our kids much about Nicholas. He loved Jesus, and his love for Him spurred Nicholas to do much for people. He loved, gave generously, and left a huge imprint on this world because of it. Eventually, he was canonized as a saint after he died in 343.
Yes, the movies and folklore tells us "St. Nick" flew around in a sleigh, and delivered presents to every child on this planet in one night by dropping down through their chimneys. As a child, this made no sense to me, but I really wanted it to be true. Many of these stories came into being for one reason or another over the centuries. Again, Driscoll's article shares some of the "whys" behind these stories.
As followers of Jesus, we want to be giving people. We want to remind people of God's abundant love for them, and so this time of the year, we get to "play Santa Claus" for them. Last year I loved to see my kids catch on. Steph and I shared with them about a single mother we knew, and how she had no money to buy presents for her children at Christmas. We let our kids know that Steph and I were excited to give her a little chunk of money to help bless her kids. They ran to their room, pulled out their jar of coins, and insisted that they give to the cause as well. We ended up delivering an anonymous note with a wad of bills, and a bunch of coins to this single mom. I've never talked to this mom about it. Now that I think about it, I'm not even sure she ever got it. But, it was a great time as a family to be a blessing to someone.
This year, our family went to the mall and each of our kids picked an "Angel Tree" child. Once everyone got a child's name, we all went to Target to buy presents for them. We picked kids roughly the same ages as our own, and so asked our kids to try to find what these other kids might like. It was a great time.
We still have an 8′ Christmas tree, lights up around the house, a beautiful nativity scene on the counter, Christmas songs playing non-stop, and a vintage tree-topper of Mr & Mrs Claus. In spite of all this, our choice is to use Santa Claus to teach our kids a much bigger lesson.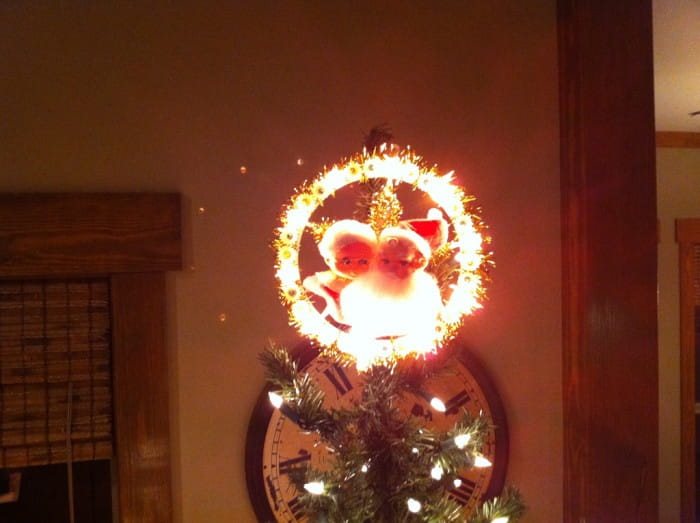 We celebrate the birth of Jesus on this day. We explain the significance of that to our little kids. And then we tell them that a long time ago, a guy named Nick loved Jesus so much that he was compelled to help people in need. We love Jesus, so let's let our love for Him compel us to love others as well.
What is your plan when it comes to Santa Claus with your family?
Don't miss any posts here at Following To Lead. Subscribe today!
Publication date: December 21, 2015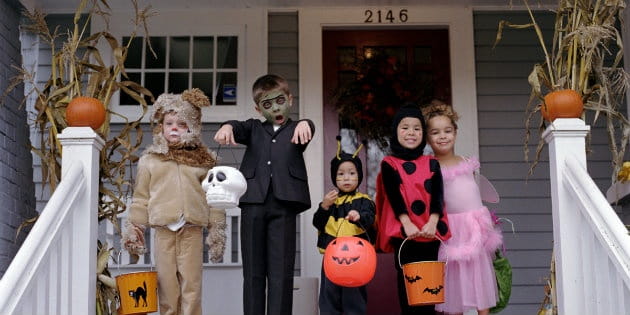 I have great memories as a kid running around my neighborhood trying to get as much candy as possible each Halloween. I was the first one out and the last one back. Recently, I read about how someone explained Halloween to Jerry Seinfeld when he was a kid. His response, "You mean people are giving away candy…for free? And all I have to do is wear that?" That was my thought as well.
Once Steph and I started having kids, we began to determine what our family traditions would be. Would we just move forward into what our culture labeled as the norm, do something completely different, or nothing at all?
Those against Halloween have typically said:
It celebrates evil
There will be razor blades in your candy
It's part of a worldly culture
It's pagan
Those for it have argued:
Kids love it
It's fun
Makes for great memories
It might be pagan, but kids don't know it
If there are razor blades, they can always be removed
We now have 4 kids staring at us, eager to know what we are going to do. For us, we didn't want to just "end up" somewhere, but instead wanted to carefully consider it. Here is where we have landed:
Most people have no clue why Halloween is even celebrated. I sure didn't. So I wanted to do a lot of research. After reading up on it, it made much more sense. There is no need for me to recite here all that I read, because a friend of mine wrote a post recently that is a great overview of what Halloween is. It is a thorough, meaty; a must read. I highly encourage it.
Now, once you read it, you will now have a better understanding of our conclusion.
We have decided to wholeheartedly join in the festivities known as Halloween. This year, my kids will be known as Buzz Lightyear, Captain Jack Sparrow, a bumblebee and a princess. Our reasons for our decision are fairly straightforward:
1.It's a great opportunity to engage our neighbors. It is easy for all of us to stay just busy enough where we never interact with our neighbors. We've got to be purposeful to make that happen. This night known as Halloween gives us great opportunity for it.
2. It's a great teachable moment for our kids. I believe Satan is real, that there are demons, and that they would love nothing more to see us destroyed. On this night, when you see many decorations display these items, we see it as an opportunity to talk about what they are. They aren't just decorations, but reminders that spiritual warfare is real. We will be talking about God's power, and how that everything evil shudders at the Name of Jesus!
3. It's an example of using something for good. In scripture we see people use musical instruments for satanic worship. We use them to worship God Himself. In the same way, yes, people use Halloween as an opportunity to glorify evil. Not us. We'll join in on the festivities using it for the good of being an example, loving our neighbors, and creating great memories with our kids.
As Christians, we can choose to be afraid of darn near anything. Let's not throw Halloween on that pile. Instead, let's join our neighbors, build relationships, and create great starting points for future relationships and conversation. After all, we are meant to be a light in a dark world. So instead of hiding, we shine brightly. Instead of glorifying evil, we glorify Jesus.
We thank God in advance for the time we'll have with our kids, and for the Reese's Peanut Butter Cups that people will hopefully be giving out.
What's your take? Will you or your family be dressing up and joining in? Why or why not?
Publication date: October 29, 2015