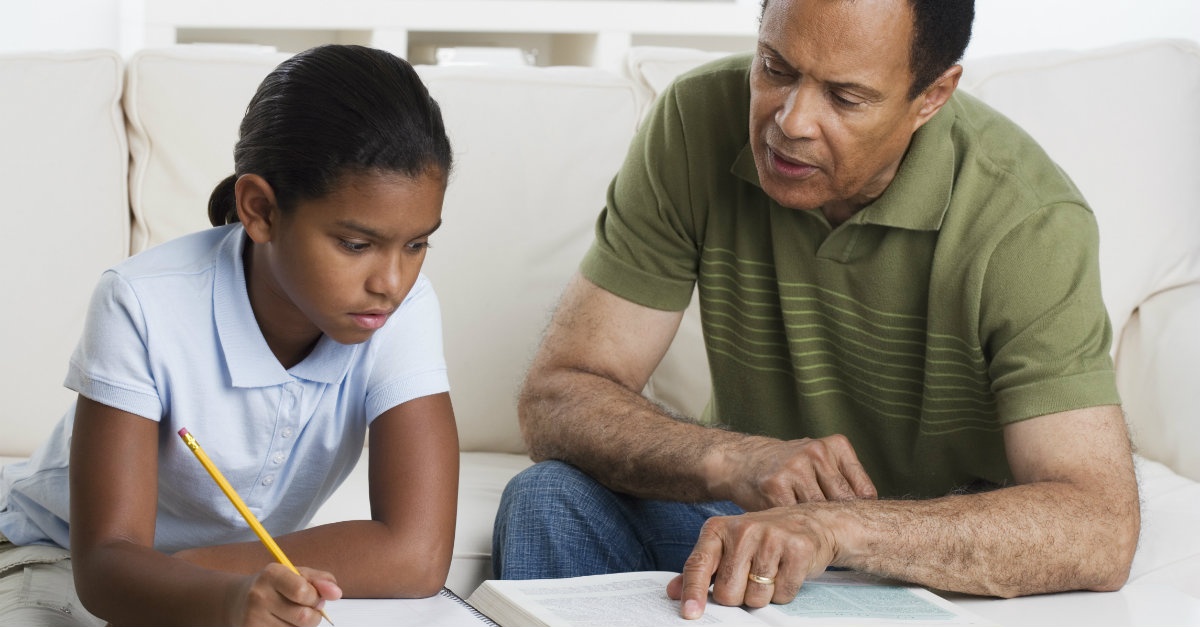 We are used to calling the expert. It's what we do anytime something around us needs to be repaired. It might be when our car breaks down, our air-conditioner quits cooling, or when our back pain won't seem to go away. If in doubt, we call in someone who knows what they're doing. So why would we think differently when it comes to our own kids?
The other day I sat across the table at a coffee shop talking to a good friend about his kids. They currently attend a really good local private Christian school. He knew my kids attend public school, so we began to discuss the differences.
He was lamenting because of the cost of tuition for the private schools. As more of his kids began school, the cost was becoming a true burden for his family. When I finally pressed in to understand why he was so opposed to public school, his honesty caught me off guard.
"I'm afraid," he said. "We tried one day of public school and I didn't like the way the other parents looked, so we pulled out our kids and put them in private school. We've been pleased with our experience so far."
But what caused him to think differently was something his daughter recently told him: "Dad, if we move from private school to public school, who would teach us about God?"
Ouch. The question stung. It was in that moment that he realized he had outsourced his responsibility of teaching his kids about the grace of God to the private school teachers. Subconsciously, he took a back seat to the "expert"
Bible
teacher.
Now, this isn't to say that every parent of private school kids has outsourced their responsibility. Nor does it mean that every homeschool or private school kid's parent lives in fear. But in this one case, he was guilty as charged.
What if we had a different look at how we schooled our kids? What if we looked at it like a partnership as opposed to an absolute? School was never meant to be the sole method for teaching our kids anyway. Yes, it is useful in teaching Algebra and Chemistry, but there are so many lessons that can be taught at home and reinforced – or tested – at school.
I've had many people ask me why we're so committed to public school. For us, we find there is something extremely valuable public schools offer: the world in small doses.
But we don't rely solely on the schools for education either.
After meeting with three different Superintendents of school districts and twelve different school principals, their message became clear: families are becoming less and less involved in the lives of their children, and are becoming more and more dependent on teachers to teach their kids everything.
Sad, but true.
So I'm proposing a different strategy. How about we homeschool our public school kids. Here are a few different ways to do that…
2. Tutor them at home.
We've always used homeschool curriculum at home, even though our kids go to public school. Each morning during the summer, our two oldest do three pages of work before they can play anything electronic. We use
A Beka
material. Even during the school year we find it helpful to give our kids additional work during slower seasons of the year. Our goal is not to try to get them ahead. Our goal is to reinforce these foundational elements of learning.
3. Tell Bible stories often.
The best way to become familiar with what the Bible says is to read it to your kids. We've used
The Jesus Storybook Bible
for our youngest,
The Picture Bible
for our older kids, and
The Gospel Project
app for the videos that come in it. It's not something we do every single day, but if we go a few days without doing something, our kids ask.
4. Speak identity into them. Don't let your kids formulate an identity of their own after being at school for a few years. Speak it into them early and often, and let them carry it to school with them. Tell them you are proud of them, that you love them, that you see God using them in great ways in the future. Point out what they are good at, and help them become aware of their weaknesses.
Do you homeschool your public school kids? What are some other ways to be intentional with them?
Publication date: August 27, 2015
There are many things I wish someone would have told me when I turned 18. As I shared in a previous post, I was given the opportunity to write a young man a letter recently, passing any wisdom to this young man that I thought would be appropriate. I did, but I felt that my letter came up short. It did because it barely scratched the surface of what I wish someone would have told me.
For this reason, I have written another letter. Although it is addressed to one man, it would be what I would tell any young man entering college.
Austin,
I was honored to write you a letter this past week. However, thinking back over what I said, I think I came up terribly short. As usual, I could always blame the brevity of my note to the fact I am busy, that I have a large family, or that my responsibilities with work were getting the best of me. The problem is, if I said that, I'd be just like most other men in America; making excuses for coming up short.
The truth is, I was more concerned with sounding good than saying something good. Austin, I believe in you too much to simply tell you to choose maturity throughout life. In the next few years, you will go through such a shaping season of your life. I have watched good men make decisions during this time that would alter their life dramatically.
That being said, here are a few points I want to pass along:
Pornography kills marriages. Austin, this is serious. I've sat across many tables with college guys in tears because they were addicted to looking at naked women on computer screens. They knew they hated looking at it, but sin's web was tightly constricting them. Remember that this isn't just about keeping your eyes pure. It is also about not setting your wife up to fail. What these guys look at on computers is not real. It is a sick fantasy. The producers of porn take air-brushed, plastic women, and have them act like they have the sex drive of men.
Men arrive in marriage with unreal expectations, and the damage done takes years to unravel.
Men need friends. You need good, solid guys that can lock arms with you and walk life next to you. In college many guys start living life "around" other guys, but never with them. Austin, find some guys that want to honor God with their lives. Seek to know them, and allow them to know you. As you get older, this becomes even more difficult, so learn early how critical this really is.
God's grace is deep. Some of my most profound realizations about the goodness of God came while I was in college. Growing up, I didn't have the slightest desire to read books. Given the decision, I would have picked doing something outside fun and active as opposed to reading. Yet, after I became a Christian, this changed.
Take advantage of your college years to dive deep in God's Word. Study it. Reflect on it. Memorize it. Ask someone to teach it to you. Austin, you are a good man, raised in a great family. Yet, you have so much to learn about the depths of the riches of God's love. Don't miss this opportunity.
Don't focus so much on your grades that you miss an education. Austin, I know you have a 4.0 right now. That is great. I had that as well until my first conduct grades in 1st grade. It was all downhill from there. As you go through college, studying hard and trying to excel is important, but don't put in on a throne it didn't belong.
Take advantage of opportunities to "cut your teeth" leading. Go on mission trips where you can learn that God doesn't just speak English. Look at other cultures to understand what real poverty looks like. When you finish college, all these experiences will have shaped you.
Above all else. This is a chapter title from the book Spiritual Leadership. In this chapter, he talks about the need for leadership that is Spirit-led. Austin, this world needs men who are under the authority of the Lord Jesus. Be purposeful in stopping to place your heart under His. Great leadership doesn't come from "technique-ing" people. It comes from wisdom and discernment that is God-given. So go to Him, and ask. He'll give it.
As I told you in my first letter, I believe in you, Austin. I look forward to watching God's shaping hand on your life. Come sit on my porch anytime if you'd like to discuss this further.
Walk in great grace, and speak with great power (Acts 4:33),
Kevin
Now I think I can sleep better knowing I got that off my chest. Is there anything you would add in giving advice to young men?
For more blog posts like this on leading, following, parenting, fostering, and family, visit Kevin's blog at www.followingtolead.com.
Many new marriages begin with it. Everyone has their reasons behind how they got it – and how it made sense at the time to go into it – but don't necessarily know what to do to get rid of it. I'm talking about debt, and how there is a positive aspect of bringing it into a new marriage.
To be clear… I really don't like debt – at all.
Debt isn't sinful. It isn't evil. But it is enslaving. It redefines a relationship between two people. Once someone borrows money, they are indebted to the person from which they borrowed. It also can become so cumbersome that it begins to dictate the decisions of the enslaved.
I've been there, done that, and I don't want to go back.
Over the years my wife and I have met with many couples who are drowning in debt. I'm talking about the kind of debt that results in people using words like "shame" or "afraid" when they refer to it. They've sat in my office, or in our living room, and wept because they didn't know what to do next.
The advice we give is nothing extraordinary. In fact, here it is in a nutshell:
1. Read the book, Total Money Makeover by Dave Ramsey, and do what he says.
2. Create a budget. I offer this one that I made up years ago. My wife and I still use this same excel spreadsheet, modified a little since we first created it.
3. Begin.
4. Celebrate your progress.
5. Don't stop until you're done.
So if I think debt is something that should be killed quickly, then how could it possibly be a "gift" for young couples?
I'm glad you asked.
Each individual brings their debt, or lack thereof, into a marriage. I've talked to many individuals who are trying to keep a good attitude with the fact their spouse has brought a deeper hole, financially speaking, into their new marriage. They feel the impact this new debt brings into their relationship and want to get out of it quickly.
So when I point out to young couples their debt is something to be thankful for, they look at me like I have two heads.
Years ago I gave some advice to my assistant and her new husband on how to get out of debt, and they did. Tens of thousands of dollars in debt gone in just a couple of years. And then they started buying their new vehicles with cash. They wrote me a letter years later. Here's a short excerpt:
"The most important impact you had on me was actually the advice and encouragement you gave to my wife and I about getting out of debt. She and I teaming together during that first year of marriage gave us such a strong start. Instead of money being a divisive topic, it was one that brought us together. And since then, your constant cheering for us has allowed us to counsel others and hopefully impact them the way you impacted us."
There are a few reasons why I think debt is a gift for young couples:
1. It provides couples with a problem to solve. If the couple sees debt as something they want to get rid of, well they're going to have to work together to do it. It bonds the new husband and wife together as a strong team. This builds intimacy. Each month as the couple works together and experiences small victories, this bond gets even tighter.
2. It brings finances to the forefront of the conversation. There are many couples that live independent lives when it comes to finances. They keep separate bank accounts, rely on their own paycheck to pay for what's "theirs," and keep many secrets as to the reality of their spending habits. When a couple is trying to pay off debt together, then they must talk about it – together. The topic is no longer taboo. It is front and center, and eventually becomes something they aren't intimidated to discuss.
3. It helps set good disciplines for the future. We've all heard it before – "Live below your means." Couples who are trying to pay off debt learn how to do precisely this. They must live off less than they make so they can scrape money together to pay off their debt. In order to live off less, they have to be keenly aware of how much they make, and decide together on how it will be spent. This process is called budgeting. What a great discipline to learn as a young couple.
4. It provides an opportunity to chalk up a big, early win in marriage. I've held parties for people who paid off their debt. The energy in the room is intoxicating. There is a massive sense of accomplishment for those couples who finish the task and kill the debt together.
Are you and your spouse in debt? If so, I'd encourage you today to stop and thank God for this great opportunity to address with your spouse. I truly believe that the process of paying it off will make your marriage stronger.