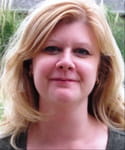 There's something to be said for doing your own thing.
In Naked...and Lacking, we took the stage, put ourselves out there, and listened to the wisdom of others. In Sorting the Good from the Bad, we combed through the advice, weighing who it came from, and took some time and space to think it through.
Now what?
Relax and trust your teachable heart.
Stop asking others what they think.
Do what you know is right.
Too much feedback overwhelms.
One person may tell you to veer left while another pushes you right. At the same time.
And remember, each one of us comes from a different background and that means we will give and take advice differently.
I see life as a daughter, sister, wife, and stay-a- home mom and homeschooler.
I filter my experiences through the lens of being a product of divorce, a marriage veteran of 21 years that have been more than a roller coaster ride, and a mom to two boys and a girl--and the boys are teenagers!
I weigh the gravity of any new crisis with a heart that has trudged a four-year battle with leukemia with my firstborn son.
Of course all those things color my world. I will share advice with you and react to what you have to say to me based on what I already know and understand.
So walk forward in confidence.
Put your clothes back on.
Jump off the stage.
And go do your own thing.
Leave a comment and let me know how this has worked for you!
Have something to say about this article? Leave your comment via Facebook below!
About Lori Freeland
Lori Freeland, a freelance writer from the Dallas area, holds a bachelor's degree in psychology from the University of Wisconsin-Madison. In her other life, the one BK—before kids—she has worked as a social worker and a certified dyslexic reading tutor. Currently, she embraces her status as full-time homeschool mom to three awesome children. Her big dream? Becoming a Young Adult novelist, a goal she diligently pursues during the wee hours of the morning with help from a very large mug of coffee and occasionally some chocolate-covered peanuts. In addition to blogging and contributing regular inspirational articles to Crosswalk.com, The Christian Pulse, and Believe.com, she loves to mentor new writers and encourage people to share their life stories. As a member of the Cancer Mom club, she desires to connect with others in hopes of giving support to those struggling down the messy paths of life. You can find her hanging with the North Texas Christian Writers as a Critique Group Leader and Writing Coach or cheering on her writers on the Faith Team at The Christian Pulse where she recently took on the role of editor. She also loves to attend Society for Children's Book Writers and Illustrators meetings where she has begun a critique workshop for new writers. You can visit her website at LAFREELAND.COM.
Example: "Gen 1:1" "John 3" "Moses" "trust"
Advanced Search
advertise with us
Recently by Lori Freeland
Recently on Crosswalk Blogs