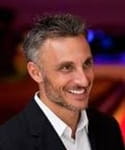 I recently read this testimony from a guy who grew up in the pop-Evangelical culture of the late 20th century and who, for 7 years, was a full-time staffer at a large, well-known Evangelical para-church ministry. Sadly, I've heard this same kind of testimony from numerous people who grew up inside the church. As you can see from how he describes his experience, distinguishing law and gospel is not simply a theological exercise. Perhaps you can relate:
I experienced what happens when the Law and the Gospel are not understood and therefore distinguished. My Christian life, truly begun in grace, was now being "perfected" on the treadmill of the Law. My pastors did not end their sermons by demanding that I recite the rosary or visit Lourdes that week in order to unleash God's power; instead, I was told to yield more, pray more, care more about unbelievers, read the Bible more, get involved in church more, and love my wife and kids more. Not until I came to the [theology of the Reformation] some 20 years later, did I understand that my Christian life had come to center around me and my performance: my life, my obedience, my yielding, my Bible verse memorization, my prayers, my zeal, my witnessing, and my sermon application. I had advanced beyond the need to hear the cross preached to me anymore…What had my Evangelical training done to me? The Gospel was critical for me at the beginning, critical for me to share with others, and still critical to get me to heaven, but it was of little other value. The "evangel" in Evangelicalism was missing. My training had me on a treadmill of merit.
Have something to say about this article? Leave your comment via Facebook below!
About Tullian Tchividjian
William Graham Tullian Tchividjian (pronounced cha-vi-jin) is the Senior Pastor of Coral Ridge Presbyterian Church in Ft. Lauderdale, Florida. A Florida native, Tullian is also the grandson of Billy and Ruth Graham, a visiting professor of theology at Reformed Theological Seminary, and a contributing editor to Leadership Journal. A graduate of Columbia International University (philosophy) and Reformed Theological Seminary in Orlando (M.Div.), Tullian has authored a number of books including Jesus + Nothing = Everything (Crossway). He travels extensively, speaking at conferences throughout the U.S., and his sermons are broadcast daily on the radio program LIBERATE. As a respected pastor, author, and speaker, Tullian is singularly and passionately devoted to seeing people set free by the radical, amazing power of God's grace. When he is not reading, studying, preaching, or writing, Tullian enjoys being with people and relaxing with his wife, Kim, and their three children—Gabe, Nate, and Genna. He loves the beach, loves to exercise, and when he has time, he loves to surf.
Example: "Gen 1:1" "John 3" "Moses" "trust"
Advanced Search
advertise with us
Recently by Tullian Tchividjian
Recently on Crosswalk Blogs