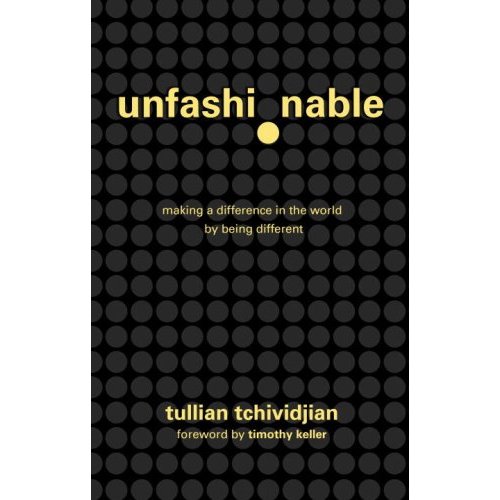 As many of you know, my newest book Unfashionable: Making a Difference in the World by Being Different comes out next month (you can read more about it here as well as watch a short video and read the blurbs). Below are my acknowledgments. There were so many people whom God used to help get this book started and finished. Thank-you all!

I wrote this book because I had to. I don't mean that I was contractually obligated; I mean that it has been brewing in me for over fourteen years and if I didn't get it out I was going to explode. So, I'd like to say "thank-you" to many who have not only helped to get this book "out of me", but to get this book "in me", as well.

First of all, I'd like to thank all of my intellectual mentors. There are far too many to name them all. But fifteen thinkers, in particular, have shaped my thinking over the past 14 years when it comes to understanding the relationship between Christianity and culture: Os Guinness, John Seel, James Davison Hunter, Peter Berger, John Frame, David Wells, Stanley Hauerwas, Francis Schaeffer, Abraham Kuyper, William Willimon, Michael Horton, Tim Keller, Chuck Colson, Cornelius Plantinga, and most recently, Andy Crouch. I am extremely grateful to God for these men and the way they have challenged me to become a man of "double-listening."

To all of my friends at Multnomah for your interest in, and support of, this project from beginning to end.
To my editors Thomas Womack and David Kopp. The two of you helped me get this book started and you helped me finish it. I thank God for your gifts. It's a great blessing to have editors who not only understand what you're trying to say, but they agree with you.
To my friends Brian Schutt and Justin Taylor. The two of you provided some great editorial help along the way. Your suggestions have made this a much stronger book.
To my New City Church family. It is a gift beyond measure that I get to be your pastor. In just five short years you have helped to establish an unfashionable community that is making a difference because it is different. Thank-you. Thank God.
To Tim Keller for writing the foreword. I know how busy you are and how many demands you have and yet you've always found time to talk with me, advise me, meet with me, and in a thousand other ways, help me sort things out. So Tim, thanks for all you do and for who you are. Preach on brother—we're all listening!
To my children, Gabe, Nate, and Genna. I love you all so much. It is a pure joy to be your dad. Seriously! I can't wait to see how God is going to use all of you as you set your hearts and minds to living against the world for the world.
To my wife, Kim. This book is dedicated to you. You're willingness to follow my unfashionable lead and to be unfashionable with me keeps me pressing on and straining forward. Til death do us part!
And to my unfashionable Trailblazer, Jesus Christ. You have made me rich by becoming poor. Thank-you for saving me, loving me, and promising me that the best is yet to come. Sola Deo Gloria!