A New Path to Theological Liberalism?
Albert Mohler, President, Southern Baptist Theological Seminary
Friday, October 27, 2006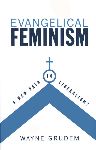 Are American evangelicals charting a new path into theological liberalism? That is the serious question posed by Wayne A. Grudem in Evangelical Feminism: A New Path to Liberalism? This new book is one of the most urgently needed resources for evangelical Christianity, and it represents one of the most insightful and courageous theological works of our times.
Wayne Grudem is no stranger to controversy. Currently Research Professor of Bible and Theology at Phoenix Seminary in Arizona, Grudem is the author of several important volumes on a range of theological issues. Most importantly, he is the author of his own Systematic Theology and Evangelical Feminism and Biblical Truth. He also co-edited the landmark volume, Recovering Biblical Manhood and Womanhood, with John Piper.
In Evangelical Feminism, published by Crossway Books, Grudem argues that evangelical feminism now represents one of the greatest dangers to the continued orthodoxy of the evangelical movement. "I am concerned that evangelical feminism (also known as "egalitarianism") has become a new path by which evangelicals are being drawn into theological liberalism," he explains.
In this new book, Grudem considers twenty-five different patterns of argument put forth by evangelical feminists, and demonstrates that every single one of them either contradicts or compromises the authority of Scripture.
In considering the arguments put forth by evangelical feminists, Grudem is careful to avoid ad hominem attacks on egalitarian scholars and spokespersons. Instead, he considers each of their arguments with considerable scholarly care and attention, drawing the logical conclusions from the methodological assumptions the egalitarian scholars embrace.
At the same time, Grudem is careful to specify and name the scholars whose proposals he considers, and the book is carefully footnoted and documented so that readers can follow the arguments for themselves. Grudem's use of the term "theological liberalism" is certain to be controversial. After all, the very genesis of the evangelical movement in North America was grounded in an effort to avoid the errors of theological modernism and liberalism that had already by the midpoint of the last century overtaken the mainline Protestant denominations. Grudem defines theological liberalism as "a system of thinking that denies the complete truthfulness of the Bible as the Word of God and denies the unique and absolute authority of the Bible in our lives." In defining evangelicalism over against theological liberalism in this way, Grudem returns to the Scripture Principle that stood as foundational to the evangelical movement.
Grudem is equally careful in defining evangelical feminism as "a movement that claims there are no unique leadership roles for men in marriage or in the church."
A work like Evangelical Feminism has been desperately needed, and Grudem's new book arrives just in time. A new generation of younger evangelicals is facing the challenge of evangelical feminism just as the current and the larger culture are moving even more swiftly against biblical authority. Grudem understands that the temptation toward evangelical feminism is the same as that which has attracted so many theologians, pastors, and denominations in recent decades. As a matter of fact, he correctly observes that "evangelical feminists today have adopted many of the arguments earlier used by theological liberals to advocate the ordination of women and to reject male headship in marriage." Interestingly, Grudem provides an historical overview which traces the emergence of evangelical feminism and egalitarian theory to 1974, when Letha Scanzoni and Nancy Hardesty published their work, All We're Meant to Be and Paul Jewett of Fuller Theological Seminary published Man as Male and Female. As Grudem observes, "While egalitarian positions have been evocated since the 1950s by theologically liberal Protestant writers, no evangelical books took such a position until 1974."
Recently on Pastors / Leadership
Have something to say about this article? Leave your comment via Facebook below!
advertise with us
Example: "Gen 1:1" "John 3" "Moses" "trust"
Advanced Search
Listen to Your Favorite Pastors