Are the Mainlines Derailing?
Ed Vitagliano, Agape Press
Thursday, June 24, 2004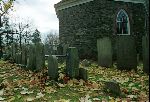 Donations to ECUSA tumbled in the aftermath of the General Convention. The denomination's executive council was told that revenues were down more than $3 million following the controversy -- representing 6 percent of the ECUSA's expected revenue this year, according to CitizenLink.

The AAC also said dioceses in Missouri, Colorado, Tennessee, North Carolina, New York and Virginia have reported a 10 percent to 30 percent drop in giving since last summer.

"While spokesmen for ECUSA claim the shortfall is a result of economic conditions, churches and dioceses across the nation report they are experiencing lowered giving and/or redirecting funds as a direct response to decisions at General Conference," said a press release from AAC.

AAC spokesman Bruce Mason said last year his group accurately predicted that many dioceses would cut back on their pledges to the national church if Robinson was approved. He believes the financial impact will be much greater than the Episcopal Church is reporting right now.

He said some ECUSA members don't want their money being used "to support a structure that they believe is no longer upholding the historic teachings of the Christian Church and of the Bible."

While some conservatives in the U.S. are refusing to give to the ECUSA, some conservatives outside the U.S. are refusing to take. In April the leaders of the Council of Anglican Provinces in Africa (CAPA) declared that they would no longer accept donations from ECUSA churches or dioceses.

"We do not want any money from the Episcopal Church of the United States," the African bishops said in a statement. "This is not rhetoric. We will not, on the altar of money, mortgage our conscience, mortgage our faith, mortgage our salvation."

CAPA represents a spreading sentiment within the worldwide Anglican community of some 77 million adherents. Especially among the leaders in nations throughout Africa, Asia and Latin America -- who oversee 50 million Anglicans -- a number of bishops have formally cut ties with the U.S. church, while many have publicly denounced the ECUSA's consecration of Robinson.

Also in April, CAPA requested that the worldwide Anglican leadership "call ECUSA to repentance giving it a three-month period to show signs of such repentance. Failing that, discipline should be applied."

Trouble Brewing in ELCA
As if encouraged by fellow radicals in the ECUSA, some segments of the Evangelical Lutheran Church of America (ELCA), the fifth-largest Protestant denomination in the U.S., are also turning their back on orthodoxy.

Three ELCA congregations -- two in California and one in Minnesota -- thumbed their noses at church law and appointed homosexual pastors. ELCA law allows homosexual men and women to serve as ministers if they remain celibate, but the pastors appointed in April are sexually active, according to Gay.com, an Internet news site that caters to the homosexual community.

The defiance by the three congregations is not really surprising, since ELCA has been drifting steadily leftward for some time, even while conservatives fight to hold the line. The Los Angeles Times noted that 10 years ago ELCA leadership expelled two churches in San Francisco after they appointed non-celibate homosexual pastors. However, subsequent defiance by more than a dozen ELCA churches has been ignored.

The rebellion within ELCA is being applauded by those who support the normalization of homosexuality within Christianity. The Rev. Paul Egertson, a former ELCA bishop who participated in one of the recent "gay" minister appointment services in California, told the Los Angeles Times that such actions eventually would carry the day for activists.

"These are all the breaks in a very fragile dam that looks awfully solid but actually, in my view, is going to just either be taken down by deliberate courageous action by church bodies," he said, "or it's going to leak and leak and leak until it's more a sieve than a dam -- and finally go away."

The tragedy is that the sound of dams breaking can be heard in a number of other denominations as well.

---

Ed Vitagliano, a regular contributor to AgapePress, is news editor for AFA Journal, a monthly publication of the American Family Association.  This article appeared in the June 2004 issue.

Network of Anglican Communion Dioceses and Parishes (www.anglicancommunionnetwork.org)
---
© 2004 Agape Press. All rights reserved. Used with permission
Recently on Pastors / Leadership
Have something to say about this article? Leave your comment via Facebook below!
advertise with us
Example: "Gen 1:1" "John 3" "Moses" "trust"
Advanced Search
Listen to Your Favorite Pastors