Biblical Guidelines for War
Dr. Roger Barrier, Preach It, Teach It
Wednesday, September 04, 2013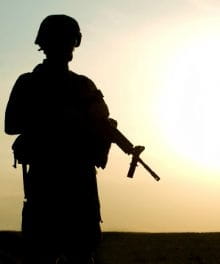 BIBLICAL, JUSTIFIABLE WAR HAS AT LEAST FIVE ESSENTIAL ASPECTS.
FIRST, THE PRIMARY PURPOSE IS TO DEFEND THOSE UNDER ATTACK.
Rescue those being led away to death;
hold back those staggering toward slaughter.
If you say, "But we knew nothing about this,"
does not he who weighs the heart perceive it?
Does not he who guards your life know it?
Will he not repay everyone according to what they have done? (Proverbs 24:11-12)
I am walking down the street. I see a great big, burly man who is beating a helpless little girl to death. I come up and I plead with him to stop. If he won't stop, what does love mean? Love means I stop him in any way I can.
There are times when Christian love means using whatever means necessary to rescue and protect helpless people who are gripped in the power of those who oppress and destroy.
According to this principle, America must do all it can to rescue the tortured, oppressed and enslaved in Syria.
SECOND, VENGEANCE IS TEMPERED BY JUSTICE.
Romans 12:19: "Do not take revenge, my dear friends, but leave room for God's wrath, for it is written: "It is mine to avenge; I will repay," says the Lord.
Two key words have been used regarding the limitation of violence.
One is "proportionate." That is, the degree of injury inflicted must be less than that incurred. It is not just or right to nuke a country over an assassination.
The other word is "discriminate." Police action is essentially discriminate, namely the arresting, bringing to trial, and punishment of specific criminals—not innocent civilians and/or political opposition.
Similarly, a war could not be in any sense "just" unless directed only against enemy combatants, leaving civilians immune.
It is right for President Obama and Congress to struggle with what is an appropriate response to the use of chemical weapons in Syria. America was also right to help in the downfall of the Muammar Gaddafi regime in Libya.
It is also right to target only the perpetrators of carnage. Nevertheless, some collateral damage will often occur.
Iraq cut the CNN television lines when it became obvious to the world that despite Baghdad claims to the contrary, the allies were hitting only military targets with very little loss of civilian life.
THIRD, THERE MUST BE A REASONABLE PROSPECT OF VICTORY—OF ACHIEVING THE ENDS FOR WHICH THE WAR IS FOUGHT.
Jesus said, "Suppose a king is about to go to war against another king. Won't he first sit down and consider whether he is able with ten thousand men to oppose the one coming against him with twenty thousand? 32 If he is not able, he will send a delegation while the other is still a long way off and will ask for terms of peace" (Luke 14:31-32).
Can we win a war against Syria? It seems most unlikely.
Can we win against Iran? Not the way we are going about it now. We talk while they continue building a nuclear device to destroy Israel.
Can we defeat terrorists and the Taliban? Probably, but not ultimately. As long as Jihad exists and young male fanatics are available to die for their cause, we stand little chance of ultimate victory.
This doesn't mean we withdraw from the battle; it just means we must be judicious in how we choose our battles and how we marshal our resources.
On April 19, 1952, General Douglas MacArthur stood before a joint session of Congress to deliver his famous farewell address. "...old soldiers never die, they just fade away." His speech, however, is much more than a farewell. It includes the following thoughts on war and peace.
". . . It has been said in effect that I was a warmonger. Nothing could be further from the truth. I know war as few other men now living know it, and nothing to me is more revolting.
Have something to say about this article? Leave your comment via Facebook below!
advertise with us
Example: "Gen 1:1" "John 3" "Moses" "trust"
Advanced Search
Listen to Your Favorite Pastors