Can Christians Be Angry?
Dr. Roger Barrier, Preach It, Teach It
Tuesday, April 09, 2013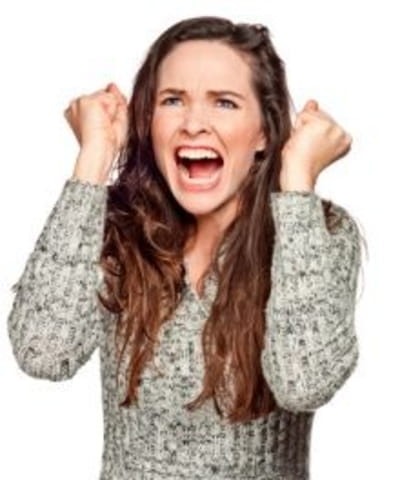 Editor's Note: Pastor Roger Barrier's "Ask Roger" column regularly appears at Preach It, Teach It. Every week at Crosswalk, Dr. Barrier puts nearly 40 years of experience in the pastorate to work answering questions of doctrine or practice for laypeople, or giving advice on church leadership issues. Email him your questions at roger@preachitteachit.org.
Dear Roger,
I really struggle with anger. It seems like I just can't keep it under control. I know it's not Christian to be angry, so what advice would you give me?
Sincerely,
BLE
Dear BLE,
Who says that it's a sin for a Christian to get angry? Jesus got angry on numerous occasions (Matthew 23:13-26 and John 2:13-17 just to name a few). I figure that if it was OK for Jesus to get angry then it is OK for you and me!
Like you, many people do wonder: "Is it a sin to be angry?" Of course not. Anger is a necessary, built-in emotion. (Proverbs 27:4; Proverbs 14:17 Ephesians 4:26-27 . The emotion of anger is not sin; but, anger has the potential to lead into sin. Anger does not become sin until we translate it into aggressive and hostile actions—or activities destructive to ourselves.
However, anger has its limits. Out of control anger can be a dastardly thing. One of my favorite proverbs is Proverbs 29:11 "A fool gives full vent to his anger, but a wise man keeps himself under control."
Why do people get angry? You know the answer to that. People get angry for all sorts of reasons. Some are angry because of the injustices done to themselves or to others. Some are angry for righteousness sake. Hurt someone and they will get angry (Proverbs 20:2). Anger is the natural response to being hurt. Some are stymied and kept from doing something they intend to do. Some have been embarrassed by others. Others feel cheated. The loss of a loved one can trigger intense anger. Occasionally a small squabble can become an angry encounter. The list goes on and on.
On somewhat of a deeper level, some get easily and overly angry because of imbalanced brain chemistry. Some have opened their lives to a demonic stronghold (Ephesians 4:26-27).
Uncannily, many people don't realize when they are angry. According to Dwight L. Carlson, M.D. the following are misconceptions about anger:
If I don't look, feel, or seem angry, I don't have an anger problem.
If I ignore my hurts and anger, they will go away and won't cause me any trouble later on.
If I just let all my feelings and anger out—just get them out of my system—I'll solve my anger problems.
It won't cost me too much emotionally to be a nice person who never gets angry at anybody.
If I express my hurts and anger to the person with whom I'm angry, our relationship will suffer.
Very often, we tend to express our anger in two ways: we blow up and vent our anger (Proverbs 29:11), or we internalize it by "clamming up." The first century Greeks recognized these two polar opposites.
Have something to say about this article? Leave your comment via Facebook below!
advertise with us
Example: "Gen 1:1" "John 3" "Moses" "trust"
Advanced Search
Listen to Your Favorite Pastors