Serial Polygamy: Multiple Wives, One at a Time
Dr. Roger Barrier, Preach It, Teach It
Wednesday, July 10, 2013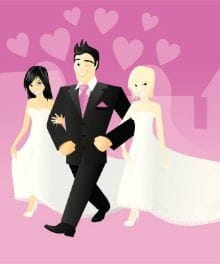 Name Withheld
Dear Name Withheld,
I am sorry for all the pain and hurt and you and both of your wives and both of your families are enduring. There are consequences to sin. You have two families and children from two mothers. You can't fix it and make it all OK. You have to do what will cause the least pain and bring the most benefit for everyone involved.
As I begin, I want you to remember that God is on your side. Certainly, He wishes that all of this had never happened. But, it has. So, He makes it clear in the Bible that He is in the business of "picking up the pieces and starting over again." You can see what His attitude toward you looks like by reading in the gospel of John 8:1-12.
What do you do? Here are my thoughts about your choices.
First, it is obvious you are struggling in agony about the spiritual factors that are driving you "crazy." Your confession and repentance are obvious. So, be at peace. God is on your side and will guide you to the best solutions.
Second, the Bible says that God hates divorce. Stop thinking about the divorce option. Your first wife may want out of her present marriage but God's intention is for her to fix the problems in that marriage and stay together with her current husband.
Third, in the same way, you are not to divorce your second wife.
Fourth, it is wrong for you and your first wife to both get divorced and then remarry each other. According to the Bible, you are to remain married to wife number two.
Fifth, one of the biggest issues is how to decide and do what is in the best interests of your children. Many divorced couples reach agreements on what is best for the children. Usually that means shared time for the children with both parents. Let me recommend that you search the internet for the term, "blended families" in order to find good ideas on how best to integrate the children into one family or the other--and usually both.
Sixth, spend as much time with your children as you can. They need you and they need to remember as they grow older that while mom and dad may not live in the same house, you both always tried to do what was best for them. You want to have a good relationship with them when they are adults.
Seventh, however all of this works out, it will not be perfect, so keep you expectations in line with reality.
Whenever I had problems to solve, my dad used to say to me, "Roger, when life hands you a lemon, make lemonade."
Name Withheld, life has handed you a lemon. Now, go make some lemonade.
Footnote: My answer to polygamous men, who, as new Christians learn that both Jesus and Paul teach monogamy has changed since I began my "Ask Roger" column. When I began I was rather legalistic in telling the husband/father that he had to follow the Bible's teaching of monogamous marriage to be right with God. He had to choose one wife and let the other ones go.
As I began to receive more and more letters with this same question I soon realized what awful counsel I was peddling. I couldn't get past the "choose one wife and abandon the others" issue.
I now tell the husband/father not to change a thing. He has a lot of people depending on him and the worst thing he could do is break relationships and bring intense anger, bitterness, hate and impoverishment by casting some of them out.
I encourage him to begin to develop--over time-- a more Christian approach to marriage among the people of his society. One man and one woman for a lifetime is in the best interests of all and is in keeping with the principles of the Bible.
We need to do all we can to stamp out serial polygamy in our society. I see the pain and suffering as Christians go from one marriage to another in serial polygamy.
Many people in our culture counsel us, "If your marriage is not working out, go ahead and get divorced. And, don't worry about the children. Children are resilient. They'll bounce back."
Have something to say about this article? Leave your comment via Facebook below!
advertise with us
Example: "Gen 1:1" "John 3" "Moses" "trust"
Advanced Search
Listen to Your Favorite Pastors