What Does it Mean to "Fear the Lord?"
Dr. Roger Barrier, Preach It, Teach It
Tuesday, June 04, 2013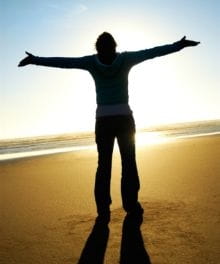 A little fear of God can go a long way in keeping most of us travelling the Christian life on the right path.
I remember a story that illustrates well the effectiveness of a little of the right kind of fear.
A schoolteacher injured his back and had to wear a plaster cast around the upper part of his body. It fit under his shirt and wasn't noticeable at all.
On the first day of the term, still with the cast under his shirt, he found himself assigned to the toughest students in school. Walking confidently into the rowdy classroom, he opened the window as wide as possible and then busied himself with desk work.
When a strong breeze made his tie flap, he took the desk stapler and stapled the tie to his chest. He had no trouble with discipline that term.
Solomon wrote Proverb 9:10 "The Fear of the Lord is the beginning of wisdom." The fear of the Lord is the beginning; it is not the end of wisdom.
John wrote 1 John 4:18 "There is no fear in love. But perfect love drives out fear, because fear has to do with punishment. The one who fears is not made perfect in love."
We may begin with a fear of God and what He can do to us if He so desires. But, recognize that this fear is just the beginning. It is not the end.
God's intention is that over time His perfect love will drive out any fears that we might still have of Him.
Let me share a story that illustrates this principle of perfect love casting out fear:
During the Revolutionary War, a young officer in the British Army, before sailing to America to fight, became engaged to a young lady in England.
In one of the battles of the officer was badly wounded and lost a leg. He wrote to his fiancé, telling her how he was disfigured and maimed, and so changed from what had been when she had last seen him that he felt it his duty to release her from all obligation to become his wife.
The young lady wrote an answer. In her letter she said that whether or not they married had nothing whatsoever to do with had happened to him in battle.
She wrote, "I intend to marry you as long as there is enough left of your body to hold your soul!
Can you imagine that her declaration of perfect love drove away all of his fears of a life lost alone.
Now, Let's Look At The "Fear Of The Lord" From A Different Perspective.
The "Fear of the Lord" sounds like a negative thing. But, according to the Word of God, "the fear of the Lord" is a term that describes a life style better than we can ever imagine.
"The Fear of the Lord" is the lifestyle we all really want. It beats all the options.
Britney, as you read the following verses you will see that the fear of the Lord is not all what it sounds like on first blush. If you choose the "Fear of the Lord" lifestyle, here is what your life will look like.
A Life Lived With Knowledge And Wisdom
Proverb 2:6-7: For the LORD gives wisdom, and from his mouth come knowledge and understanding.
A Life Of Goodness and Rightness
Proverb 14:16: A wise man fears the LORD and shuns evil, but a fool is hotheaded and reckless.
A Life Of Security and Protection
Proverb 14:26: He who fears the LORD has a secure fortress, and for his children it will be a refuge.
Potential For A Longer Life Than Normal
Proverb 10:27: The fear of the LORD adds length to life,
Security For One's Family
Proverb 14:26: He who fears the LORD has a secure fortress, and for his children it will be a refuge.
Have something to say about this article? Leave your comment via Facebook below!
advertise with us
Example: "Gen 1:1" "John 3" "Moses" "trust"
Advanced Search
Listen to Your Favorite Pastors