When to Fire Your Pastor
Dr. Roger Barrier, Preach It, Teach It
Wednesday, November 13, 2013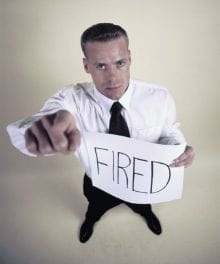 In other words, they are stealing money, misusing funds. They are loving it and what it can do for them too much. Pastors are fired immediately for stealing money. Misusing funds needs a little more scrutiny (Acts 5:1-11).
My father served as church treasure for many years. Each Sunday, after the tithes and offerings were counted, the money and checks were locked in a floor safe in an office closet. Even still, they knew someone was stealing money from the locked safe. He and several leaders set up sting operation to catch the thief. One Sunday afternoon about three o'clock the worship leader entered the office and went straight to the closet safe and began to spin the combination. The safe opened; he had cash in his hands. My dad fired him on the spot.
In some small churches the pastor puts the offerings in his own personal checking account or in a checking account which only he/her can access. The pastor must agree to a check and balance process to protect the church's money from perceived or actual misuse. If the pastor refuses, fire him/her (1 Timothy 3:7).
3. FAILURE TO SHEPHERD THE SHEEP (John 21:15-17).
A sacred trust exists between the pastor and his/her sheep.
As we read the Gospels we are immediately struck that Jesus' favorite name for Himself was not teacher or father, or Lord. He liked to think of Himself as a Shepherd. The good Shepherd knows his sheep by name. He leaves ninety-nine in order to search for one lost sheep. He is the door of the sheep pen; He lays down his life for his sheep. These things are the job description for a pastor.
In fact, the Christian faith begins with Jesus commissioning Peter as a Shepherd, no longer a fisher man: "I am a Shepherd, you be a shepherd, too."
Shepherds don't parade sheep down Main Street. The Shepherd's best work is done on the back side of the mountain when no one is looking. But, don't kid yourself, news of the work when no one is looking gets around fast.
Andrew Blackwood used to say, "A house going pastor makes a church going people."
Shepherding involves caring for, protecting, nurturing, healing and feeding the sheep. Pastors in larger churches will organize meeting the needs of the sheep—both those inside and outside of the sheep fold.
One of my young pastor friends invested much more time meeting his own needs than the needs of his sheep. He didn't last long before he was fired. And, tragically, he never understood why they let him go.
If pastors neglect pastoring, they ought to be fired.
4. LYING, DECEIVING OR MISLEADING THE CONGREGATION (Romans 9:1; and 2 Corinthians 11:31)
The issue here is trust and truth. One of my close associates used to say, "Telling the truth always turns out better than making up all sorts of lies to cover your tracks."
One of our pastors failed to accomplish an assignment. That was not the problem. That happens to all of us. The problem was that he lied about it.
I knew he was lying and gave him multiple opportunities to admit the truth. I found the evidence of his deceit in his car. The church leaders and I let him go.
5. PREACHING FALSE DOCTRINE AND/OR NEGLECTING TO CONSISTENTLY SHARE THE GOSPEL (Jeremiah 6:14; Ezekiel 13:10; and 1 Timothy 4:1-11).
Have something to say about this article? Leave your comment via Facebook below!
advertise with us
Example: "Gen 1:1" "John 3" "Moses" "trust"
Advanced Search
Listen to Your Favorite Pastors