Author Advises Pastors to Directly Approach 'Messy' Problems
Rev. Austin Miles, Agape Press
Monday, June 06, 2005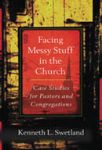 What do you do when a convicted pedophile gets saved in prison and upon release wants to join your church? What do you say to him, and how do you confront the issues involved? Clergy and laity may someday need to know how to respond to such questions – and more.
For example, do you inform the church of the former prisoner's being there?  If you do not, are you putting the children in your church at risk? How would you discuss this in a meeting with the church board? And what about pastoral confidentiality? This is one of the delicate cases detailed in Facing Messy Stuff in the Church: Case Studies for Pastors and Congregations (Kregel Publications, 2005).
Every pastor and chaplain who deals with the complex problems of this "anything-goes" 21st century will benefit from this book.  It is also invaluable for every seminary student and new pastor who hasn't lived long enough to deal with many of life's messes on behalf of the God of mercy and grace.
Even so, the "messy stuff" profiled in this book is enough to sober even the most seasoned of pastors. It is frank, raw, and instructive -- and at times, overwhelming. And these are all real cases in various denominational settings in various parts of the country. 

The challenging (as well as sensitive) messes addressed in this excellent Kregel release are dealt with forthrightly.  It is fascinating, informative, and an easy-read (indeed, a most pleasant, smooth read) of 15 case studies.
In Facing Messy Stuff, author Kenneth L. Swetland – a theological professor at Gordon-Conwell Theological Seminary, where he also serves as campus chaplain -- prepares church leaders to deal head-on with the messy stuff, rather than merely doing damage control after the problems have erupted.
It offers hands-on instruction for managing problems that affect not just the person with the problem, but a problem that has the potential of causing the church itself great damage if not handled correctly, such as the pedophile case spotlighted in the chapter on child molestation – a chapter that alone is worth the price of the book.
What is especially valuable in that particular chapter is how the pastor approached the issue and the words he used in dealing with it – no-nonsense words that got right to the point with a voice of authority, yet with Christian compassion and concern.
This is an acquired (delicate-balance) skill which permits no back-peddling, softening the impact or significance of the sin, or yielding to the politically correct "understanding and accepting" approach. In that flawed, lazy method, nothing can really be resolved except to make a person comfortable in his or her sin and get the pastor off the hook.  What a terrible disservice to a troubled individual who needs healing! This book shows how to cut to the chase, how to get to the heart of the problem and deal with it effectively for all concerned.
Other Case Studies
Recently on Pastors / Leadership
Have something to say about this article? Leave your comment via Facebook below!
advertise with us
Example: "Gen 1:1" "John 3" "Moses" "trust"
Advanced Search
Listen to Your Favorite Pastors