Best Preaching Books of 2007
Michael Duduit, Michael Duduit is Editor of Preaching magazine.
Wednesday, March 05, 2008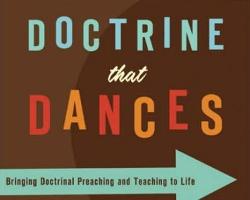 At a time when so much of the conversation on preaching deals with presentation, Robert Smith has reminded us effective teaching must also take the theological task seriously. He makes his case so well that his book, Doctrine That Dances (B&H Publishing), is our Preaching Book of the Year.
Smith helps his readers understand what doctrinal preaching is and why it is so important, then uses two metaphors to develop his insights: the exegetical escort and the doctrinal dancer. He explains: "The function of the exegetical escort is to embrace the text of Scripture in order to usher the hearer into the presence of God for the purpose of transformation … The function of the doxological dancer is to communicate the doctrinal message of the Bible with accuracy and ardor so the exuberant hearer exults in the exalting of God."
The preacher, Smith argues, is first and foremost a worshipper. When we preach, we worship. As a result, "Doctrinal preaching that is both accurate in its textual interpretation and ardent in its proclamation influences and motivates the hearers to be exuberant in their hearing of the message and to exult or rejoice in God during the preaching event while they are exalting God in the worship service."
Drawing on a broad knowledge of the homiletical tradition and his own experience in the African-American church, Smith guides us through the "sermonic dance steps for doctrinal preaching." In addition to his outstanding discussion of the doctrinal preaching task, Smith offers two sample sermons to demonstrate how doctrine can truly dance in the pulpit.
Robert Smith is one of the finest preachers of our age, and in Doctrine That Dances he displays much of the exegetical insight and homiletical passion that make him so effective. Smith demonstrates the urgency of doctrinal preaching for today and offers practical counsel that will help such preaching dance rather than drag.
Smith's book is one of several outstanding titles in preaching to be released in the past year. Another excellent volume that will benefit any preacher is Preach the Word (Crossway), edited by Leland Ryken and Todd Wilson. The volume consists of sixteen essays on expository preaching, collected in honor of Kent Hughes.
Preach the Word includes contributions from a who's who of evangelical scholarship, including J.I Packer, Duane Litfin, D.A. Carson, John MacArthur, Bruce Winter, David Jackman, Paul House, and more. Hughes has provided a model of faithful and effective biblical exposition, and this volume is packed with solid insights that will help preachers strengthen their own proclamation of God's Word.
One of the most influential scholarly voices in homiletics in recent years has been Sidney Greidanus. (His classic book The Modern Preacher and the Ancient Text was a Preaching Book of the Year when it was published.) His last book was Preaching Christ from the Old Testament, and his most recent book, Preaching Christ from Genesis (Eerdmans), builds on that remarkable foundation.
As Bryan Chapell has observed, Greidanus helps us understand "how the entire book of Genesis structures God's agenda and our understanding of Christ's redeeming work." Anyone seriously interested in biblical preaching will want to spend time with this powerful work.
Over the past year, we have reviewed other excellent books on preaching. Among the best of the past year:
Donald R. Sunukjian's Invitation to Biblical Preaching (Kregel) is primarily designed as a preaching textbook, but the volume will also prove valuable to veteran preachers looking for new insights and perspectives. He notes that biblical truth must be presented "in a manner that is relevant to the contemporary listener." That involves not simply teaching the details of a passage but applying the biblical principle to contemporary listeners and drawing pictures of what those implications would look like today. Sunukjian has given us a practical guide to developing 21st century sermons that are biblically faithful, clear, and engaging. This is not ivory-tower theory; Invitation to Biblical Preaching offers down-to-earth insights and enough examples to spark dozens of great sermon ideas for any preacher!
Recently on Pastors / Leadership
Have something to say about this article? Leave your comment via Facebook below!
advertise with us
Example: "Gen 1:1" "John 3" "Moses" "trust"
Advanced Search
Listen to Your Favorite Pastors