Gospel Departures
Eric C. Redmond
Tuesday, March 12, 2013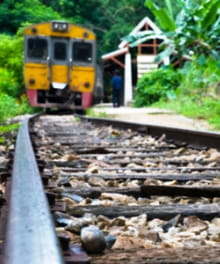 So often, it is the case that when church leaders make moves from one ministry to another, they leave the way people vacate foreclosed home. Hearts are yanked out. Relationships are fractured. Huge informational and resource holes are left behind.
Sometimes, this kind of destruction seems almost intentional—as if the ministry leader had a singe of vengeance coming off his clothes. It is astounding that some who are in "gospel ministry" never seem to think of leaving in a positive way so that a grace-filled, gospel ministry is set up to prosper long after their departure.
Departures from the local church—God's house—ought to be gospel departures. Acts 20 illustrates this very different approach to departing. Paul's example is instructive for church leaders, who—if they must leave because of God's clear calling—ought to leave in such a way that will make the ministry enjoyable for people being left behind as well as for those who will eventually serve in their place.
1. Gospel Departures should be an encouraging fellowship and elude fighting (Acts 20:1).
Realizing that this might be his last time seeing all of the disciples he made on the three missionary journeys, Paul makes the gospel version of a farewell tour. He calls together the disciples, encourages them (v.1), then he departs. He does the same all over Macedonia, "speaking many words of encouragement" (v.2). Comforting, exhorting, or strengthening the believers was very important at this point. Paul's was focused on building, making sure the churches he planted were growing, healthy, strong, and hopeful in Christ. In this way he could be assured that they would continue in the gospel.
When a plot from the Jews comes up, Paul changes his travel plans so as to avoid a conflict with the Jews. The hostility of his enemies is growing fiercer in the Acts narrative. They are ready to do away with Paul. But rather than taking them head on, Paul goes back to Macedonia. Why? At that point, it was more important to make sure the gospel was firmly established in the churches than to battle his enemies. His goal was to have the gospel advance further so that Europe could eventually be reached.
Paul also had traveling with him men whom he could encourage (Acts 20:4). dawson trotman, founder of the Navigators, was fond of saying that this was Paul's discipleship group. Paul poured into them so that these places would have an ongoing vibrant work when he was in Rome. He took time to just enjoy the Feast of Unleavened Bread with the people at Philippi before continuing his journey.
One of the things I have noticed by shepherding many public school teachers is that when their time of retirement comes, they often avoid a departing celebration. Instead, they say to their co-workers, "No thanks. I just want to get my stuff and go." After 35 or more years on the job, they have become disgusted or wearied by their experiences or changes to their schools. So if they simply can leave, someone else can pick up their duties and train those who follow.
In switching Gospel ministries, whether leaving to run another small group, or no longer playing a lead role in a youth ministry, we cannot simply leave. We must take time to encourage those in whom we have invested our time—not magnifying ourselves, but emphasizing the importance of Christ's death and of our resurrection hope, of our assurance before God in judgment and of the Holy Spirit's sufficiency to give power to continue the ministry without us.
2. Gospel Departures should make the last Sunday(s) about life and the Word of God rather than death and worry (Acts 20:7).
Recently on Pastors / Leadership
Have something to say about this article? Leave your comment via Facebook below!
advertise with us
Example: "Gen 1:1" "John 3" "Moses" "trust"
Advanced Search
Listen to Your Favorite Pastors