Holy Spirit Q&A with Francis Chan
Francis Chan, Pastor, Author
Tuesday, March 08, 2011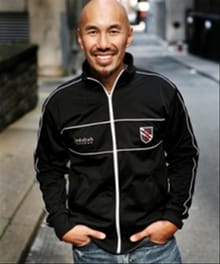 Francis Chan, featured in the BASIC.HOLY SPIRIT film, talks about the Holy Spirit...
You wrote a book in 2009 on the Holy Spirit called The Forgotten God. Now you have a film from the BASIC series on the Holy Spirit. Why all of this emphasis on the Holy Spirit?
I received a lot of questions about why I titled the book The Forgotten God. Some thought it was is a bit extreme. I don't think so. From my perspective, the Holy Spirit is tragically neglected and, for all practical purposes, forgotten. That's why I have a book and a film on the subject. While no evangelical would deny His existence, I'm willing to bet there are millions of churchgoers across America who cannot confidently say they have experienced His presence or action in their lives over the past year. And many of them do not believe they can.
Perhaps we're too familiar and comfortable with the current state of the church to feel the weight of the problem. But what if you grew up on a desert island with nothing but the Bible to read? Imagine being rescued after twenty years and then attending a typical evangelical church. Chances are you'd be shocked (for a whole lot of reasons, but that is another story). Having reading the Scriptures outside the context of contemporary church culture, you would be convinced that the Holy Spirit is as essential to a believer's existence as air is to staying alive. You would know that the Spirit led the first Christians to do unexplainable things, to live lives that didn't make sense to the culture around them, and ultimately to spread the story of God's grace around the world.
There is a big gap between what we read in Scripture about the Holy Spirit and how most believers and churches operate today. In many modern churches, you would be stunned by the apparent absence of the Spirit in any manifest way. And this, I believe, is the crux of the problem.
Don't most Christians already know about the Holy Spirit?
Whole denominations have been built around specific beliefs about the Holy Spirit. I know people who have lost jobs at churches and Christian colleges because of their beliefs about the Holy Spirit. I even had a girl break up with me while I was in seminary because we believed differently about Him! It is not one of those issues that is easy to float over. This is especially true if you belong to a particular "camp" with a specific belief or bent.
Which is why I ask this question: are you willing to pursue truth in your journey to know and be known by the Holy Spirit? Do you have enough humility to be open to the possibility that you have been wrong in your understanding of the Spirit? It's easy to get into "defensive mode," where you quickly disagree and turn to proof texts and learned arguments to defend what you've always believed. Rather than guarding your perspective, consider taking a fresh look at familiar passages to make sure you haven't missed something. You may end up with the same theology you've always had, but maybe you won't. Don't let your views be determined by a particular denomination or by what you've always been told. Within the context of relationship with other believers, seek out what God has said about His Spirit. Open up your mind and your life to the leading of the Spirit, regardless of what others may think or assume about you.

View the trailer for BASIC.Holy Spirit
Recently on Pastors / Leadership
Have something to say about this article? Leave your comment via Facebook below!
advertise with us
Example: "Gen 1:1" "John 3" "Moses" "trust"
Advanced Search
Listen to Your Favorite Pastors