In the Shadow of Death: The Little Ones Are Safe With Jesus
Albert Mohler, President, Southern Baptist Theological Seminary
Thursday, January 06, 2005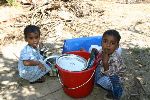 The photographs and images are now seared into our consciousness. One of the most troubling aspects of the disaster in Southeast Asia is the death of infants and young children. Moving at the speed of a jetliner, the walls of water fell on the young and the old alike--and so many of the youngest were simply swept away.
The death of the little ones poses anguished questions that reach to the depth of Christian faith. What happened to these young victims after death? Did they go to Heaven or to Hell?
That question is too pastorally loaded to be left hanging, only to be found at the end of this article. I am convinced that those who die in infancy and early childhood--along with the severely cognitively impaired--go to Heaven when they die. That is quite a claim, but it stands within the mainstream of orthodox Christian theology throughout the centuries, and I believe it is biblically and theologically sustainable.
In fact, I am hard pressed to imagine how any other answer can be given.
This is a question of emotional urgency for grieving parents, and it is a stone of stumbling for some who jump to hasty theological conclusions. The scope of the problem is huge, for untold millions of human beings have died at the earliest ages. Infant mortality still stands at several million babies a year. In the developing world, disease, famine, and abandonment take a heavy toll. Even in the most highly developed nations, armed with the latest medical technologies, thousands of infants die each year.
The best estimates out of Indonesia and Sri Lanka indicate that young children make up a disproportionate number of the victims of the tsunamis. Like Rachel in the Old Testament, anguished mothers weep for their children.
What is our answer to the question of the eternal destiny awaiting those children? My argument that these children are safe in the presence of Jesus Christ is based upon biblical evidence and theological reasoning. I cannot accept the glib and superficial assertions put forth by those who would simply offer assurance without adequate argument.
These infants are in Heaven, but not because they were not sinners. The Bible teaches that we are all conceived in sin and born in sin, and each of us is a sinner from the moment we draw our first breath. The doctrines of original sin and total depravity do not spring from some speculative theological imagination, but from the clear teaching of Scripture. There is no state of innocence, and these babies cannot enter Heaven unless the penalty for their sin is provided by the atonement of Jesus Christ.
These infants are in Heaven, but not because everyone is in Heaven. The Bible presents us with a stark picture of two destinies for humankind. Those who are in Christ, who have been redeemed by the blood of the Lamb, will be in Heaven. Those who are apart from Christ will be in Hell. Hell may be a despised concept--rejected by the theological modernizers--but it will not disappear, and its horrors await those who die without Christ. Jesus warned sinners to fear Hell, and the Bible warns that we must flee the wrath that is to come. Universalism is just not an option for any Christian who believes the Bible. Those who deny Hell deny the authority of Christ.
These infants are in heaven, but not because any of them were baptized. The practice of infant baptism has led to multiple theological confusions, and the death of infants is often one of the points of greatest bewilderment. Most of the early church fathers simply assumed that baptized infants who die in infancy go to Heaven, while unbaptized infants do not. These significant Christian leaders and thinkers, including figures such as Ambrose of Milan and Augustine of Hippo, taught the doctrine of baptismal regeneration--a belief still held by the Roman Catholic Church and most Eastern Orthodox churches.

Among Protestants, Lutherans hold to a form of baptismal regeneration and some sacramentalists in other denominations also lean in that direction. According to this logic, infants are saved because they have been baptized and have thus received the gift of salvation. There is simply not a shred of biblical support for this argument. What these churches call infant baptism cannot help us in framing our argument. There is no biblical foundation for arguing for the salvation of infants from baptism, or for positing the existence of "Limbo" as a place of eternal suspension for unbaptized infants.
Recently on Pastors / Leadership
Have something to say about this article? Leave your comment via Facebook below!
advertise with us
Example: "Gen 1:1" "John 3" "Moses" "trust"
Advanced Search
Listen to Your Favorite Pastors