Superwoman - A Mother's Day Message
Joe Alain
Saturday, April 01, 2006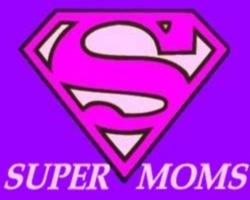 Luke 10:41
"Martha, Martha, you are worried and troubled about many things" (Luke 10:41)
Mary and Martha were two sisters who were as different as night and day. Martha was the picture of the perfect hostess. She loved to entertain company; of course, as long as they called in advance. If they had such magazines in her day, Martha certainly would have been a subscriber to Southern (Bethany) Living and Better Homes and Gardens. The Bible does not tell us, but perhaps her last name was even Stewart! Martha is a perfectionist and yet, she is her own worst enemy. She sets expectations that she can never meet. She is never able to completely rest and be content. Life for Martha is always an unfinished task.
On the other hand, Mary, Martha's sister, is not much into the hostess scene.
It's not that Mary does not also enjoy having company over, but Mary is more interested in conversation than the day's menu. When you drop in at Mary's house for a visit she may have you go fetch your own glass of iced tea. It's not that Mary doesn't care. Mary just takes life as it comes and material comforts and hostess graces are just not that important to her.
One time when Jesus was at the home of Mary and Martha, Mary broke a very expensive bottle of fragrant perfume and she anointed Jesus with oil (Mark 14:3-9; John 12:1-8). This was an expression of Mary's love and devotion to Jesus. Some of Jesus' disciples became infuriated at her for doing that. Martha was there (John 12:2) and I am certain that she too chimed in with the disciples in chastising Mary for her extravagance.
In Luke 10:38-42 we discover an occasion where the stark contrast between these two sisters, Martha and Mary, is obvious. Mary is sitting at the feet of Jesus. Martha is busy "with much serving." Mary is enthralled as she sits at the feet of the savior. Martha is enraged as she busily paces back and forth from the kitchen to the living room. The Bible tells us (Luke 10:38) that Martha welcomed Jesus into her house. This visit does not appear to have been planned. Because of the short notice there would be much work to do if dinner was going to be on the table. It did not take long for Martha to become stressed and angry at the fact that Mary was sitting while she was serving.
Martha directed her anger towards Jesus (Luke 10:40). She is essentially saying "Lord, if you really cared about me you would rebuke my sister Mary and tell her to get in the kitchen." Martha is ordering Jesus around and telling Him what to do! Anger, frustration, and resentment often comes out in this kind of controlling way. When people do not act the way we want them to we often want someone else to straighten the person out for us.
It's easy to focus on Martha's apparent frustration and anger, but I want you to consider her in a little different light. Martha is not really a bad person. In fact, she is a woman of dedication and she is a doer. I can just imagine that she is the kind of woman that probably seldom complains, seldom misses the smallest details, and she can always be counted on when you need her. Martha is certainly a commendable woman. Thank God for the Martha's of the world! This story is not in the Bible to teach us that serving is bad and that sitting is good. Under different circumstances serving may have been the best course of action.
Recently on Pastors / Leadership
Have something to say about this article? Leave your comment via Facebook below!
advertise with us
Example: "Gen 1:1" "John 3" "Moses" "trust"
Advanced Search
Listen to Your Favorite Pastors