The Church and Culture: Never Give Up
Matt Friedeman, AgapePress
Thursday, September 14, 2006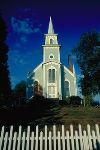 An article by Stan Guthrie in Christianity Today recently juxtaposed the positions of the culture war nicely. You can either concern yourselves with individuals or concern yourself with the broader culture.
Or both.
The latter is the only real option for the Christian. Some, weary of the fecklessness of political solutions, are converting to an "act locally" style of compassionate outreach in their neighborhoods. Still others have launched an all-out attempt to win back the culture, forgetting about personal involvement at a practical, local level. Both of these approaches, of course, are deficient for believers seeking to be "salt and the light" as Jesus commanded.
Guthrie notes recent opinions shared in CT: Frederica Mathewes-Green says,
"God has not called us to change the weather. Our primary task as believers, and our best hope for lasting success, is to care for individuals caught up in the pounding storm."
Others, like Philip Yancey, fret about:
"how tempting it can be -- and how distracting from our primary mission -- to devote so many efforts to rehabilitating society at large, especially when these efforts demonize the opposition. (After all, neither Jesus nor Paul showed much concern about cleaning up the degenerate Roman Empire.)"
Thankfully, Guthrie keeps quoting. And he uses former CT editor Carl Henry to provide perspective: "... in his classic book, The Uneasy Conscience of Modern Fundamentalism [Henry said that] 'The battle against evil in all its forms must be pressed unsparingly,' Henry said. '[W]e must pursue the enemy in politics, in economics, in science, in ethics -- everywhere, in every field, we must pursue relentlessly.'" (emphasis mine)
Everywhere, in every field. That is the "where" of the calling of Christ on our lives. C.S. Lewis also added the "when" factor: "There is no neutral ground in the universe; every square inch, every split second, is claimed by God and counter-claimed by Satan."
We dare not give up to the influence of hell the definition of the family, or abortion arguments; the intelligent design conflict, the battles of political and religious freedom around the world, or the appropriate response to the poor, sick, aged. We also dare not give up on evangelistic and compassionate ministry to the very people we have opportunity to touch on a daily basis. Both emphases are essential for the believer.
John Stott once said that there are only two possible positions Christians could embrace towards the world: Escape and Engagement. "'Escape' means turning our backs on the world in rejection, washing our hands of it... and steeling our hearts against its agonized cries for help. In contrast, 'engagement' means turning our faces towards the world in compassion, getting our hands dirty, sore and worn in its service, and feeling deep within us the stirring of the love of which cannot be contained."
This "engagement" takes many forms, of course. The dirt underneath our fingernails must be the grime of politics as well as the muck of the inner city. This writer has done enough reading of both Mathewes-Green and Yancey to know that they believe in engagement. The argument is, apparently, at what level -- cultural or individual, larger or smaller, the perplexing issues or the simple ones, political or personal.
The answer seems obvious in any fair appraisal of Scripture: both ends of these continuums, and everything in between.
---
Matt Friedeman is a professor at Wesley Biblical Seminary. He invites responses 
here
.
© 2006 AgapePress all rights reserved.

Recently on Pastors / Leadership
Have something to say about this article? Leave your comment via Facebook below!
advertise with us
Example: "Gen 1:1" "John 3" "Moses" "trust"
Advanced Search
Listen to Your Favorite Pastors