Why Do We Preach?
Albert Mohler, Speaker, Author & Seminary President
Friday, December 23, 2005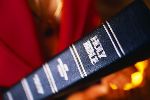 Preach the Word! That simple imperative frames the act of preaching as an act of obedience. That is where any theology of preaching must begin.
Preaching did not emerge from the church's experimentation with communication techniques. The church does not preach because preaching is thought to be a good idea or an effective technique. The sermon has not earned its place in Christian worship by proving its utility in comparison with other means of communication or aspects of worship. Rather, we preach because we have been commanded to preach.
Preaching is a commission--a charge. As Paul stated boldly, it is the task of the minister of the gospel to "preach the Word, . . . in season and out of season" [2 Tim. 4:2]. A theology of preaching begins with the humble acknowledgement that preaching is not a human invention but a gracious creation of God and a central part of His revealed will for the church. Furthermore, preaching is distinctively Christian in its origin and practice. Other religions may include teaching, or even public speech and calls to prayer. However, the preaching act is sui generis, a function of the church established by Jesus Christ.
As John A. Broadus stated: "Preaching is characteristic of Christianity. No other religion has made the regular and frequent assembling of groups of people, to hear religious instruction and exhortation, and integral part of divine worship." The importance of preaching is rooted in Scripture and revealed in the unfolding story of the church. The church has never been faithful when it has lacked fidelity in the pulpit. In the words of P. T. Forsyth: "With preaching Christianity stands or falls, because it is the declaration of the gospel."
The church cannot but preach lest it deny its own identity and abdicate its ordained purpose. Preaching is communication, but not mere communication. It is human speech, but much more than speech. As Ian Pitt-Watson noted, preaching is not even "a kind of speech communication that happens to be about God." Its ground, its goal, and its glory are all located in the sovereign will of God.
The act of preaching brings forth a combination of exposition, testimony, exhortation, and teaching. Still, preaching cannot be reduced to any of these, or even to the sum total of its individual parts combined.
The primary Greek form of the word "preach" (kerusso) reveals its intrinsic rootage in the kerygma--the gospel itself. Preaching is an inescapably theological act, for the preacher dares to speak of God and, in a very real sense, for God. A theology of preaching should take Trinitarian form, reflecting the very nature of the self-revealing God. In so doing, it bears witness to the God who speaks, the Son who saves, and the Spirit who illuminates.
The God Who Speaks
True preaching begins with this confession: we preach because God has spoken. That fundamental conviction is the fulcrum of the Christian faith and of Christian preaching. The Creator God of the universe, the omniscient, omnipotent, omnipresent Lord, chose of his own sovereign will to reveal Himself to us. Supreme and complete in his holiness, needing nothing and hidden from our view, God condescended to speak to us--even to reveal Himself to us.
As Carl F. H. Henry suggests, revelation is "a divinely initiated activity, God's free communication by which he alone turns His personal privacy into a deliberate disclosure of his reality." In an act of holy graciousness, God gave up His comprehensive privacy that we might know Him. God's revelation is the radical claim upon which we dare to speak of God--He has spoken!
Recently on Pastors / Leadership
Have something to say about this article? Leave your comment via Facebook below!
advertise with us
Example: "Gen 1:1" "John 3" "Moses" "trust"
Advanced Search
Listen to Your Favorite Pastors