Why Preach from a Manuscript?
Tim Brister, Pastor, Author, and Blogger
Tuesday, July 15, 2014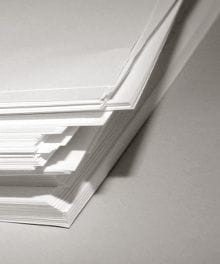 ...As one of those young and inexperienced preachers, one of the best gifts God has given me is men who are committed to making me a better preacher of the gospel. Every sermon I preach is evaluated. Everything is considered: thesis, exegesis, illustrations, application, eye contact, speech, grammar, length, etc. In the beginning, I dreaded that one hour in our weekly elder meetings; however, as I sought to apply the fraternal criticism to my preaching, I began to anticipate those meetings, knowing I was benefiting from an experience in true pastoral training that many, if not most, in my generation are not afforded. The opportunity to receive real, significant preaching instruction and help is a stewardship I hope not only benefits my hearers but also those I may have opportunity to help in the future.
One of the most significant helps I received at the beginning was writing out a full manuscript of my message. I have taken some time in recent days in light of some Twitter conversations to reflect on the lessons I've learned and benefits I've received from using a full manuscript in my preaching, and I thought I share them here for what it's worth.
10 Benefits I've Received from Using a Full Manuscript (MSS)
1. Clarity – The exercise of writing out what you are going to say before you say it provides you the opportunity of being clear in your communication. Cluttered, confusing statements do not serve preaching well. The discipline of writing a full MSS helps you address not only what you say but how you say it in ways that are clearly understandable to the hearer.
2. Brevity – When my first sermon was transcribed, it was over 7,000 words(!). Since writing a full MSS (and I mean full), I have whittled down my word count to roughly 4,000-4,500 words. The most effective preachers I know have an amazing ability to say a lot in a short amount of time. Length of preaching does not necessarily mean you cover the text well. It could be you are just rambling.
3. Precision – I was taught in seminary by professors that every paragraph in a research paper should contribute to your thesis. The same is true in preaching. If I have 45 minutes to preach, I cannot afford to waste 5 minutes on something that does not illuminate the text or apply it to my people. Make every paragraph count by making every sentence count. Don't waste people's attention by wasting your words.
Additionally, using a MSS has forced me to be more precise in my grammar. Things like subject-verb agreement, using the active voice, pronouns and antecedents may sound technical and geared toward an academic audience, but they are important to your delivery. You are a public speaker, but more than that, you are a herald of God's Gospel, and we should of all people be careful not to unnecessarily provide a stumbling block to receiving the message through being imprecise.
4. Simplicity – One of things most impressed upon me by Tom Ascol has been simplicity in preaching. Coming from an academic environment, I tended to use long, complex sentences and theological terms I took for granted, assuming my hearers fully understood them as well. And writing a MSS allows me to evaluate areas where my thoughts are too complex or my word choice could better serve my audience. The simpler, the better, and a MSS is a great tool to help make that happen.
5. Coherence – Do the points of my MSS argue and explain my thesis? Is my thesis the point of the text? Like precision, coherence makes the flow of your message easy for your listeners to follow. A choppy, disconnected message makes listeners struggle to follow what you are saying. Writing a full MSS helps you detect disjunctions and evaluate points or sub-points in your message that either don't fit or need to be communicated differently.
Recently on Pastors / Leadership
Have something to say about this article? Leave your comment via Facebook below!
advertise with us
Example: "Gen 1:1" "John 3" "Moses" "trust"
Advanced Search
Listen to Your Favorite Pastors