Learn to Sing in the Desert
Debbie Przybylski, Intercessors Arise
Tuesday, May 14, 2013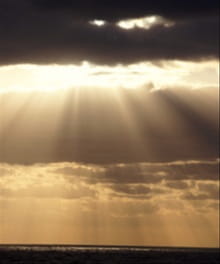 We must come to the place where all that is within us gives praise to God.
Study the Song of Solomon
"Set me as a seal upon your arm, as a seal upon your heart, for love is as strong as death, its jealousy as ardent as the grave. Its flashes are flashes of fire, the very flame of the Lord" (Song 8:6).
The desert is a wonderful place to study the Song of Solomon in the Bible. The Song of Solomon is an eight-chapter love song revealing the passionate desire of God for His Bride. If you want to understand how God sees you and feels about you, then this is a good book to study while in the desert. Nothing will empower your heart more than having a revelation of God's affection for you personally. God will empower your heart to trust Him in this season of your life.
The Song of Solomon is Mike Bickle's most popular teaching series here at the International House of Prayer. He studied it for 20 years. I recommend his teachings and am planning on writing more articles on it in the future. For a 24-part series by Mike Bickle, see Song of Songs.
It's time to shake off the lies and begin to enjoy the desert. Sing! Sing in your heart and thank Him for this time. It is time for you and Him without any distractions. Waters will break out in your desert, and you will find streams that will water all those you come in contact with. Don' despise this time but learn to enjoy it. What looks like an endless desert with no life will turn into springs of water. God is preparing you now for what He has for you in the future. He will bring forth flowers in your desert, and He has a plan for you. You are not forgotten but God wants to speak tenderly to you. You are His beloved and He cherishes every moment you are with Him in the desert. You are His desert rose.
"Then shall the lame man leap as a hart, and the tongue of the dumb sing. For in the wilderness shall waters break out, and streams in the desert. And the parched ground shall become a pool, and the thirsty land springs of water…." (Isaiah 35:6, 7)
*This article first published 5/14/2013
Have something to say about this article? Leave your comment via Facebook below!
advertise with us
Example: "Gen 1:1" "John 3" "Moses" "trust"
Advanced Search
Listen to Your Favorite Pastors