Action Moves Fast in The Divine Appointment
Cheryl Russell, Infuze Magazine
Tuesday, July 10, 2007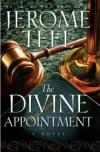 Author: Jerome Teel
Title: The Divine Appointment
Publisher: Howard Books
President Richard Wallace has reached a defining moment in his presidency. Liberal Supreme Court Justice Martha Doyle Robinson has died after a three-month battle with pancreatic cancer and he must appoint her successor. The President is determined to fill her vacancy with a justice that will vote to overturn Roe vs. Wade.
One candidate fits the requirements, but the President's Chief of Staff, Porter McIntosh, is certain the liberal Senate won't confirm him. Actually, Porter is fairly certain the nomination won't even make it out of the Judiciary Committee. But Dunbar Shelton, chief judge for Mississippi's Supreme Court, is the man President Wallace wants for the job, and he's willing to do all most anything to obtain the nomination.
The opposition to Judge Shelton's nomination will be fierce, with no one fighting harder than Stella Hanover, president of The National Federation of Abortion Rights. Stella's life has one focus and that is preserving a woman's right to have an abortion. Replacing the deceased, liberal justice with a conservative counterpart is something that will happen over her dead body, or someone else's if necessary.
While power politics play out as usual in Washington, wealthy lawyer Elijah J. Faulkner in Jackson, Tennessee finds himself caught up in a murder investigation. A local cardiologist is accused of murder and the district attorney seems to have an open and shut case. But as Eli chases down leads, with the help of his associate Jill Baker and
Washington reporter Holland Fletcher, some of Washington's most powerful begin to take notice and seek to silence the investigation.
The Divine Appointment is Jerome Teel's second novel. Like The Election, it is a fast-paced political thriller, which takes place in several different locales. Sub-headings within the story orient the reader to place, which is a must, considering how fast the action moves.
This novel has the potential to be an irritating read if you don't agree with the political leanings of the book. The book's focus is getting Roe vs. Wade overturned—the reason President Wallace is sure God has placed him in the presidency to do. A strong salvation message inserted into the storyline disrupted the flow. There also seems to be an "end justifies the means" mentality in the plot that conflicts with The Divine Appointment belief of President Wallace. Granted, the President has no idea the lengths his Chief of Staff goes to in order to reach their common goal, but the Commander in Chief has no qualms about cutting his own deals, either.
Days after finishing this book, I continue to grapple with the questions it has raised in my own mind, questions that revolve around much of the current evangelical/political mindset that is dominate these days. The strong writing, even though controversial in my own mind, continues to force me to define what is, and is not, truly the ways of the Carpenter.




© 2007 Infuze Magazine. All rights reserved. Used with permission.



Have something to say about this article? Leave your comment via Facebook below!
advertise with us
Example: "Gen 1:1" "John 3" "Moses" "trust"
Advanced Search
Listen to Your Favorite Pastors