Book Talk
Nancy Guthrie, CCM Magazine
Wednesday, April 14, 2004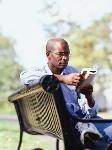 I might as well admit it. While I would hate to say I have no imagination, it is not uncharacteristic for me to proclaim in the middle of a science fiction or fantasy movie, "Yeah, like that could happen!"
Admission No. 2 is that I am always skeptical of people who want to describe what heaven is like. To me, though very real, heaven is so far beyond our wildest imaginations that I resist any attempts to give it mundane characteristics or earthly attributes.
With that said, you might understand my initial misgivings about "Room of Marvels" (Broadman & Holman), a new novel by James Bryan Smith, which tells the story of a grieving man's vivid dream about a journey to heaven and his encounters there with departed acquaintances, distant relatives and personal heroes. What made me want to open the cover of the book was the credibility of an afterword by Dallas Willard ("The Divine Conspiracy"), who describes it as a "wonderful story" in which "the biblical and theological content is quite solid – though surprising."
Though penned as a work of fiction, "Room of Marvels" very closely mirrors the author's own story of the loss of his mother, his 2-year-old daughter and a close friend. In fact, you may remember an earlier book by Smith about his musician friend in "Rich Mullins: An Arrow Pointing to Heaven" (Broadman & Holman).
While he has another name in the book, the free-spirited songwriter, who played the dulcimer and lived a life of poverty prior to dying in an automobile accident, is clearly based on Mullins. "Room of Marvels" is Smith's effort to help himself and others resolve the myriad of questions one has about God, death, meaning and eternity when you lose someone you love.
CeCe Winans offers another glimpse of heaven in her new book, "Throne Room: Ushered into the Presence of God" (Integrity), written with Claire Cloninger, which coincides with Winans' latest CD of the same title. [She describes true worship as a "taste of heaven" our Father wants us to have every day while we're on earth. She makes a life of worship so appealing, the reader can hardly resist.] As you read "Throne Room," you have the sense that Winans knows what she writes about from experience and that her love for worship flows out of a genuine relationship with the One she worships. Winans fans will enjoy her song-by-song stories about her "Throne Room" (Purespring/INO/Epic) CD.
"Over and over again, God the Holy Spirit has used prophets – biblical and contemporary – to separate people from the lies and illusions to which they've become accustomed and to put them back on the path of simple faith, obedience and worship in defiance of all that the world admires and rewards. Prophets train us in discerning the difference between the ways of the world and the ways of the gospel, keeping us present to the presence of God." Who would you guess these words, written by Eugene Peterson ("The Message"), are describing? Someone behind a pulpit? In seminary? Over a denomination? Nope. Peterson continues in the foreword to "Get Up Off Your Knees: Preaching the U2 Catalog" (Cowley): "In the pages that follow, some of my friends welcome U2 into the company of prophetic voices that through the centuries have prepared the way of the Lord."
U2 has long had its outspoken fans among Christian music enthusiasts as well as artists, including Michael W. Smith, Switchfoot, Kirk Franklin, Sixpence None the Richer, Audio Adrenaline, Kevin Max and Jennifer Knapp. "Get Up Off Your Knees" is actually a collection of sermons by a wide variety of pastors and professors who use lyrics from U2 music as their theme or starting point. This is a "must-have" for any communicator who is looking for creative and credible ways to connect culture and faith. Included in the book is a six-session study guide that details which concert videos and CDs to have on hand and supplies questions for discussion groups to delve into the truths from the band's lyrics.
Have something to say about this article? Leave your comment via Facebook below!
advertise with us
Example: "Gen 1:1" "John 3" "Moses" "trust"
Advanced Search
Listen to Your Favorite Pastors