Kids' Book Roars With Life Lessons From "Narnia"
Rebecca Grace, AgapePress
Friday, November 18, 2005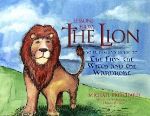 About a week and counting until Hollywood roars with the worldwide release of the long-anticipated Christmas blockbuster, "The Chronicles of Narnia:  The Lion, the Witch and the Wardrobe," based on the 1950s literary masterpiece written by C.S. Lewis.
To help parents make the most of their children's interest in the highly-publicized "Narnia" story, author Michael Pritchard of Memphis, Tennessee, is offering a companion workbook titled "Lessons from the Lion:  Your Family's Guide to 'The Lion, the Witch and the Wardrobe.'"
"Lessons from the Lion" is a 33-page illustrated workbook designed to be an interactive learning guide for teaching biblical lessons and fostering spiritual discussions based on the truths presented in Lewis' beloved story throughout which Christianity is embedded.
"'The Lion, the Witch and the Wardrobe' is an amazing story about four siblings who enter a fantasy world and experience adventures beyond their imagination," Pritchard explains. "They encounter talking animals, an evil queen and a majestic lion as they journey throughout the land of Narnia. During their adventures, the children come face to face with temptation and fear which, in the end, help them to grasp a true understanding of forgiveness and salvation."
"Parents should not be afraid to introduce their children to this story simply because the word 'witch' is in the title," explains Buddy Smith, with the American Family Association.  "Christian symbolism guides readers through a sacrificial story with a redemptive ending which is reflective of Christ's death and resurrection.
"Mr. Pritchard's workbook is the prime tool for bringing such parallels to the surface in hopes that families will have a clear understanding of the story," the executive assistant to the AFA chairman adds.
Therefore, the workbook contains Scripture references, Bible readings, and discussion topics as well as chapter summaries, multiple-choice questions, drawings and puzzles complemented by colorful illustrations created specifically for this workbook.
"It's really a life-application type of workbook targeted at young children," Pritchard says, "which distinguishes it from many of the other resources out there.
"Many books on the market cover the Narnia series in-depth, but kids are not drawn to them," Pritchard explains. "On the other hand, there are several books that are fun, but they don't pursue the spiritual truths found at the core of "The Lion, the Witch and the Wardrobe."
"My workbook does both," he adds. "'Lessons from the Lion' looks at the spiritual truths throughout the book and offers fun activities to keep the child interested."
In addition, the workbook provides thought-provoking questions to help parents stimulate discussion with their children as the whole family is challenged to think deeper about the story.
"There's no better time for someone to learn about Christ than when he's young and more open to Christ's teachings," says Pritchard, a former youth worker at Bellevue Baptist Church of which the late Dr. Adrian Rogers was pastor for 32 years. "This workbook is a way for parents to nurture the spiritual growth of their children."
Pritchard is his own example of how the workbook prompts the heart to dig deeper into God's Word.
"Writing this workbook was an amazing process, spanning more than a year, that taught me a lot about my own walk with Christ," Pritchard shares. "First, I reread the entire book and pulled out important spiritual truths from each chapter .... Then I took each truth and applied one or more Bible verses to it."
But most importantly, Pritchard bathed the entire project in prayer and continues to do so as he watches it come to fruition, trusting that it will impact children for eternity.
"My desire is to have families read 'The Lion, the Witch and the Wardrobe' together and then use my workbook as a basis for discussion," the author says. "Discussing this story is a great way to tell children what Jesus has done for them simply because they are drawn to the characters and the whole idea of Narnia. In turn, the ultimate outcome is for them to be drawn to Christ."
"This is an inexpensive, yet invaluable, way to impact your child's eternity," Smith adds. "The world of Narnia is at your fingertips."
The workbook is targeted at elementary-age children and is available at an introductory price of $4.99 as a downloadable PDF file at LessonsfromtheLion.com or through links at the websites for American Family Association (AFA.net) and American Family Radio (AFR.net). Several buying options are available, some of which include a teacher's edition with additional activities, teaching tips and reproducible activities as well as a special hardback, read-aloud version of C.S. Lewis' beloved story.

© 2005 AgapePress.  All rights reserved.  Used with permission.
Have something to say about this article? Leave your comment via Facebook below!
advertise with us
Example: "Gen 1:1" "John 3" "Moses" "trust"
Advanced Search
Listen to Your Favorite Pastors