Comforts from the Cross
Elyse M. Fitzpatrick, Author
Monday, March 29, 2010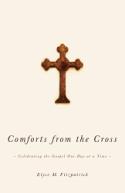 EDITOR'S NOTE: The following is an extract from
Comforts from the Cross: Celebrating the Gospel One Day at a Time
by Elise M. FitzPatrick (Crossway).
Day 1: Celebrate Jesus
"AS often as you eat this bread and drink the cup, you proclaim the Lord's death until he comes." - 1 Corinthians 11:26
Once a month, usually on the first Sunday, we celebrate communion in our church. Our pastor frequently quotes this familiar passage from 1 Corinthians:
For I received from the Lord what I also delivered to you, that the Lord Jesus on the night when he was betrayed took bread, and when he had given thanks, he broke it, and said, "This is my body which is for you. Do this in remembrance of me." In the same way also he took the cup, after supper, saying, "This cup is the new covenant in my blood. Do this, as often as you drink it, in remembrance of me." For as often as you eat this bread and drink the cup, you proclaim the Lord's death until he comes. (1 Cor. 11:23-26)
Communion is given to us to help us remember Jesus, and I, for one, am glad. I'm glad because it's so easy for me to forget him. I forget his betrayal at night, his unfeigned gratitude while the crushing jaws of judgment were irresistibly gaping before him. His blood flowed and yet he bent before his friends and washed their feet. I forget that he's reigning right now as the sovereign Lord and that soon he'll shatter the heavens and come for me. I forget all those truths, but the communion service helps me remember them.
In a similar way, I'm reminding you today: celebrate Jesus. Although it might seem absurd to tell Christians that we need to remember him, it's my conviction that none of us thinks nearly enough about him and what he's done. We don't consider how the gospel—the good news about him—is meant to affect every facet of our day-to-day life.
If you are like me, perhaps the name of Jesus does cross your mind, usually as a prayer shot up in haste when the freeway is a parking lot or the parking lot is as jammed as a rush-hour freeway. Does it seem as though the story of Christ's life, death, and resurrection are cherished truths yet strangely disconnected from daily life? Are they kind of like your elderly aunt's jewels that are kept in a safe deposit box at the bank? You know they are there and that you could see them any time you asked, but they aren't part of your everyday life, and you never think about them unless you're in a jam and wonder if she might let you pawn a piece or two. No, our thoughts are generally entangled with baseball tryouts, melted crayons in the dryer, and the silence around the dinner table now that the kids have moved out.
Jesus? Oh yes, I remember Jesus, but right now I'm trying to figure out why my future seems so bleak and why my friends seem to be unconcerned about my loneliness. I just don't see how his death and imminent return make much difference. In the way we speak to our children when they disappoint, the way we celebrate special holidays, the attitude we embrace when our fondest hopes are dashed, the prayer we utter when physical pain engulfs us, we're to proclaim his death until he comes back for us. But how can we do that?
We do that by intentionally focusing our thought on him instead of on ourselves or on what we think we're missing. I think it's very easy for me to focus my attention on myself. I don't mean that I just sit around thinking about me and how wonderful I am (although I'm not above that!). No, I mean that I tend to focus my thought on my Christianity—how I'm doing, what I'm learning, how my prayer time was today, how I avoided that pesky sin or fell into it again. I think about what I'm supposed to accomplish for Christ, and I interact with others on that same works-oriented ground. But this day isn't about me at all. It's about him: his sinless life, death, resurrection, ascension, and reign and the sure promise of his return. It's the gravity of his life that should attract my thought toward him.
Have something to say about this article? Leave your comment via Facebook below!
advertise with us
Example: "Gen 1:1" "John 3" "Moses" "trust"
Advanced Search
Listen to Your Favorite Pastors