A Faithful Friend Is Found in "The Sisterhood"
Lisa Rice, Contributing Writer
Thursday, June 02, 2005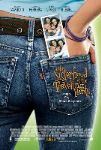 Release Date: June 1, 2005
Rating: Rated PG for thematic elements, some sensuality and language
Genre: Drama/Romance
Run Time: 110 minutes
Director: Ken Kwapis
Actors: Amber Tamblyn, Alexis Bledel, America Ferrera, Blake Lively, Jenna Boyd, and Bradley Whitford

Based on the popular teen book by Anne Brashares, "The Sisterhood of the Traveling Pants" follows the story of four best friends who must spend their summer vacations in four different places, for the first time ever. So they decide to share a magical pair of jeans they've found at a consignment shop. Though the girls are of various shapes and sizes, amazingly, the pants fit each one beautifully. And they make a pact to mail these jeans to each other at various intervals, along with a letter detailing the adventures they have had while the pants are in their possession.

Bridget (Blake Lively), the beautiful, blonde athlete, is going off to Mexico for summer camp. She's also nursing some serious wounds from her mother's recent suicide. Lena (Alexis Bledel), the demure brunette, is visiting her grandparents in Greece, who, unbeknownst to her, are in the midst of a terrible, long-standing family feud. Spunky, Puerto Rican-born Carmen (America Ferrera) is off to South Carolina to visit her father, who happens to have a shocking secret that may further exacerbate her already pronounced feelings of abandonment. Only the artistic rebel Tibby (Amber Tamblyn) will remain at home to work at Wal-Mann's and film a documentary on the meaningless of life.

Before they leave, the girls establish certain rules about the pants, including: Each girl will keep the pants one week only; there will be no nose-picking while wearing the pants; each must FedEx the pants with a letter detailing the most exciting thing that happened while in the pants; the removal of the pants must be done by only the girl wearing the pants; the pants cannot be washed – ick!; there will be no double-cuffing of the pants; and, the wearer may never call herself "fat" in the pants.

While in Mexico, Bridget decides that capturing the attention and affection of the handsome soccer coach is the only thing that will soothe her aching heart, and she spends all her spare time concocting interesting ways to seduce him. In Greece, Lena finds herself indebted to a stunningly handsome boy, Costas, for a daring boat rescue. The problem, however, is that Costas is part of the hated family her grandparents have feuded with forever, and they forbid her to see him. In South Carolina, Carmen tries to live up to the perfect-skinny-blonde-all-American image that her father's girlfriend and her children seem to have, but she continually falls short. Back at home, Tibby's documentary becomes something completely different than she expected when she finds herself shadowed by a young girl, Bailey, who has a tragic secret of her own – but an amazing attitude.

Through their adventures in the magical pants, the girls are stretched in the areas where they most needed to grow. Some make wise decisions, and some make very poor decisions, but through thick and thin, they continually fall back on the strength, undying commitment, and support of the others.

"Sisterhood" starts slowly but gently piques the interest within about fifteen minutes. As it rolls along, the issues that the teens experience evoke a barrage of memories and feelings about the trials, temptations, wounds, hopes, and fears of teen-hood. In particular, the level of trust that existed among the friends intrigued me. I thought about the emotional walls I had as a teen, and the loneliness I felt during certain periods of my life when I chose not to trust people with my true feelings. I wondered if the genuine trust portrayed among the girls could work in the real world, which is so often filled with backstabbing, bickering, jealousy, and selfishness. I'd like to think it could, and I hope my teens will know the joy of such loyalty.

As for parental concerns, the movie does have one major questionable issue. (WARNING – plot spoiler ahead). Bridget, the soccer player, does manage to seduce the coach, and though he resists at first, finally gives in to his sexy, young pursuer. Afterwards, though, Bridget is devastated and depressed, and she tells her friends that premarital sex left her feeling incomplete, rather than healed. The emotionally shattering consequences of her actions are accurately portrayed, but the intensity of this issue might be too much for some young girls.

Overall, "The Sisterhood of the Traveling Pants" is a sweet movie with adventure, romance, and a compelling picture of the power of friendship in the very real issues of teen life.

AUDIENCE: Adults and teens
OBJECTIONABLE CONTENT:
Drugs/Alcohol: One depiction in a bar in Mexico; no drunkenness
Language: Little to none
Sex: One very veiled allusion to a sex scene; nothing shown; grave consequences clearly depicted
Violence: None

Recently on Movie Features
Have something to say about this article? Leave your comment via Facebook below!
advertise with us
Example: "Gen 1:1" "John 3" "Moses" "trust"
Advanced Search
Listen to Your Favorite Pastors