Hollywood Newcomer Maddy Curley Proves She Can "Stick It"
Annabelle Robertson, Entertainment Critic
Monday, April 24, 2006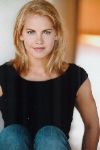 Q:  Wasn't it challenging for you to do this movie, being new to the industry?
A:  It was and it wasn't.  It wasn't, in the sense that I've lived this life.  Some of my theatre roles were way, way not who I was – like once, when I played a dog.  (Laughs.)  This one seemed so close to home.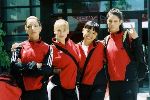 Q:  What did you like about your character?
A:  That she wasn't stupid.  I didn't want to play the blonde bimbo.  She has a lot of really fun remarks, and the way that she talks to the other characters.  I liked the way that her talent gets discovered throughout the movie.
Q:  Do you think a lot of Christians will want to see this movie?
A:  I do, because Missy, who plays Haley, and I are both Christians.  It's also a wholesome movie and it touches on a sport that a lot of people haven't seen before.  I like that it isn't just about anorexia and bulimia.  It's got girls doing girls doing really tough things.  There's no love interest, and the director actually had to fight against that.  But there's no need – there's so much else going on.
Q:  Gymnasts don't date a lot, anyway, do they?  Most athletes don't.
A:  No, we don't.  We like to think that boys are intimidated by us and don't ask us out!  But really, I think that it's why would you want to date someone who's in a gym 24/7?
Q:  What are your plans from here on out?
A:  I've moved to LA and I've got an agent and a manager, and I'm hoping to get more roles once the film is out.  I've been going out for TV pilot auditions. 
Q:  What's the difference between a manager and an agent?
A:  A manager is more personal.  The agencies usually have more people working together to get you roles, whereas your manager is more personal and makes sure that the actor is taken care of, as a person.  
Q:  Who do you admire out in Hollywood?
A:  My favorite actresses are Gwyneth Paltrow, Reese Witherspoon and Nicole Kidman.  They'd done such beautiful work and you don't ever see them in trashy roles.  That's the kind of image I hope to maintain.  And I love Jim Carrey.  I used to joke that I wanted to be the female Jim Carrey.  I think comedy is one of the best forms of drama.  I'm taking Improv classes now.  But I would also love to do a period piece – that's one of my goals.
Q:  Have you met anyone that you've been really impressed with?
A:  Yes, I met Jim Caviezel and his wife.  He gave me a bunch of acting tips.
Q:  What did he say?
A:  He said that I should always work out ahead of time, before an audition.  That way, your muscles won't start twitching, when you get nervous.  He also said to go into an audition already in character.  If they want a surfer dude, go in as that.  You can be yourself after your audition.  
Q:  I've interviewed him myself, for "The Passion."  He's unbelievably nice, isn't he? 
A:  Yes, and such a strong Christian.  You can really tell.
Q:  I know.  I felt the same, when I spoke to him.
A:  It just radiates off him, and he's very passionate about his faith.  But at first, I didn't even know who he was.  Someone had to tell me that he was the one who had played Jesus in "The Passion."  I was impressed.  I was like, 'Wow! I just met Jesus.'  Then I said to myself, 'Hey – if I'm this impressed now, with the Hollywood Jesus, I can't even imagine how impressed I'm going to be when I meet the real Jesus!'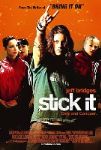 Starring Missy Peregrym, Vanessa Lengies, Jeff Bridges, Nikki SooHoo and Maddy Curley, "Stick It" is rated PG-13 (crude remarks) and releases nationwide on Friday, April 28, 2006.  

Click here for more information.
 





Recently on Movie Features
Have something to say about this article? Leave your comment via Facebook below!
advertise with us
Example: "Gen 1:1" "John 3" "Moses" "trust"
Advanced Search
Listen to Your Favorite Pastors