The Start of an Adventure Begins with Meeting the Cast & Crew of The Hobbit
Ryan Duncan, Crosswalk.com Entertainment Editor
Friday, December 07, 2012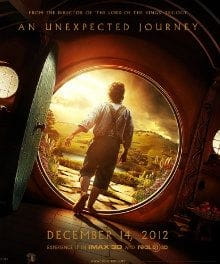 How did it feel returning to Middle Earth after all these years?
Peter Jackson: I admit, at first I thought I wouldn't enjoy it. I was afraid I'd end up competing against myself to some degree, but during the time we worked on the script and began developing the lines for the film, I came to realize there is a lot of charm, a lot of humor in The Hobbit that wasn't present in the Lord of the Rings. It's a completely different story with a completely different tone. When we finally started shooting I was really happy I was there.
For the new characters, what was it like assimilating into a cast that was already so well connected?
Richard Armitage: We arrived together at the beginning of 2011 and went straight into the film's training program, and it was sort of a bonding experience for us. It really formed our group and helped establish our character dynamics. As for coming into the old community, they were very welcoming to all of us newcomers.
Martin Freeman: I had always thought The Lord of the Rings movies were fantastic, and for my part, being a part of these films was a great experience. It gave me a chance to work with a lot of talented actors, a lot of actors I knew from home but had never actually met, and to make a lot of friends. It had a way of not being intimidating.
In today's media it's rare not to have a strong female character present in the main cast. Are you concerned this will have a negative affect on the film?
Philippa Boyens: Professor Tolkien actually wrote brilliantly for women, one of the most powerful beings in Middle Earth at this time was Galadriel, and we have her story as Tolkien wrote it, which in its own way informs The Hobbit. We did add a character named Tauriel, played by Evangeline Lilly, who is a pure invention of ours, though she is based on a story thread present in The Lord of the Rings. You'll learn a bit more about her later. So I wouldn't worry, it's going to get good for the girls.
In the movie, there is a speech Gandalf gives about simple acts of kindness vs. great heroism. How does this theme carry out through the film?
Peter Jackson: One of the things I really liked about this film was being able to connect little pieces of The Lord of the Rings to The Hobbit. You may remember that in The Fellowship there's a scene in the Mines of Moria where Gandalf is talking to Frodo about how the pity of Bilbo rules the fate of all. It's great to actually see that scene where Bilbo confronts Gollum and spares his life because he realized true courage comes in deciding when to give life rather than take it.
Do you think Tolkien gave any of the characters different qualities in The Hobbit as opposed to The Lord of The Rings?
Ian McKellen: Well, Gandalf the White has to help save the world, so he's cut his beard down to size and gone white in the process. He has no time for jokes because it's a story where the hero probably won't make it back home. Bilbo gets back home because he's on an adventure. So he doesn't need Gandalf the White to look after him, but Gandalf the Grey is someone he can joke with and they eventually learn to trust each other. The characters are much more humane as opposed to The Lord of the Rings.
What did you personally take away from The Hobbit when you first read it?
Richard Armitage: One of the things I really find when I look at the book is that I get a real sense of Tolkien's Christian faith. You can see it in his chivalric view of the world, and there's this essence of nobility, kindness, and mercy that is expressed in all of his characters. I find that very inspiring.
Recently on Movie Features
Have something to say about this article? Leave your comment via Facebook below!
advertise with us
Example: "Gen 1:1" "John 3" "Moses" "trust"
Advanced Search
Listen to Your Favorite Pastors