The Start of an Adventure Begins with Meeting the Cast & Crew of The Hobbit
Ryan Duncan, Crosswalk.com Entertainment Editor
Friday, December 07, 2012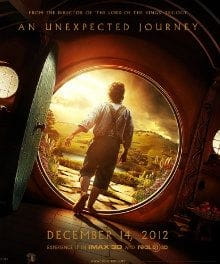 Martin Freeman: It seems like a classic tale of the small guy who ends up being the hero against his will. What is always said is true, that heroism and deeds of bravery are done when you are most afraid. If you're not scared you're not being brave, you're just being normal. For me, it's all about a small guy thrust out into a huge world who manages to do the right thing. There are a lot of interesting things to be drawn from that.
Ian McKellen: In some ways I think Tolkien's view of the world is bang up to date. He takes old people very seriously and gives them their full weight and due, young people he is very keen on, and I think the message that resonates with people who have read the books and seen the film is, "Yes, this world is organized by people who are very powerful and set on the preservation of Middle-Earth, but they are entirely dependent on the little guy." As someone who's been through two World Wars knows, it's not the people we build statues to who shape the world; it's the foot soldiers who stand up to the moment.
Do you think The Hobbit has any messages we could apply to today's world?
Martin Freeman: The dangers of greed.
There's a great scene in the movie where Gandalf and Lady Galadriel discuss how it's small acts of kindness that beat back the darkness. How would you say this applies to everyday life?
Ian McKellen: Well, I'd say the line itself basically summed it all up. It's like what we have been saying, sometimes the person we need is the little guy, the guy who may be expendable, who may not come back. There's a line in the movie where Bilbo says "Are you sure I'll come back?" and Gandalf says "No," and it's a bit chilling.
Martin Freeman: Yes, I agree. I think the important thing for the audience to realize is that Bilbo still chooses to go on this journey even after getting this very honest appraisal telling him "even if you come back you won't be the same." Which is very scary, but also quite touching.
***
Many things can be drawn from J.R.R. Tolkien's tiny story. There are mutliple examples of kindness, bravery, and wisdom, but for those waiting to see The Hobbit on December 14th, perhaps the most significant lesson to learn before going is the difference between a mission and an adventure. Where The Lord of the Rings was a quest to save the world, The Hobbit is an adventure to explore it. And while it may not be quite as epic as Jackson's original trilogy, this prequel contains a bit more charm, an appropriate touch of innocence (it was written as a children's book, after all), and perhaps even a dash of whimsy. So, for those eager to return to the rolling hills of Middle Earth, this is one hopeful journey that should not be missed.
From Warner Brothers Entertainment, The Hobbit: An Unexpected Journey releases December 14, 2012 and stars Martin Freeman, Ian McKellen, Elijah Wood, Richard Armitage, and Andy Serkis. The film is rated PG-13 for fantasy violence.
Publication date: December 7, 2012
Recently on Movie Features
Have something to say about this article? Leave your comment via Facebook below!
advertise with us
Example: "Gen 1:1" "John 3" "Moses" "trust"
Advanced Search